Firefox Add-ons:
Personas Make It Personal
by Paul Arnote (parnote)
Beginning this month, we're going to regularly take a look at some of the more popular Firefox Add-ons — old and new. If you have a favorite Firefox Add-on (or several favorite Firefox Add-ons), please write them up for the PCLinuxOS Magazine and submit them to the magazine staff. If they haven't been done before, we'll include your Firefox Add-on article in the PCLinuxOS Magazine. No fighting over writing them up, please. Articles submitted for the Firefox Add-ons column will need to be: a) accompanied with graphics (we need to see what you are talking about), b) should be at least one page in the magazine, c) be limited to the discussion of only ONE Add-on per article, d) as in-depth as possible (that doesn't mean you have to have a print out of the script, but we don't want you just "skimming the surface" of the Add-on either), yet broad enough to characterize the add-on's appeal, and e) be of good taste and suitable for publication in the magazine.
One of the more recent, and more popular, Firefox Add-ons to burst onto the scene lately is called Personas. Personas allow you to customize how Firefox is displayed on your computer, without the overhead of a full theme. Think of it as putting up curtains on your living room windows. Personas dress up your current Firefox theme with new curtains (graphics) for the background of the Firefox window, all while leaving your current theme intact and otherwise untouched.
Personas seem to present a happy medium between no customization options and a full Firefox theme, the latter of which can tend to slow Firefox to a literal crawl, especially if they are not well done. Also, I have yet to find a full Firefox theme where everything is as I would like it. Something is always amiss. Either the menu text is too dark, or the text edit window has dark gray text on a black background. I am personally happy with the default Firefox theme that comes with the base installation of PCLinuxOS, and I like Personas because it allows me to dress that default theme up (hang new curtains from time to time), without having to install a full Firefox theme.
Currently, there are over 135,000 different Personas available for Firefox. And variety is the name of the game. Are you a Sponge Bob fan? Do you want to see the logo of your favorite band? Are pictures of the cosmos your thing? Whatever likes and tastes you have, you are certain to find a Personas theme to match.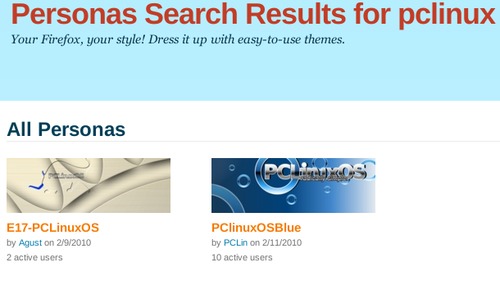 You can get and use Personas without installing anything, simply by going to the Personas web site. Just click on the Personas theme that you want to use, and you can choose to "wear it." But while you are there, you can also get an enhanced Firefox plug in, called GetPersonas Plus. This plug in inserts a Personas menu in your Firefox "Tools" menu, and allows you (when you're logged in) to save and recall Personas themes from your own list of favorite Personas.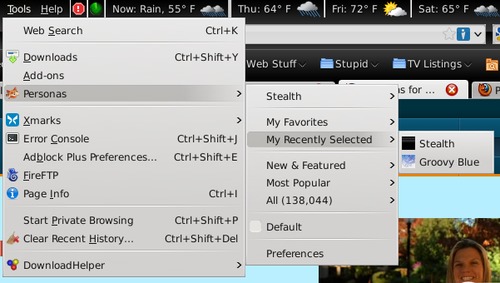 The menu also gives you access to your recently selected Personas, as well as New & Featured, Most Popular, or All. If you want to turn off Personas and revert to the "stock" theme, simply click and put a check mark next to the Default menu item (second from the bottom, in the second tier of the menu). Finally, Preferences brings up a few additional choices for controlling Personas.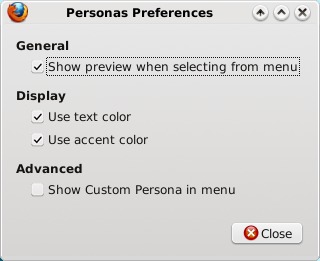 Make Your Own Custom Personas Theme
Anyone can make their own custom Personas theme. The full directions are on the Personas web site, and it would be a good idea to read through them if you are inclined to try making your own custom Personas theme.
Basically, a Personas theme consists of two parts: the header and the footer graphics. The header graphic should be 3000 x 200 pixels in size, and is displayed at the top of the Firefox window, behind your menus, navigation buttons, Bookmark Toolbar, and tab bar. The footer graphic should be 3000 x 100 pixels in size, and is displayed at the bottom of the Firefox window, as a background for the status bar. You can use either JPG or PNG formats for your header and footer files.
Simple and subtle designs work best. Busier designs tend to compete for attention in the browser window, and it's recommended to avoid them.
Once you've created your custom Personas theme, it's time to test it out on your own computer. Don't worry — if you don't get something quite right, you won't mess anything up. Just delete your mistake, and start over. To test it on your own computer, you will need to open the Personas Preferences window, and select the last item (Advanced > Show Custom Persona in menu). Once you've done this, navigate back to the Firefox "Tools" menu, select Personas, then Custom, and Edit.
Once you've done that, a dialog window will open. There, you can give your Persona theme a name, specify the files to use for the header and footer graphics, and select either a custom color for the text that will be displayed over the Persona theme graphics, or allow you to use the default text colors. Note that your custom Persona theme will have only been tested (at this point) on your computer and/or platform. The mileage of others may vary if they download your theme.
Now that you've created your own personal Persona theme, you can also share it with the rest of the world. Of course, this last step is optional, but where's the joy in keeping your new creation only for your use? Just follow the directions on the site, and you can find fame and (not so much) fortune by sharing your Persona theme with other Personas users.
Personas are fun to play with, and you can change them as often as you like, to help reflect your mood on any given day … or hour. No one says you have to have only one or two. So if you like dark themes, light themes, whimsical themes, serious themes, musical themes, intergalactic themes, cartoon-ish themes, anime themes … you can tailor how Firefox appears on your desktop to make your web browsing experience an even more personal voyage.