by daiashi



About The Game

The Story

Tiny & Big is set in a land where common physics apply, but everything else looks different. You are Tiny, a technophile guy with a ray cutter, a gripping-device and a fine attitude towards the world. But now your nemesis, Big, stole the only heritage your grandpa left you: a nice pair of white, fine rib underpants! He's surely up to no good: why else would he take them to that forsaken desert... where no one goes! So, load up that self-made raygun and rope device (snitched from the local hardware store) and take your annoying and jabbering backpack to accompany you. It's always been of good use to your gramps. Besides, the robot taxi to the desert is waiting! Run, jump, drag, shove and laser your way through the ultimately ancient scenery, and gain back those underpants!




Features

Unique Hand-drawn Look -- all hand-crafted textures, primo Hatch Shading, and dynamic Sound Words put you right into a graphic novel!

Creative Jump 'n' Slice Gameplay -- use grappling rope, rocket science and laser surgery to slice the whole world, overcoming all obstacles in your very own way. Enjoy unlimited slicing freedom and unique sandbox gameplay!

Better than Life Physics -- experience believable physics in a completely destructible, immersive environment that has been built to be cleaved into beautiful, multi-core-simulated pieces of art!

Character-driven Story Line -- follow Tiny into a weird and humorous story drenched in peculiarity: get back Grandpa's underpants, by all means necessary. Defeat Big, your old arch enemy, in the process!

Buckets full of Indie Music -- collect more than 15 songs from hardly known but genuine Indie bands. Discover new songs from the underground, and show off to your friends!




System requirements:

Core2duo / Athlon X2 with at least 2.4 GHz

GeForce 8800 series / Radeon 2900 series or better.

Windows: XP or higher, 32 or 64 bit


Software:

Playonlinux,Wine and Steam.




About The Company

Black Pants Game Studio is an independent game studio rooted in Kassel. We are a team of three programmers, two animators and one comic artist. We are passionate about playing and developing games with new and innovative mechanics and a handcrafted and one-of-a-kind look.

To manufacture Tiny & Big, we are using our own engine, the Scape Engine, which is in development since 2002 and constantly extended and improved.




And about the folks who put it all together



Christian Niemand started programming in 2000 during his education as an industrial electronic. He worked as a scientific and project director at the University of Kassel. Christian is a passionate videogamer since childhood. In addition to videogames he likes to play the Blues piano, ping pong, squash and other sports.
At Black Pants Game Studio, he's responsible for engine programming and marketing.
For any inquiries, he's the one to contact
mail: chris(a)tinyandbig.com
Sebastian Stamm is currently living and studying in Kassel, working as an animator, illustrator and VJ. His works have been published by RotopolPress, Pandemia and Crepes Comics. Over the last years, he worked on several animated shorts and commercial projects for clients like VW, Studio FilmBilder, Theater Bielefeld, Eon Bayern and Bilger Film. He enjoys comics, good canned meat, old videogame consoles, punk rock and ray guns.
At Black Pants, he creates the characters and story, and contributes his visual style to the game.
web: www.the-stamm.com

mail: the-stamm(a)tinyandbig.com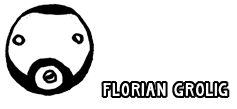 Florian Grolig is an animation filmmaker and latterly game designer from Kassel. In 2010 he finished his studies at the School of Arts and Design Kassel with the animated short "MS. Found In A Bottle". During his studies he realised some short films, did experimental life video with '20 seconds harmony' and worked amongst others for Studio Filmbilder, Phil Mulloy and BMW/Mini.
At Black Pants, he is reposible for level- and gamedesign and works on the 3D content.
web: www.panopticum.eu

mail: flo(a)tinyandbig.com
Sebastian Schulz started developing small programs on his first brand new C64 in the early 90s. Later, first small unfinished games followed on his first PC using Visual Basic and Pascal. Soon after that he switched to the object-oriented languages C++ and Java and started to work with game engines like JME and Irrlicht. In 2002 he started studying computer science at the University of Kassel where he met the other co-founders of Black Pants Studio.
At Black Pants, he is responsible for the game's physics, audio, A.I. and gameplay logic.
mail: sys(a)tinyandbig.com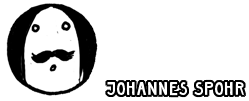 By continuously working on the Scape Engine since 2002, Johannes Spohr started to pursue his enthusiasm for graphics programming professionally. He spent much of his early efforts competing in the PC demo scene, and has more than 15 years of experience developing real-time graphics engines under his belt.
He is Black Pants' core engine lead, build engineer, C++ warlock, and bearer of the Company Mustache.
mail: jones(a)tinyandbig.com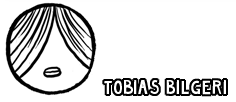 Tobias is an independent animation filmmaker. He studied animation at the school of fine arts in Kassel. During his stay in Kassel he did several animation shorts which were shown at filmfestivals all over the world.
At Black Pants, works on the 3D content and builds the levels.
web: www.bilgeri.eu

mail: tobi(a)tinyandbig.com
We are further accompanied by the following tremendous persons, who are cool:


Alexander Draude -- Concept Artist & Textures


Vincent Zurwesten -- Music Spy


Federico Martin -- 3D Animation


Julian Vavrovsky -- 3D Modelling


Philipp Beau -- Programming


Alexander Gerb-- Programming


Alexander Jahl-- Programming
Some Gameplay Screenshots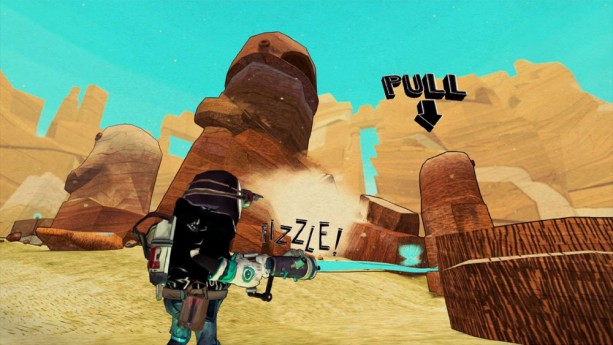 Getting It To Run
This game was installed using Playonlinux, which is available through Synaptic. After you have Playonlinux installed, click on the game tab to find steam. It should install Wine version 1.5.25.
After Wine is finished and Steam is updated, search for the game in the store and download the demo. It ran very well on my end with 2.6 dual core amd and nVidia 9600 with 4 gigs of ram. I know it is available for Linux. However, since Steam isn't 100% on PCLinuxOS, I chose this route. I am going to keep an eye on this company. It seems they know what they are doing in the area of just good, fun game play. If anyone has ever played Borderlands, it looks similar with a different game engine. Have fun.