by daiashi

About The Game
Door Kickers is an innovative real time strategy game that puts you in charge of a SWAT team, and lets you command them during a tactical intervention.
You analyze the situation, plan team routes, choose equipment and breach points and coordinate multiple troopers to reach the hostage room before the bad guys get to press that trigger.
It may sound daunting, and like real world CQB combat, but that's what it intends to be. Most levels can be completed in minutes, and on the fly improvisation works. Achieving the perfect planning, getting the mission done with no false steps ... now that's a skill harder to master.
The game is in Alpha phase, which means that we're still shaping the basic gameplay but YOU can already play it. We have a solid blueprint and know where we're headed, and each day we add new features, new tactical options and sandbox improvements. By contributing with your voice and money now, you can help shape this game into the kickass strategy game that you'll love for years to come!
Although Door Kickers is currently in alpha, it is playable but not finished yet. Users and the press think its already very fun and addictive! And there's a lot of gameplay in 42 handcrafted levels, plus the mission generator, as of Alpha 6.
What can you actually expect? Obviously some features are not yet implemented. There are also small bugs or gameplay tuning issues and you can say the experience is not yet final quality. Regular updates to the game are being released, and will continue throughout 2013, with an estimated release of the final game in Q1 2014. Each update comes with new stuff, new toys, and new levels.
By buying the game in its early access stage, you will also receive the full game upon its release.
Some additional stuff that will be added to the final game:
Larger and multi-story locations

More tactical planning options

Melee combat, arrests and surrendering bad guys

Guard Dogs and other enemy types

Oh yeah, also lots of AI improvements
The folks over at KillHouse Games have just released version 6 of their tactical shooter game. It brings with it more guns, more toys, and more levels.
Being a long time favorite of the Rainbow Six franchise, this game certainly has as much to offer, if not more. True, it's a top down shooter: however, it is not turn based. This means there are no "you shoot, then they shoot" scenarios. You can either draw out a plan similar to a tower defense game, or just go for it and have direct control over each member of your team. Choosing your team from a roster, they can be assigned different equipment, from handguns to flash bangs. You have a choice of a breacher class, an assaulter class, stealth class and a point class as of this writing. The Breacher class has a choice of shotguns and handguns, while the assault class has a choice of assault rifles. The stealth class has silenced weapons, and the point man only has handguns.
Game play includes eliminating all terrorists, rescuing hostages and disarming bombs. This is one of the best tactical shooters I have played in decades, and I have played most of them. There is even a spot on their site offering your house and or face to be used in the game, according to your donation to the development.
While this is a game, it has some tactical training exercises that can and are being used in some local law enforcement agencies.
Along with some graphics that are easy on the eyes, this game is -- wait for it -- DRM free. So there are no hiccups from all that bloated software, as in some titles. Honestly, if you like strategy games or not, I think this is a game worth spending some cash on and giving it a whirl. So tango down and enjoy.
System requirements:

PCLinuxOS and Steam
Hardware:
Minimum:
OS: PCLinuxOS
Processor: Intel Pentium IV 2.6 GHz or equivalent
Memory: 2 GB RAM
Graphics: An OpenGL 2.0 graphics adapter. NOT SUPPORTED: Intel GMA 9xx / Intel HD Graphics or older, ATI Radeon X2500 or older.
Hard Drive: 2 GB available space
Additional Notes: 1366x768 minimum display resolution
Recommended:
OS: PCLinuxOS
Processor: Intel Core 2 Duo or AMD Athlon 64 X2 5600
Memory: 4 GB RAM
Graphics: NVidia Geforce 9xxx / AMD Radeon HD / IntelHD series or better
Hard Drive: 2 GB available space
Additional Notes: A resolution of 1920x1080
About The Company
KillHouse Games is a small Indie studio founded in late 2012, in Bucharest, Romania. They are experienced developers and hardcore gamers, not necessarily in that order. They believe in building games that matter, games that leave both the player and the developer fulfilled. They believe in making games as an engaging experience that enriches your life, not a boring and mindless pastime that wastes your time and ruins your health. In the interest of full disclosure, they admit to being guilty of losing countless nights to playing games, and will probably do so till the end of time. Games, like books, can be THAT good.
Some Gameplay Screenshots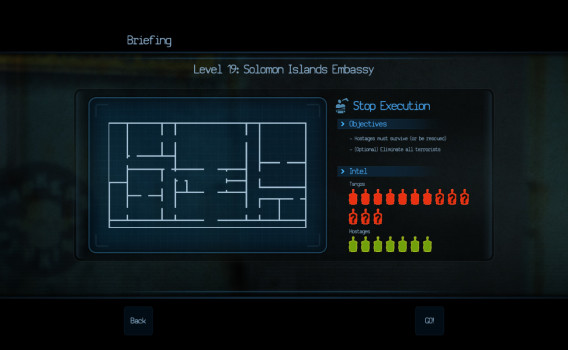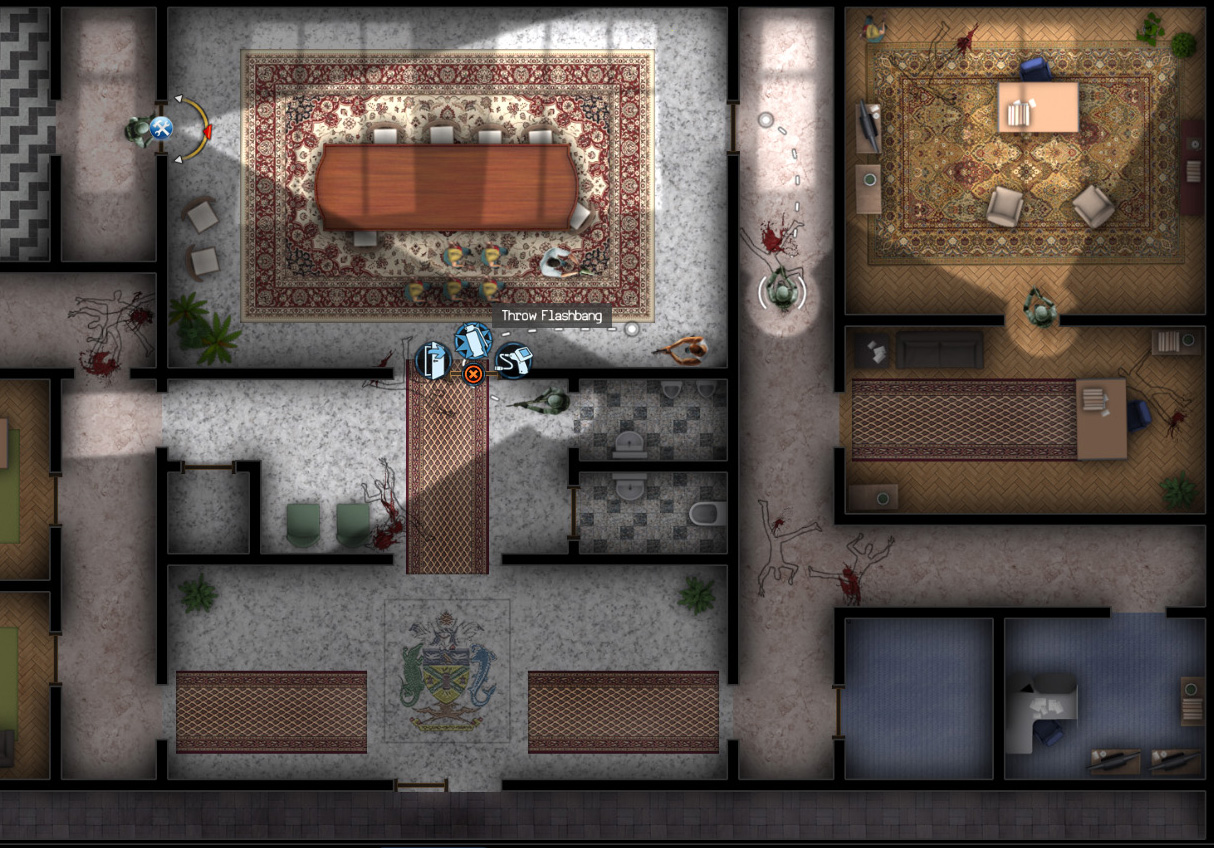 Getting It To Run
Install Steam (if you don't have it installed already), then start it. You will need to create a new account, if you do not already have one. Once you have Steam up and running, go to the store tab. Click on the Linux tab and search for Doorkickers. If you have updated your system, including graphics drivers, you should be good to go.