as told to Smileeb
How old are you?
I am 52 years old. I was born in Conneaut, Ohio September 13th 1961.
Married, single or what?
I am married, third time now!
Children, grandchildren?
I have 4 kids, Ashley, Donnie, Trent and Gabe and one grandchild, Hunter.
Kids event 2013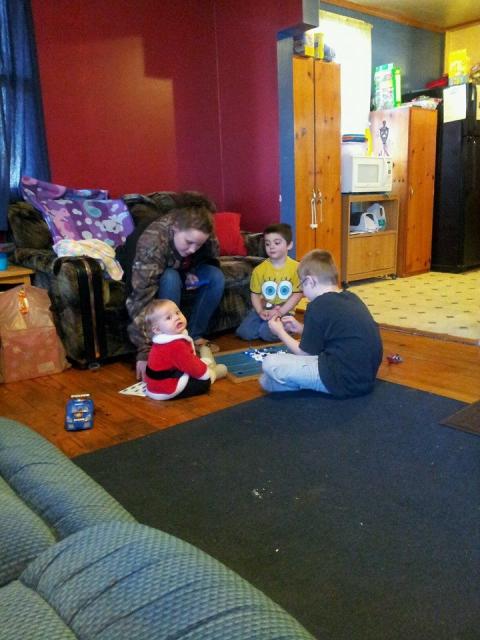 Daughter-in-law, granddaughter, boys
Retired or working and for how long and at what?
I work for Stoneridge North America in Portland, Indiana. I prep heavy gauge and multi-core wires to build wiring harnesses. I have been at Stoneridge for about 8 years now.
What is the area you live in like. Weather, Quietness, Scenery?
I live in Hartford City, it's a quiet little town. The land is pretty flat around here, lots of fields and farms. Currently it's winter here but we usually do not get very much snow. I remember being outside on Christmas with my brother and my grandfather and it was 60 degrees out! The weather changes here all the time.
Courthouse daytime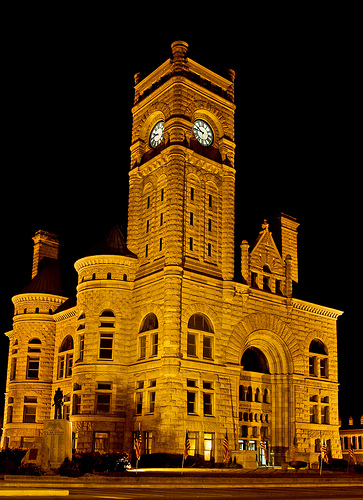 Courthouse nighttime
Old Jail
Are you handy with your hands and have any hobbies?
I like working on cars and trying to fix up my house. I work on computers a lot and enjoy trying different desktop environments. I am an amateur when it comes to home remodeling, but it sure is a good feeling when things turn out nice.
What is your education level?
I am a high school graduate. I went to Kent State University for one semester and dropped out. I also went to Ivy Tech and took a course on Machine Trades. I liked Ivy Tech because I could take what really interested me and I really enjoyed it.
Do you like to travel, go camping?
I used to go camping with my uncle and cousins. I still have fond memories of camping. I do not travel much, since my eyesight is not the best these days for driving. My wife Amanda does all of the distance driving. She can drive in big cities much better than I can.
What caused you to try Linux and join this forum?
I came across PCLinuxOS 2007 when it was under development, and I was very impressed! The lead developer was right in there with the community working and I instantly liked his style and humor. Many of the people on the forum are around my age, and in a short time I felt like I really knew the people I was interacting with.
The PCLinuxOS forum just seems like a family. Everyone supports each other, and not just where software is concerned. The people on the forum were there for me through some very rough times in my life, and their support helped more than anyone could ever imagine.
PCLinuxOS just works, too. It has never failed me. I have fun with the various editions, especially the Enlightenment edition.
PCLinuxOS Family Member Spotlight is an exclusive, monthly column by smileeb, featuring PCLinuxOS forum members. This column will allow "the rest of us" to get to know our forum family members better, and will give those featured an opportunity to share their PCLinuxOS story with the rest of the world.
If you would like to be featured in PCLinuxOS Family Member Spotlight, please send a private message to smileeb in the PCLinuxOS forum expressing your interest.