by Meemaw

Address Books
We all have different ways of recording addresses. Most of the email programs in use have an address book in which we can save our friends' email addresses. Many of them have sections in which to save a friend's physical address as well. I use Gmail most and have addresses stored there.
However, what do you do if your internet is down? I use Thunderbird at work, and use its address book to keep track of business contacts. Thunderbird's address book works even if I have no internet connection, but I couldn't access my Gmail contacts if I wasn't online. Fortunately, the PCLinuxOS repository has a few standalone programs to help me out.
Contacts is a basic address book with a small, simple window. When you open it, you see the window below. You can increase its size by clicking a corner with your mouse and dragging out the corner.
All you have to do is click on "New" and an Edit contact window will open, as show below. There you can add all your contact's information before clicking the "Close" button. The button shape in the upper right corner is to add a photo, if you wish. You see the main fields - name, address, phone and email - but you can add several other fields if you need them: MSN, Yahoo, AIM and ICQ nickname, birthday, homepage and a separate note space.
When you have your contacts added, you will have a list on the left side of the window. If you click on one of your contacts, the right side of the window will have a summary of your added information. You can also import contacts if they have been exported from another address book in vCard format (.vcf), but I don't see an export function. However, Contacts is a nice, simple little address book.
Dexter is another very basic program. From alternativeto.net - Dexter is a very simple, easy to use address book, designed with the home user in mind. This personal contact manager integrates with Postler, and can import and export contacts in vCard format. Opening Dexter for the first time, you see a window asking if you want to import a vCard address book file or create a new contact.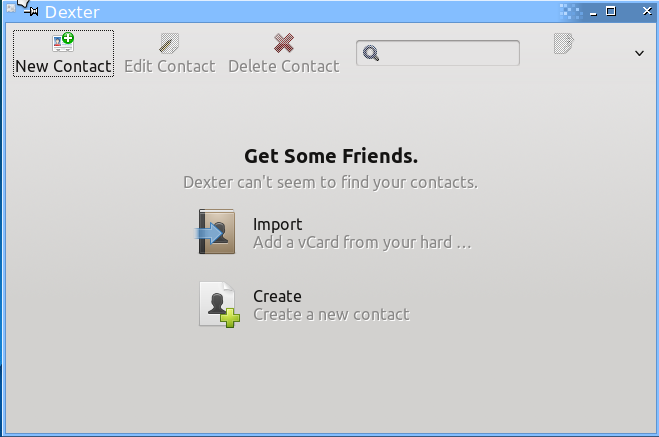 I imported some contacts from my Gmail, and can add as many more as I want simply by clicking on New Contact in the upper left corner. The new contact window looks like the one below. You can add as many emails, phone numbers and addresses as you want by clicking the plus sign to the right of the section you need. If you make a mistake, you can go back to your contact and click on the next button, Edit Contact. If you no longer need a contact, you can delete it with the Delete Contact button.
You can export your contacts in vCard form from Dexter. Click on the rectangle in the upper right of your window, and you will be able to export your address book. This menu also has a section where you can choose how to sort your contacts.
Dexter is a nice little program.
Rubrica seemed like it would be a great program. From SourceForge: Rubrica is an addressbook manager for GNOME. It allows you to add personal data (name, surname, address, etc.), web links, irc and email addresses, telephone numbers, job information (company where contact works, company infos, contact's assignment, etc.) and notes. However, the source code hasn't been updated in about 18 months, and the version in the repos is from 2008, repackaged in 2010. I couldn't get it to run on my laptop. I could enter contacts and click Save As…, but if I closed the program, there was nothing saved to open the next time I started it.
Abook is a program for those of you who want to do everything in your terminal. It is text-based, but still seems to do everything necessary. After installing from the repo, open a terminal, type abook and it will open with the following screen. I have already added a couple of contacts.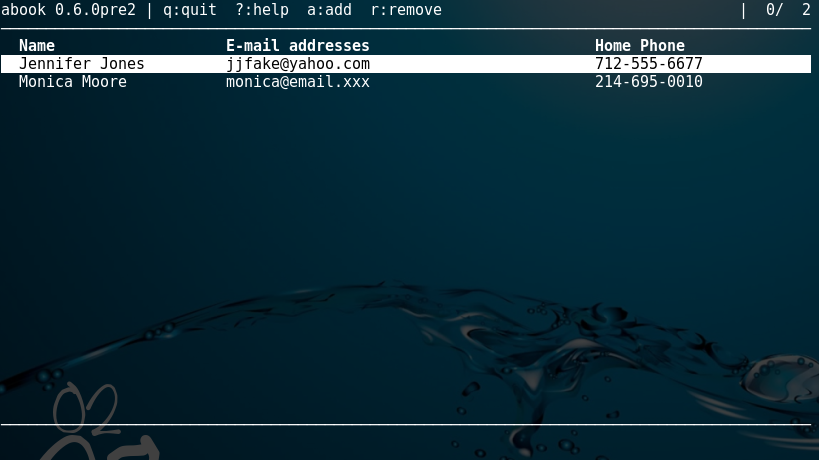 It's actually pretty straightforward. Keystrokes at the top of the window tell you what to do. If you want to add a contact, press a. You will see a new window with the impression of tabs at the top. The tabs say Contact, Address, Phone, Other and Custom. You can switch from one to another using your arrow keys. The first thing you will add is your contact's name, then press Enter. The way to enter more information is to press the number in front of the field you wish to add. The only other field in the Contact tab is 2 - email address. Arrow over to the Address tab and press 1 to add the street address of your contact, then press Enter.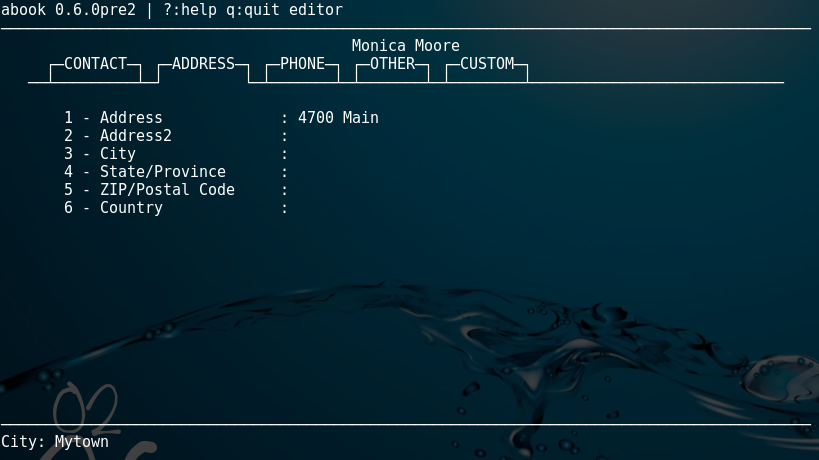 Proceed through the tabs and fields in the same way, pressing the number of the field you want, adding the information and pressing Enter. When you are finished, press q for quit, and you will arrive back at the main screen. You can use your arrow keys, then press enter to go to a contact and look at their information. Pressing ? will give you the help screens. Pressing q at the main screen will close the program.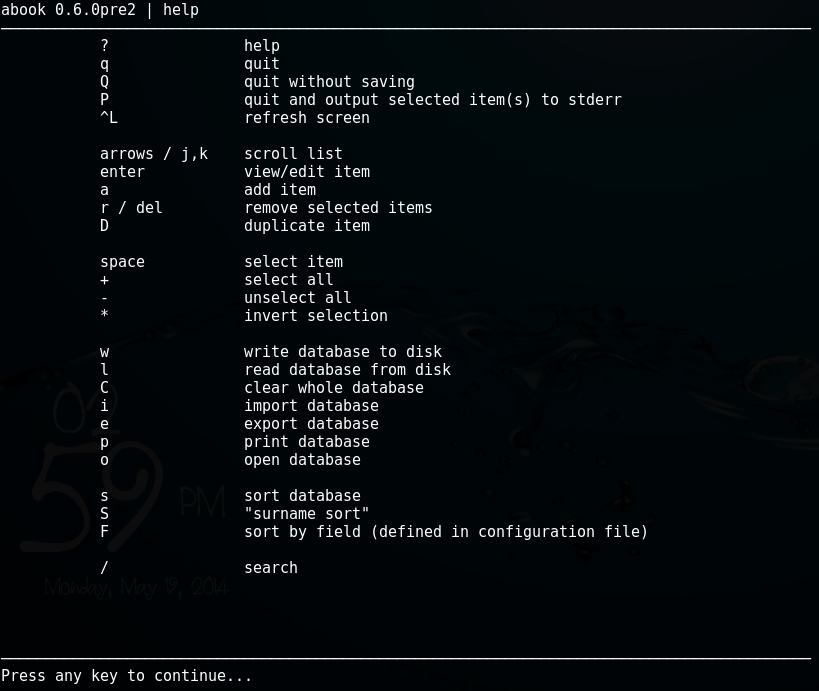 Notice from the help files that you can sort, search or export your address book, and even print it. If you love your terminal programs, this will work well for you.
I also have an abbreviated address book in a spreadsheet, just for Christmas cards & labels, but that isn't everyone -- just those to whom I send cards. It's nice to have a separate address book, just in case. I'm sure one of these will work just fine for you.