I don't think there's a computer user on the planet that doesn't realize that the mascot for Linux is Tux, a cute little penguin. When I see a penguin, the first thing I think of is Linux. It's been that way since before I ever was a Linux user.
There's a new project on Zooniverse to help tag and classify pictures of penguins in the Antarctica. If you're not familiar with Zooniverse, it's a "collection of web-based citizen science projects that use the efforts of volunteers to help researchers deal with the flood of data that confronts them." Currently over 125,000 volunteers from around the globe are helping sort through mountains of data in various scientific endeavors related to space exploration, nature, climate and biology.
More specifically about the Zooniverse penguin project, called Penguin Watch, you can help find the reason for the recent decline in the Antarctica penguin population. Specifically, here are the contents of the email I received recently:
Today we welcome a new project (and a new species!) to the Zooniverse. Penguin Watch asks you to tag penguins in amazing images from around Antarctica. Find the project at www.penguinwatch.org
Penguin populations are declining but the harsh conditions of the Antarctic make monitoring them logistically challenging. Researchers from around the world have established a remote camera network to monitor penguin colonies across the Southern Ocean. By tagging images from these cameras on Penguin Watch, you can help scientists understand how and why penguin populations are declining -- and how to best protect them.
Penguins play an important role in the Antarctic ecosystem and are considered sentinels of change -- any variations in penguin dynamics may reflect larger changes to the environment. Climate change, fisheries, disease, and pollution are all prime suspects in driving penguin population decline. Penguin Watch will help the researchers understand more.
To take part, visit www.penguinwatch.org and follow the short tutorial to get going with your first image. You can discuss images at talk.penguinwatch.org and you'll find the project on Twitter and Facebook.
Thanks,

Rob and the Zooniverse Team
Gee ... what Linux user wouldn't want to help preserve and protect the living, breathing versions of Tux? I left all the links intact, just in case some of you out there want to lend a hand.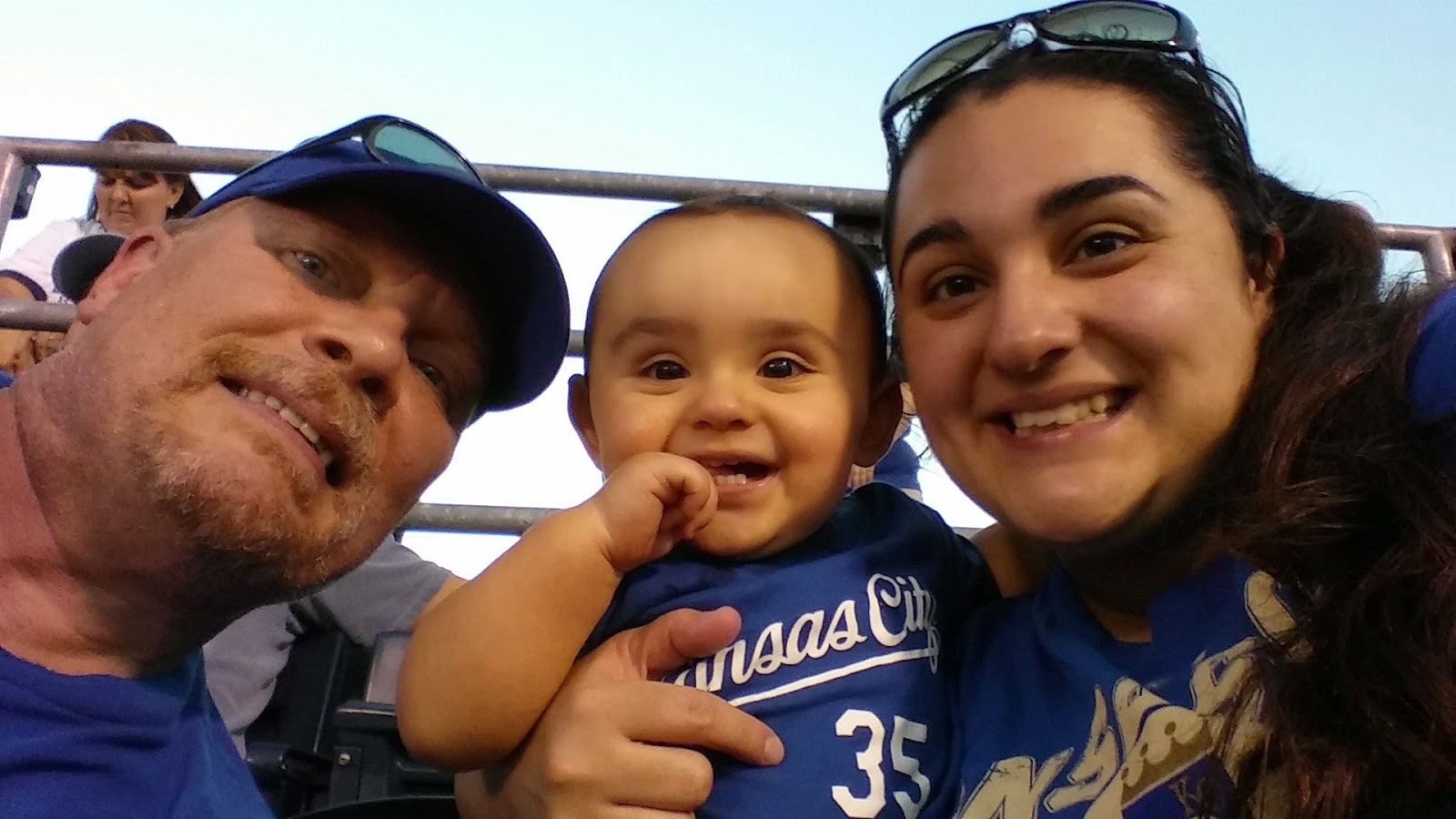 Paul, Ryan and Laura at Ryan's first Kansas City Royals baseball game, September 2, 2014.
Meanwhile, an invasion of "mites" have invaded the PCLinuxOS forum in September. Thanks to ms_meme, who started a post, users started changing their forum user names to celebrate the mighty mite. For a while, it was hard to tell just who was who. Others were too "snarky" and changed their user names to reflect the snarkiness of their persona.
Also, September saw the magazine's website experiencing a slowdown. Some of the slowdown was related to bots and crawlers indexing the site. Unfortunately, they hammered away at the magazine's home on the web at the first of the month -- right when everyone is trying to get the latest version of The PCLinuxOS Magazine. Thanks a lot, Google and Yahoo! But also caught poking around in the nether-regions of the site were hackers from China and Russia (don't these fools have anything better to do?). YouCanToo, who hosts the magazine's home on his servers, had to block some fairly significant ranges of IP addresses If you were caught up in the blockade by having your IP address inadvertently blocked, please accept our apologies. Send us a PM in the forum, or send us an email, with your IP address so we can attempt to get you reconnected and off of the list of blocked visitors. Everything should be (and seems to be) running well now.
Until next month, I bid you peace, happiness, serenity and prosperity.