by Paul Arnote (parnote)
Once again, the PCLinuxOS family has lost one of their beloved family members. Mike W. Harris, who more commonly went by Mike in the PCLinuxOS forum and who formerly went by Wildman, passed away November 30, 2014, after a lengthy illness. Mike would have been 70 years old on January 20, 2015.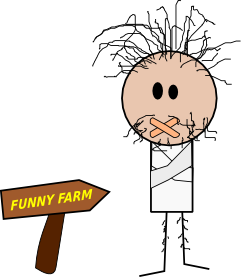 ms_meme's caricature of Wildman
Mike's last post in the PCLinuxOS forum was in the early morning hours of November 27, 2014. It read:
"HAPPY THANKSGIVING To All" and be thankful for what you have!
Mike joined the PCLinuxOS forum on January 22, 2006, just two days after his 61st birthday. Over the course of most of the next eight years, he became a prolific poster, with 8015 forum posts to his credit. Ironically, Mike only started eight forum threads himself. In addition, he never started a poll, and he only once ever voted in a poll. As is the case with many users, the majority of Mike's posts were in the Sandbox. During the 65 days, 23 hours and 36 minutes he spent logged into the forum, most of his forum activity occurred between 9 a.m. and 10 p.m., peaking around 9 p.m.
Mike lived in the United States, in Julian, North Carolina, just southeast of Greensboro. He lived northeast of Rudge, and the two would talk often about planning a fishing trip.
"I assumed that his proximity to the lake (Lake Norman) made him a prime suspect as a fishing buddy, so a long time ago, when I found out where he lived, I contacted him via "PM" to see if he was interested," said Rudge.
"Well, he WAS interested but his failing health already made it a pipe dream," continued Rudge.
"This was about three years ago and we fantasized about our fishing trip and how much beer we would need "etc." jokingly off and on about it right up until very recently.
"It was also that we shared almost exactly the same weather patterns so if he got snow, I got snow. If it was unbelievably hot for me, same was true for him and we shared jokes and information about that sort of thing.
"Sadly, I never made the trip to actually meet Mike in person. In retrospect, he probably would have loved meeting JRex," said Rudge.
Personally, I had several correspondences with Mike. He was a huge supporter of The PCLinuxOS Magazine, and he would occasionally send private emails to me following the release of one of the issues of the magazine to congratulate us on the job we had done. He also sent well wishes for the birth of my son about a week before Ryan was born.
Mike's humor and thoughtfulness permeated his posts on the PCLinuxOS forum. To say that he was a well liked and highly respected member of the forum would be an understatement. He was quick to lend assistance whenever and wherever he could, helping fellow PCLinuxOS users overcome roadblocks and obstacles. His levity and sense of humor brought smiles to the faces of many.
Below is his official obituary, from the George Brothers Funeral Service:

A graveside service will be held 2:00pm Tuesday, December 2, at Guilford Memorial Park with the Reverend James Sweeney officiating.

Mr. Harris was born January 20, 1945, in Durham, North Carolina, to the late Paul and Virginia Isley Harris. He worked for many years in the HVAC industry and was formerly employed with Johnson Controls. He was preceded in death by his son, Jason Harris.

Mr. Harris is survived by his wife of thirty-nine years, June J. Harris of the home; daughter, Misty Maness and her husband Michael of Star; grandchildren, Thomas, Abigail, Chloe, and Zachary; son, Michael Jeffery Harris; brother, Ronald Harris of Greensboro and sister, Susan Sweatt also of Greensboro.

Memorial contributions may be made to Hospice and Palliative Care of Greensboro, 2500 Summit Avenue, Greensboro, North Carolina, 27406.
Mike will be sorely missed by his PCLinuxOS friends. We extend our deepest sympathies and condolences to Mike's family.