As Told To Smileeb
This month we have Georgetoon
How old are you?
I was born in 1958. So that makes me 56 years young.

Married, single or what?
I'm single. I've never been married. But, ya never know. Miss Right might still show up. Let's just hope I'm not at my drawing board when she does. It's distracted me before.

Children, grandchildren?
Nope. Lots of nieces and nephews though.

Retired or working and for how long and at what?

I work in a family business and have been at that since high school. Currently, I'm Vice-President of Trico Machine Products Corporation. I'm also a cartoonist. I started to cartoon seriously during my four years at The Ohio State University. I kept at it since graduating back in 1981. I was nationally syndicated for nine years with King Features through their weekly service. Then, I moved to DBR Media for eight years until they folded. Since 2008, I've been distributing my cartoon features myself via georgetoon.com and my blog www.georgetoon.com/blog

What is the area you live in like? Weather, Quietness, Scenery?
I live in Northeast Ohio. Specifically, Chardon, Ohio. It's a nice semi-rural area about 45 minutes east of Cleveland. We're the Maple Syrup capital of the world! Come visit during our Maple Festival!



http://www.maplefestival.com/

We're also known as "The Hilltoppers" because we're at a higher elevation in relation to the rest of NE Ohio. Which means, we get A LOT of snow in the winter. We're in the snow-belt and our altitude makes us the highest target for all that lake-effect snow that comes off Lake Erie.

Are you handy with your hands and have any hobbies.
My main hobby has always been cartooning. Add to that my LOVE of computers and PCLinuxOS and Linux in general. When the digital revolution started in the late 1970's, I was right there with it. I used whatever software program or system came along to enhance and edit my cartoons. I got on the computer learning curve early on and rode the wave. Surprisingly to many, I'm not a Mac user like a lot of my fellow cartoonists. I also love to read. I've always been a reader. Since getting rid of my cable subscription, I've made my way back to the local library. When you visit the forums, you'll see some threads I've started regarding reading and summer reading.

http://www.pclinuxos.com/forum/index.php/topic,127219.msg1067350.html#msg1067350

And, as I've mentioned in those threads, library used book sales enable you to find some real gems and treasures. I love my Kindle, but there is something so wonderful about having a good hardcover book on your bookshelf.




What is your education level?
BA in communications from the College of Arts and Sciences from The Ohio State University 1981. I was also accepted into a Masters program at Kent State University. However, I dropped out shortly after being accepted. I really wanted to be a cartoonist.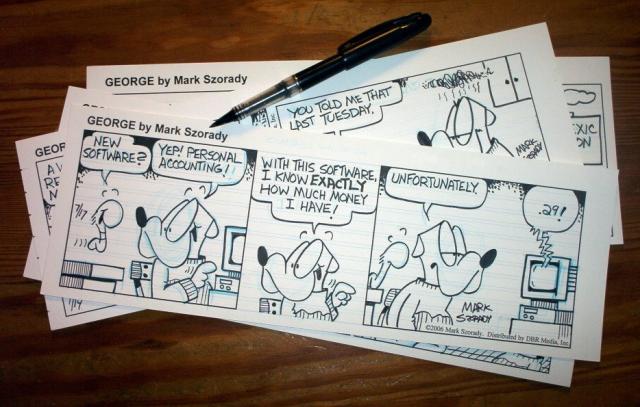 Do you like to travel, go camping?

Yes, I like to travel. Being a member of the National Cartoonists Society has taken me all over the country to attend the Reuben Awards weekend and Convention. I've been to Los Angeles, San Diego, Chicago, Pittsburgh, Washington, D.C., Kansas City, Boca Raton, Asheville, NC (chimney rock was cool!), New York, Phoenix, and the list goes on. I also like taking one tank trips. A great destination for me is driving the two and half hours down the road back to Columbus to visit the campus at O.S.U. If you ever find yourself in Columbus, be sure to swing by The Ohio State University. O.S.U. is home to The Billy Ireland cartoon Library and Museum.

https://cartoons.osu.edu/

It has one of the finest and most extensive collections of original cartoon art on the planet!




What caused you to try Linux and join this forum.
That's easy. A Windows virus. Somehow, my Windows 98 system became infected. It took me two weeks talking to Microsoft technical support to remove the parasite and clean the system. I'd been reading about Linux and decided to jump in. I moved from distro to distro, learning as I went along. I found PCLinuxOS because it was the most user friendly and the community was just as friendly and welcoming.




PCLinuxOS Family Member Spotlight is an exclusive, monthly column by smileeb, featuring PCLinuxOS forum members. This column will allow "the rest of us" to get to know our forum family members better, and will give those featured an opportunity to share their PCLinuxOS story with the rest of the world.

If you would like to be featured in PCLinuxOS Family Member Spotlight, please send a private message to smileeb in the PCLinuxOS forum expressing your interest.