by YouCanToo
You can set up your own chat room in PCLOS-Talk by using Pidgin. Let's get started!
From your Buddy List, click on the Buddies tab, and then click "Add Chat."
This will open up a "Add Chat" window. Now click in the "Room:" and add the name that you want to use in the box to the right. Then click "ADD"
NOTE: You cannot have spaces or things like " or ' in your chat room name. Instead of spaces, use the dash or underscore instead.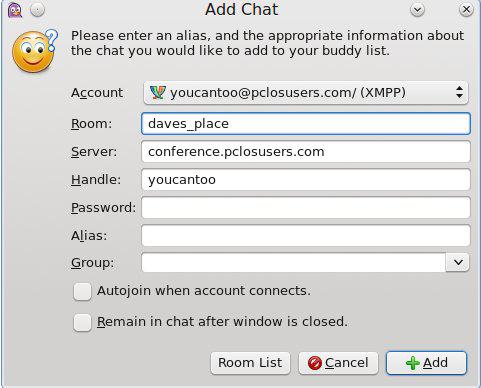 Your chat room will now appear in your Buddy List.
Now, double click on your new chat room. It will open two new windows. First, select the "Create New Room" window.
In this window you can set the behavior of your chat room. If you make changes, don't forget to save them. If you want to just accept the default configuration for your chat room, just click on "Accept Defaults." The "Create New Room" window will close, leaving your room window.
Now, to use your personal Chat Room ...
There are two ways for other people to find your new Chat Room:
1. Invitation
2. Using the Room List from the Buddy List.
You can invite any of your buddies to your new room by using the invite button. In your room, click on "Conversation" and then select "Invite." This will open an Invite Buddy Into Chat Room window. Just enter your Buddy's username and fill in your Message (optional). Now, just press the "Invite" button and wait for your buddy to join the room.

The other way is for your buddies to search for your room. To search for a list of all available rooms, click "Tools" from your Buddy List and select "Room List". This will open the Room List window.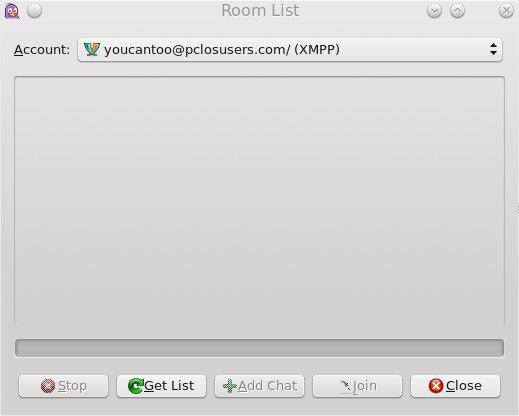 Now click on the "Get List" button and in the new window click "Find Rooms". A list of all available rooms will be listed. The only rooms that will not be listed are PRIVATE rooms. Private rooms require an invitation only.
Highlight the room you want to enter and then click the "Join" button.
You're now in the chat room. You will see a listing of all other users that are in the chat room.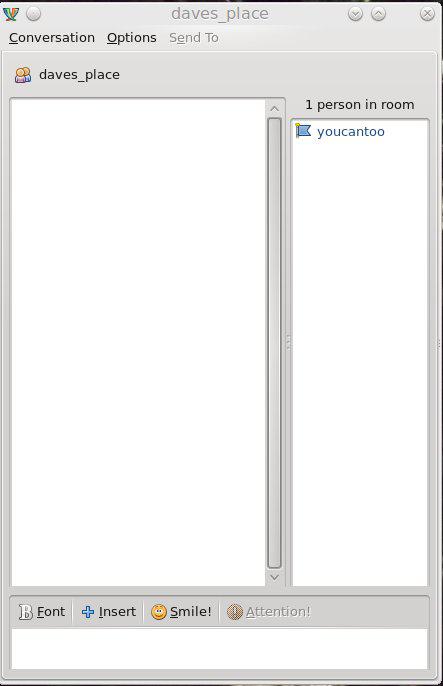 When the last person leaves the chat room it disappears. The chat room will be no more, unless the person who first created it sets it to "persistent."