by Paul Arnote [parnote]
On the morning of August 27, 2016, the PCLinuxOS community awoke to this sad message on the PCLinuxOS forum:
Hi, I am not exactly sure where to post this. I am not Tara. I live next door. She left me all her stuff, and did not believe in passwords.

I have read through a lot of this forum, and have seen that our dear girl was well liked and imparted her wisdom freely. I was never a member of this forum, but I did introduce her to PCLinuxOS.

It is my sad duty to inform you that Tara's consistent migraines were not caused by her love of Tequila or fine Whiskey. Seriously, that girl could drink me under the table. Unfortunately, she had a brain tumor, apparently inoperable, and she passed away this morning.

It has only been hours, but I miss her dearly. I suspect that many of you will too, even if you did not meet her in person, she had a way making people feel like they knew her.

I don't know what else to say. It was very unexpected.

If you didn't know, her birthday was November 6. I called her "Gall Faulkes, late for the party." We went to the same high school, Grove Park SS, Wrexham, aka Wrecsam, now just called "The Groves."

Her last wishes were that she be cremated and her ashes tossed in the Mersey. I promise, I will make it happen her way.

Also too, for those of you who were fond of her, I have many pictures of her with the Cessna, her Jaguar and her motorcycles.
The above was posted at 00:34:56 (CDT). Just three hours, 12 minutes, 16 seconds earlier, Tara Victoria Rain made her last post to the PCLinuxOS forum.
As the day wore on, many PCLinuxOS users expressed their sadness at hearing this unexpected and jolting news. Condolences and other heartfelt messages poured forth from many users.
Tara joined the PCLinuxOS forum family on July 15, 2013. Since that time, she made just over 1900 posts to the forum. In the short time she was a member of the PCLinuxOS forum, she managed to ingratiate herself to many forum members, becoming a welcome and well loved member of the PCLinuxOS family. While listing her age on her forum profile as 355, she did mention a couple of times in the forum that she was 28 years old.
The magazine staff had asked Tara on multiple occasions to "volunteer" to be featured in the magazine's monthly "PCLinuxOS Forum Family Member Spotlight" column that highlights and features a different forum member every month. Each time, Tara would turn down the invitation, believing that there were others more interesting and deserving than she was.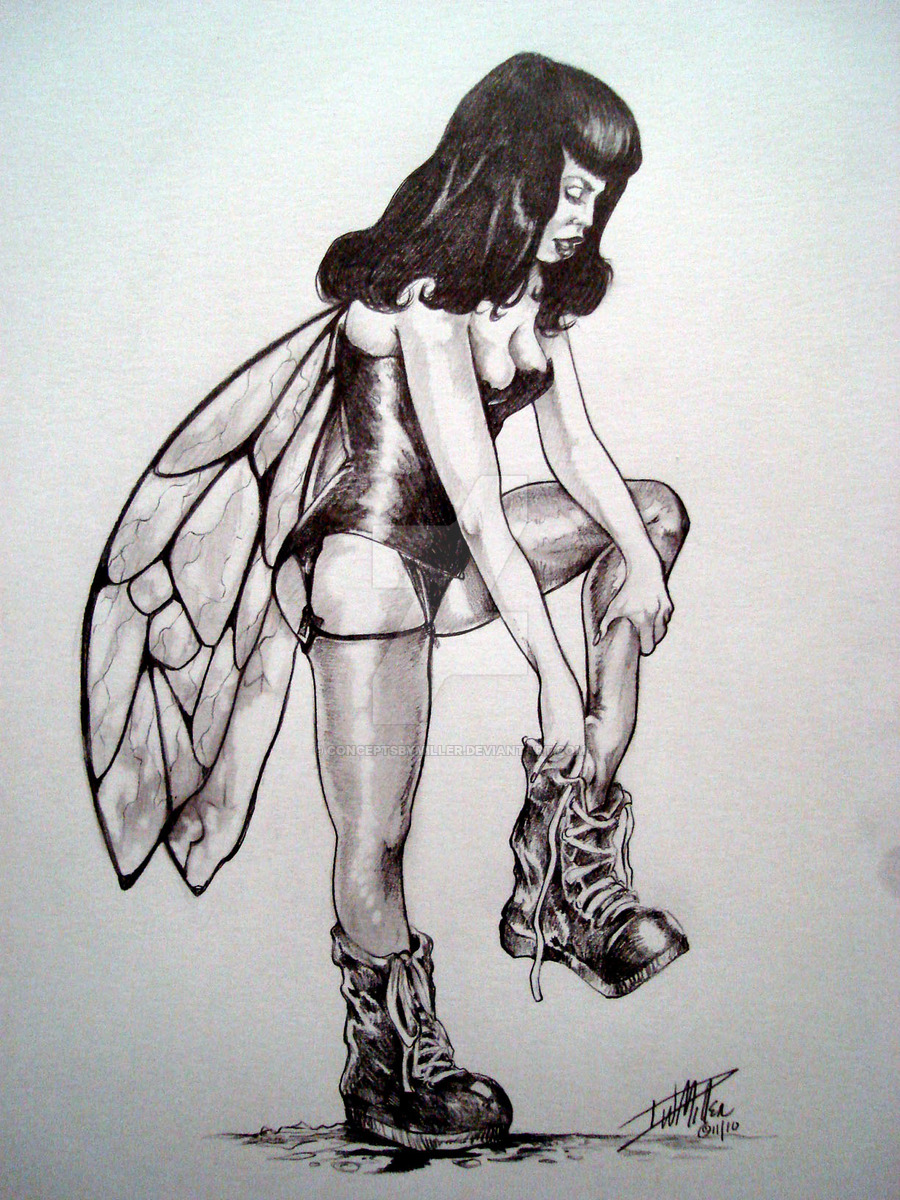 Included in Tara's signature was an image from DeviantArt artist and contributor ConceptsbyMiller, called "Fairies Wear Boots Betty Page." Betty Page is a famous pin-up image, and the image is inspired by a Black Sabbath song, called "Fairies Wear Boots."
Tara seems to have come to PCLinuxOS well versed in the "Linux way." Like many PCLinuxOS users, and despite her forum "sign up" date, Tara alluded to having run PCLinuxOS for a much longer period of time. In a forum post from October 2013, Tara indicated having run PCLinuxOS since October 2010. Elsewhere, Tara stated that she had been a Linux user since 2006.
Originally from Wrexham, a town in Wales, Tara appears to have made Ontario, Canada her home. There, she provided support to a high school computer class. They had previously purchased Dell laptop computers for their computer lab. When she discovered that they were limping along with the original Win2K that came installed on the laptop computers, she sought permission to upgrade the computers to a more modern operating system. That's right. She took it upon herself to upgrade the computer lab computers to PCLinuxOS. Plus, she provided any support they needed in keeping things running in top form.
In another forum post, Tara provided the GPS coordinates for where she was living, via http://www.thegpscoordinates.com. Undoubtedly, the students she was selflessly supporting are going to miss her.
As I read through all of Tara's posts (I started with her oldest forum post and read them all backwards in chronological order), I was amazed by several things. First, I was amazed by the incredible breadth of her knowledge. She exhibited more knowledge than most seasoned Linux hands. Second, I was amazed by how many people she helped (and touched) in the forum. She lent a helping hand whenever she could, and it was apparent that she did so with a smile. She never talked down to people. Third, I was quite taken by her sense of humor.
Evidence of Tara's knowledge of Linux came in another, later post in October 2013, where she shared the brilliant bash script she wrote to periodically clean her system, instead of using BleachBit.
Tara's knowledge really shined through when she wrote MyLiveGTK, a Gtk based GUI front end for MyLiveCD. Once a scary excursion to the command line for many PCLinuxOS users, MyLiveGTK demystifies using MyLiveCD and makes it super easy for anyone to remaster their PCLinuxOS installation, regardless of their proficiency with the command line. MyLiveGTK makes it a relatively simple point-and-click task.
Further evidence of her knowledge of Linux is evident on the web site that hosts Linux utilities that she and some of her Linux friends wrote. She also offered them up to PCLinuxOS, and allowed PCLinuxOS to apply branding to them.
While she never made a formal introduction of herself to the forum, she did occasionally stop by to welcome other new forum users. Below is one abridged example from June 2016, where she finally revealed a bit more about herself.
Hi Ray, welcome!

I discovered Linux in 2006. Before that, I was an Atari girl. The only version of Windows that I ever had was Win98. The only reason that I had it was because CoolEditPro II was not available for the Atari. Neither was Sims2 or Heroes of Might and Magic III. Continue laughing, but remember: I had fun!

When I moved to Canada, my neighbour was nice enough to mow my lawn for me. He also showed me the only OS that detected and configured itself to all my h/w out of the box (seriously, I was painting my nails, it proudly and efficiently did it's thing). This happened in Live Mode. I immediately installed it and never looked back. Okay, I did look back, but there was nothing to see there.

Despite the lack of a formal self introduction, Tara quickly became a fixture in the PCLinuxOS forum. She won folks over with her solid advice and quick wit. Most people didn't need a formal introduction, and instead felt like they were talking to an old friend. She had a way of putting people at ease. She was knowledgeable and conveyed that knowledge, without a hint of cockiness, sassiness or seeming like an egotistical know-it-all. Tara simply "inserted" herself into the PCLinuxOS forum family.

Tara will be greatly missed from the PCLinuxOS forum. It is saddening that often those we want to stick around are taken from us prematurely. By Tara leaving us so soon, it serves as a reminder to all of us to not take our time among friends and family lightly, and to make our best effort to leave the best mark possible on our little corner of the world.

Tara, you will be dearly missed by all.
The PCLinuxOS Forum Reacts
To The Loss Of Tara
Below is a sampling of the responses in the PCLinuxOS forum, after hearing about the loss of Tara Rains.
Maggie: Thank you for letting us know the devastating news. I can't express myself well in writing and won't even try... I'm really sad.
Not_yet_16: Thank you for taking the time to post to let us know. That is appreciated.

This is extremely sad news, Tara was one of 'the family' and contributed greatly to this forum.

I, and I am sure others, would appreciate it if you could post some links to pics. Please also feel free to post some more during these dreadful days while the full impact of her loss hits home.

Her software, myliveGTK, has a permanent place in this distro, and every time it is used she will be remembered.
Old-Polack: Tara was an instant hit upon her arrival here, and some of us felt very close to her. She was so bright and talented, with a great sense of humor, and quickly became both friend, and family, here. Our dear girl, as you called her, is an apt and fitting description. I will miss her terribly.

I think I speak for most of us here when I say that any stories you would wish to share, about happy memories you shared with Tara, would be well received and greatly appreciated.
tbschommer: I am truly devastated, losing such an integral part of the family.
Archie: I am saddened Tara can no longer be with us. She was a part of our big family, and she will be sorely missed. Rest in peace, fairy.

I've never seen a glimpse of her and I know I'm not alone who'd want to see who she was. Please post some of her photos. That way, we'll have a face to remember her by.

And thank you for taking time to inform us of the sad, sad news.
TerryN: I keep checking the calendar hoping to find that it is April 1st today but to no avail. So sad to hear this news; I am lost for words. Sincere condolences to those who knew Tara in the "real world".
MGBguy: Over the years I have come to appreciate many members in the PCLinuxOS community. Tara was one of the "personalities" whose knowledge and good humor distinguishes this forum from so many others. Her passing saddens me.
Frazelle09: Wow. This is really sad. Thank you so much for posting this as well as whatever information you felt you could share.

She was a wonderful member of our community and we will miss her greatly.

Again, thanks for posting and we will have her in our prayers.
TerryH: After seeing the title of the post and having read the first paragraph numerous times, it is so saddening to read this terrible news. She will be sadly missed.

RIP TaraRain.
YouCanToo: This truly saddens my heart. This is another blow this year for the friends and family I have lost. We will surely miss you Tara with the laughter and knowledge you brought to the forum. May you find peace in your journey.
joechimp: Today the news has brought a tear.
News like this, is our biggest fear.
We have no answers..... there are none.
Tara would say let's have some fun.

I did not know her , yet she made me smile.
She had a way, she had some style.
We will remember, for time to come.
How we wish it could be undone.
Maurice: On a dull and cloudy winter's day a cheerful post from Tara was a real ray of sunshine. She will be so sadly missed.
Texstar: The news of Tara passing just breaks my heart. She was so young and full of life. What a sad sad day.
Pinoc: Totally shocked about this terrible news. I loved to read her posts, full of knowledge, great humour, joy, and fun. She will be greatly missed by all of us.

RIP Tara.
GOTHBITES: This is so sad. She is but a single shining soul now departed to from our mortal coil too soon for some.
tuxlink: While I didn't know her well, her name on a post at least meant that you had been contacted by someone who was really knowledgeable and very helpful. I had loaded her .ISO BabyMate and it is still running flawlessly today. What a really sad day for all of us here at PClinuxOS. Truly, a beloved family member sadly and sorely missed. RIP Tara Rain.
Andy Axnot: This is very sad news indeed. Tara was a special person on this forum; very bright, knowledgeable, helpful, and often very funny. As others have said, she will be sorely missed.