Japanese Hamburg Steak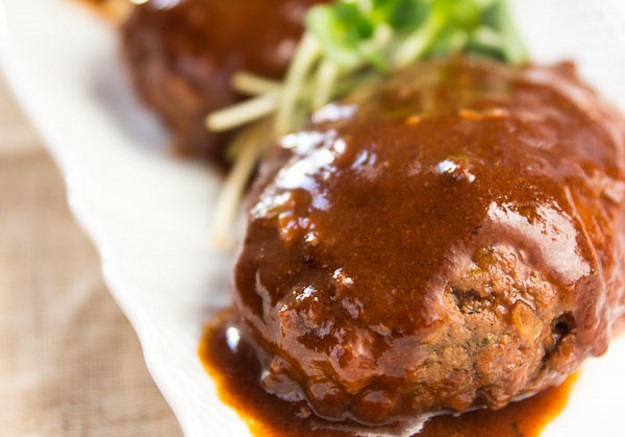 Hamburg Steak (pronounced hahm-bah-goo in Japan) is probably the most popular bento lunch entrée in Japan.

Ingredients

1 large Egg
1 small Onion (finely diced)
1 large clove Garlic (minced)
1 Lbs. Ground beef
6 Ozs. soft Tofu
1 cup Panko
2 tablespoons Ketchup
1 tablespoon Oyster sauce
1 tablespoon Parsley (minced)
1 teaspoon Soy sauce
1/4 teaspoon Black pepper
1/2 cup Dry red wine
1/4 cup Ketchup
1/4 cup Water
2 tablespoons Tonkatsu sauce (Worcestershire sauce also works)
1 tablespoon Demi-glace (optional)

Directions

1. Add a tablespoon of vegetable oil to a frying pan and sauté half the onions and all of the garlic until medium brown and caramelized. Let these cool to room temperature.

2. Combine the beef, tofu, sautéd onions, raw onions, panko, egg, 2 tablespoons of ketchup, oyster sauce, parsley, soy sauce and black pepper in a large bowl. Put some food-safe gloves on and knead the mixture together until it is uniform in color and texture.

3. Add a little bit more oil to the frying pan that you fried the onions in and place over medium heat. Because the patties are on the soft side, you'll want to form them and add them directly to the pan. I usually make about 8 oval patties about 1" thick.

4. Fry them until they've formed a dark brown crust on one side, then use a spatula to carefully flip them over and brown the other side. Unless you have a very large pan, you won't be able to do them all at once, so fry 4 at a time and transfer them to a plate when they're browned on both sides. Don't worry if they're not cooked all the way through as they will finish cooking in the sauce.

5. After you've fried all the patties, drain off any excess oil (but don't wash the pan as the brown stuff is what will give your sauce flavor). Add the red wine and boil until it's reduced by about half in volume. Add the ketchup, water, tonkatsu sauce, and demi-glace and stir to combine.

6. Place the patties back into the pan, cover, and cook for 7 minutes, flipping them over once in the middle. Cook uncovered for another 3 minutes to thicken the sauce a little. Serve with rice, pasta or boiled potatoes.