by Meemaw
YAY! PCLinuxOS is thirteen years old! I have to say that for a mere teenager, our favorite distro seems to be very mature and doing everything right.
Amazingly enough, PCLinuxOS is older than many other well-known distros. Some of the distros that came along later might surprise you. Here is a partial list:
Slackware - 1993
Debian - 1993
Red Hat - 1993
Mandriva - 1998
Knoppix - 2000
Arch - 2002
Gentoo - 2002
PCLinuxOS - Oct 2003
Fedora - 2004
Ubuntu - Oct 2004 (a full year AFTER PCLinuxOS came out) CentOS - 2004
openSuSE - 2005
Mint - 2006

A Little History
From Wikipedia, a partial interview posted in 2007:
The precursor to PCLinuxOS was a set of RPM packages created to improve successive versions of Mandrake Linux (now Mandriva Linux). These packages were created by Bill Reynolds, a packager better known as Texstar. From 2000 to 2003, Texstar maintained his repository of RPM packages in parallel with the PCLinuxOnline site. In an interview, Reynolds said he started PCLinuxOS "to provide an outlet for [his] crazy desire to package source code ..."

In October 2003, Texstar created a fork of Mandrake Linux 9.2. Working closely with The Live CD Project, Texstar has since developed that fork independently into a full-fledged distribution. The initial releases were successively numbered as "previews": p5, p7, p8 up to p81a, then p9, p91, p92, and p93. Although it retains a similar "look and feel" to Mandriva Linux, PCLinuxOS has diverged significantly. The code was officially forked from Mandrake 9.2 into an independent project in 2003. After three years of continuous development, the developers took advantage of further development in (the renamed) Mandriva in late in 2006 for PCLinuxOS 2007. In the releases before 2007, it was normally necessary to perform a re-installation.
Many of us have been with PCLinuxOS since the beginning (or almost the beginning). I was looking at Live CDs in 2004 and 2005 after my older brother told me about Linux. I finally installed one in early 2006 (p.93, I think, although I had downloaded p.91 and p.92 and used the Live CDs to try it out.) I remember being very excited when PCLinuxOS 2007 was released, and downloaded it as quickly as I could to try it out. I've been here ever since.
(from Wikipedia)
PCLinuxOS places specific emphasis on desktop computing, concentrating its efforts for home or small business environments, hence paying less attention to other more "traditional" uses, like servers, although packages for most server tasks are available.

PCLinuxOS is distributed as a Live CD, which can also be installed to a local hard disk drive or USB flash drive. Since version 2009.1, PCLinuxOS has provided a USB installer to create a Live USB, where the user's configuration and personal data can be saved if desired. A live USB of older versions of PCLinuxOS can be created manually or with UNetbootin. The entire CD can be run from memory, assuming the system has sufficient RAM. PCLinuxOS uses APT-RPM, based on Advanced Packaging Tool (or APT), a package management system, together with Synaptic Package Manager, a GUI to APT, in order to add, remove or update packages. If there is enough memory on the machine, and an active network connection, the Live CD can update packages. PCLinuxOS is also designed to be easy to remaster after installation, creating one's own personalized Live CD, using the mylivecd tool.

PCLinuxOS maintains its own software repository, available via the Advanced Packaging Tool (APT) and its Synaptic front-end. This means that an installation could be continuously updated to the latest versions of packages, hence sometimes forgoing the need to re-install the entire distribution upon each successive release. Other differences include its own menu arrangement, custom graphics, and icon sets.
The 2007 release contained KDE3, as did the 2009 release, but KDE4 was looming on the horizon. While Tex wanted to take us into the future with KDE4, he was very careful to make sure that it was problem-free before he released it. As a result, the KDE4 release was delayed until 2010. There are always those who are in a hurry, but I really appreciated that short delay because I wanted my computer system to be as trouble-free as possible. It was, with all the excellent work by Tex and the packagers. It was about that time that we found we could install most any DE we desired, just by installing task-lxde, task-enlightenment, task xfce or task-(almost whatever DE you want), which was a wonderful addition to the repo. This also gave rise to many community versions, some of which have now become full-fledged official iso's. Several of our excellent packagers and forum members release and maintain community iso's for Xfce, Mate, Trinity and LXDE.
Many of the new releases since then have been kernel updates and added support for hardware, but if you have kept your computer updated over those years, you have everything you need (other than adding a new kernel every so often). The concept of the rolling release was new to me, but it's very handy. Under the right circumstances, it is possible to keep updating your original installation and never have to reinstall. I know there are a few forum members who say they have an original install from 2007 or so that is up to date. However, I seem to be one who can mess up my system and not be able to figure out what's wrong or how to fix it, so I usually have to reinstall it. Over the years I have also switched from KDE to Xfce, so I did a new install of that, and then had to reinstall when I changed from 32-bit to 64-bit.
In 2013, Tex released the first 64-bit version of PCLinuxOS. All of the new computer systems these days are 64-bit and he wanted to step towards the future. He maintained both 32-bit and 64-bit repos for a while, and released 32-bit and 64-bit versions of the iso's, but realistically, there just aren't enough packagers to do both, so he had to make a hard choice, and in May of 2016, he announced that support for 32-bit would end. Most of us knew it already, as there had been many discussions on the forum about it. Many people are still updating their systems to 64-bit, and on old hardware that is still useful, a few have installed some other distro that still has a 32-bit version. I'm sure that decision was very hard for Texstar.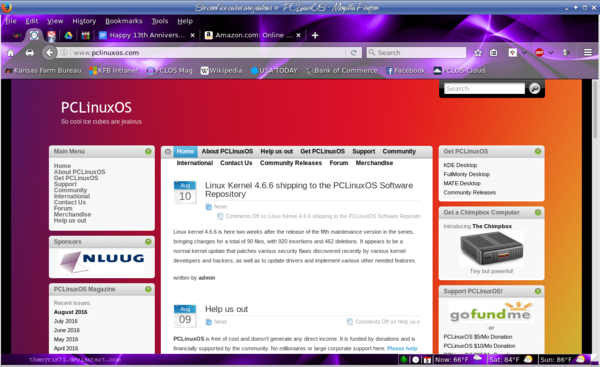 The most recent release was March of this year. Many things have changed over the years. Packagers have come and gone, and PCLinuxOS has been improved. I think we are a big wonderful family. A few things are the same; the base system is KDE, with a few excellent community versions, and the family feeling remains. With the hard work of Texstar and our wonderful packagers, it continues to operate well. Its ease of installation and use (and the family forum) makes it our favorite distro.
Happy 13th Anniversary, PCLinuxOS!!! Congratulations on your great accomplishments, Texstar and the packagers! We hope you are around for a long time!