by Alessandro Ebersol (Agent Smith)
VSDC is a video editor created by Flash Integro LLC, which has a free, gratis version, and with the payment of US$ 19.99. The paid version is registered for the period of one year, and it can be installed on two machines.
Our interest, however, is in the freeware version, which offers many features, effects, transitions, text effects and animations. And mainly, how to make it work in PCLinuxOS easily.
What are its features?
The program is designed for digital video and audio editing in various formats, including high definition and ultra-high definition video, provides professional effects for video post-production as well as the ability to capture video from the screen, record voice, burn discs, save multimedia files to a number of supported formats and publish them in onedrive, Facebook, Vimeo, YouTube and Flickr. Some of its features do not work in Linux, as it is a native Windows platform program.
Its supported import formats are:
Video formats: AVI, QuickTime (MP4 / M4V, 3GP / 2G2, QuickTime file format), HDVideo / AVCHD (MTS, M2TS, TS, MOD , TOD), Windows Media (WMV, ASF, DVR-MS), DVD / VOB, VCD / SVCD, MPEG / MPEG-1 / DAT, Matroska video (MKV), real Media video (RM, RMVB), flash video ( SWF, FLV), DV, AMV, MTV, NUT, H.264 / MPEG 4, MJPEG, H265 / HEVC


Audio formats: MP3 / MP2, WMA, M4A, AAC, FLAC, OGG, RA, RAM, VOC, WAV, AC3, AIFF, MPA, AU, APE, CUE, CDA, FLAC


Image formats: BMP, JPEG / JPG, PNG, PSD, GIF, ICO, CUR
Its export formats are:
Video: AVI, DVD, VCD / SVCD, MPEG, MP4, M4V, MOV, 3GP / 3G2, WMV, MKV, RM / RMVB, FLV, SWF, AMV, MTV


Audio formats: MP3, M4A, AAC, OGG, AMR, WAV


Image formats: BMP, JPEG, PNG, GIF
What are the differences from the free version to the PRO version?
From Flash Integro's website: "Both solutions offer a complete multimedia editing suite. VSDC Pro Video Editor provides more options for video editing professionals: advanced settings spline parameters and resizing, higher resolution sub-pixel support, multiple color chroma key, hardware acceleration and prioritized technical support. The VSDC Editor Free Video solution is intended only for home and educational needs. Commercial use is available by purchasing a subscription for VSDC Pro Video Editor."
Now, the part that interests us: How to install it on Linux, and more specifically, in PCLinuxOS.
Ingredients
You will need PlayOnLinux, and some more files to be downloaded from the website http://manualinux.eu
In fact, on this site, there is a tutorial on how to make VSDC work on Linux, but I adapted the process for POL (Play On Linux), which made ​​it a much easier procedure.
The cake recipe is as follows:
Download video_editor.exe file, from the link http://www.videosoftdev.com/services/download.aspx?ProductID=1
Open POL.
Click Install a program.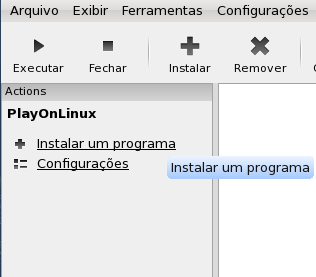 Click Install a program not listed.

Click Next, Next, Next until you reach the manual setup screen.

Click install a program on a new virtual drive.
Create a new virtual drive, and give it a name. I called it VSDC.
On the next screen, select Configure Wine and Install some libraries, then click Next.
Now configure Wine to Windows XP, click OK and move on.
In DLL`s installation wizard, click POL_Install_gdiplus, and then click POL_Install_msxml3. Click Next.
Select the file video_editor.exe to start installation.
Proceed with the installation program normally, with the next, next, finish of the Windows applications, and accept the terms of the EULA.
After carrying out the installation, do not select the "Run the program after installation" option, as it will fail.
Follow the POL process, and choose the icon to create the launcher. Choose VideoEditor.exe.
Click Next, Next and when it asks to create a new shortcut, select "I do not want to create a new shortcut." Thus, the installation ends. But the process goes on.
Download the following files, from the site http://manualinux.eu

http://manualinux.eu/config/wine/VSDC.reg
http://manualinux.eu/archivos/dll/ole32.7z
http://manualinux.eu/archivos/dll/oleaut32.7z
Open your favorite file manager files in /home/~user/.PlayOnLinux/wineprefix/VSDC/drive_c/windows/system32 and unzip the two DLL's ole32.7z and oleaut32.7z in this folder. It will ask for confirmation to overwrite the files. Click rewrite all and close the file manager.
Now, in POL manager, select the program VideoEditor and click Configure.
Click Registry Editor, click Registry, Import Registry File
Import the VSDC.reg file, which was downloaded earlier and close Regedit.
In the POL configurator, click the View tab.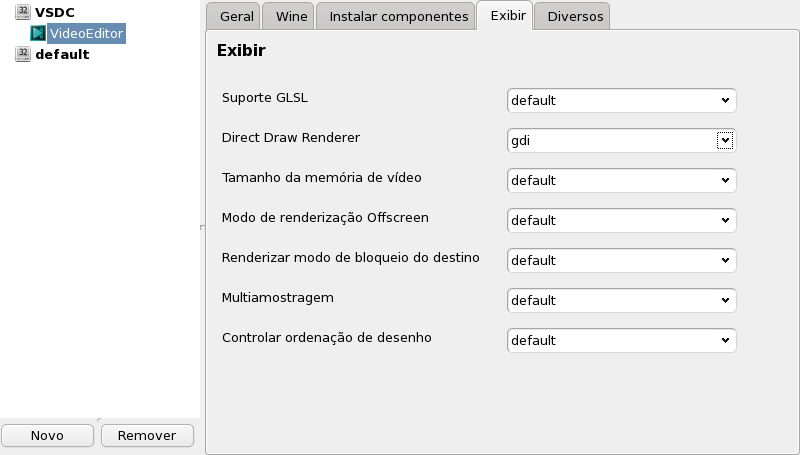 In the Direct Draw Renderer option, select gdi. Then close the POL Configurator.
Now, click the icon VideoEditor on your desktop, and the program should start working.
So, you have another option for video editing on PCLinuxOS. The program is quite good and has a quick export for the edited video and supports many formats. The interface is based on the MS Office ribbon, which is not the most intuitive, but once you get the hang of it, it is possible to create good videos with a wide range of effects quickly.
The text of this article was adapted from http://manualinux.eu/vsdc.html
I hope you enjoy and produce good videos with the program.