by daiashi
About The Game
The classic maze-based strategic bombing game is back. Earth is invaded by aliens and you are in charge of your robotic soldier to defend it. Navigate your way through the maze and destroy the aliens and their bases by strategically placing bombs. Unleash a devastating Energy Blast to destroy everything around you. Become invincible and destroy everything in your path, once you fill your adrenaline bar and activate a Tornado.
Features:

- Various mazes to navigate and play
- Collect coins and use them to customize your game and get power-ups.
Available customizations:

- 5 different soldier types
- 16 different types of bombs
- 7 upgrades (Atomic Bomb, Explosive football, Gunpowder keg, Infinite bombs, Jetpack, Tornado, Protection Shield)
It's a very amusing game. You can choose between several different characters, including a panda. The music alone made me smile. For me, it's very addicting. So, it goes like this: as you move your character around, the world rotates left to right and up and down. Drop bombs and get rid of those pesky aliens.
I would not recommend this title if I didn't find it enjoyable myself. $3.99 is a small price to pay for such a enjoyable game.
System requirements:

Fully updated PCLinuxOS and Steam

Hardware:
Minimum:

OS: PCLinuxOS/Linux Kernel 3.2





Graphics: 512MB dedicated VRAM




Storage: 200 MB available space
About The Company
The name exosyphen is derived from invention, innovation, and imagination. They created their name to represent who they are. They continue to define "what exosyphen is" through their cutting-edge gaming and mobile applications, their unique business philosophy, and their commitment to community building in both the real and the cyber world.
They have been credited for the world's first 3D shooter on a cell phone. In 2004, exosyphen ported Quake (yes, Quake!) to Windows mobile - proving, years before iPhone Apps even existed, that complete 3D games can run on a mobile phone.
But after 10 years of success, their core values have never changed.
They remain independent, open and accessible to their gaming followers, committing in discussions on their channels and showing regard for customer opinion in their responses and actions. They remain committed to the community, investing at least 10% of their profits to sponsor local activities and social causes, and directly supporting young students and enthusiasts with advice and feedback.
A totally different studio requires a totally different name. As they say, "exosyphen: It can be done. We just did it."
Some Gameplay Screenshots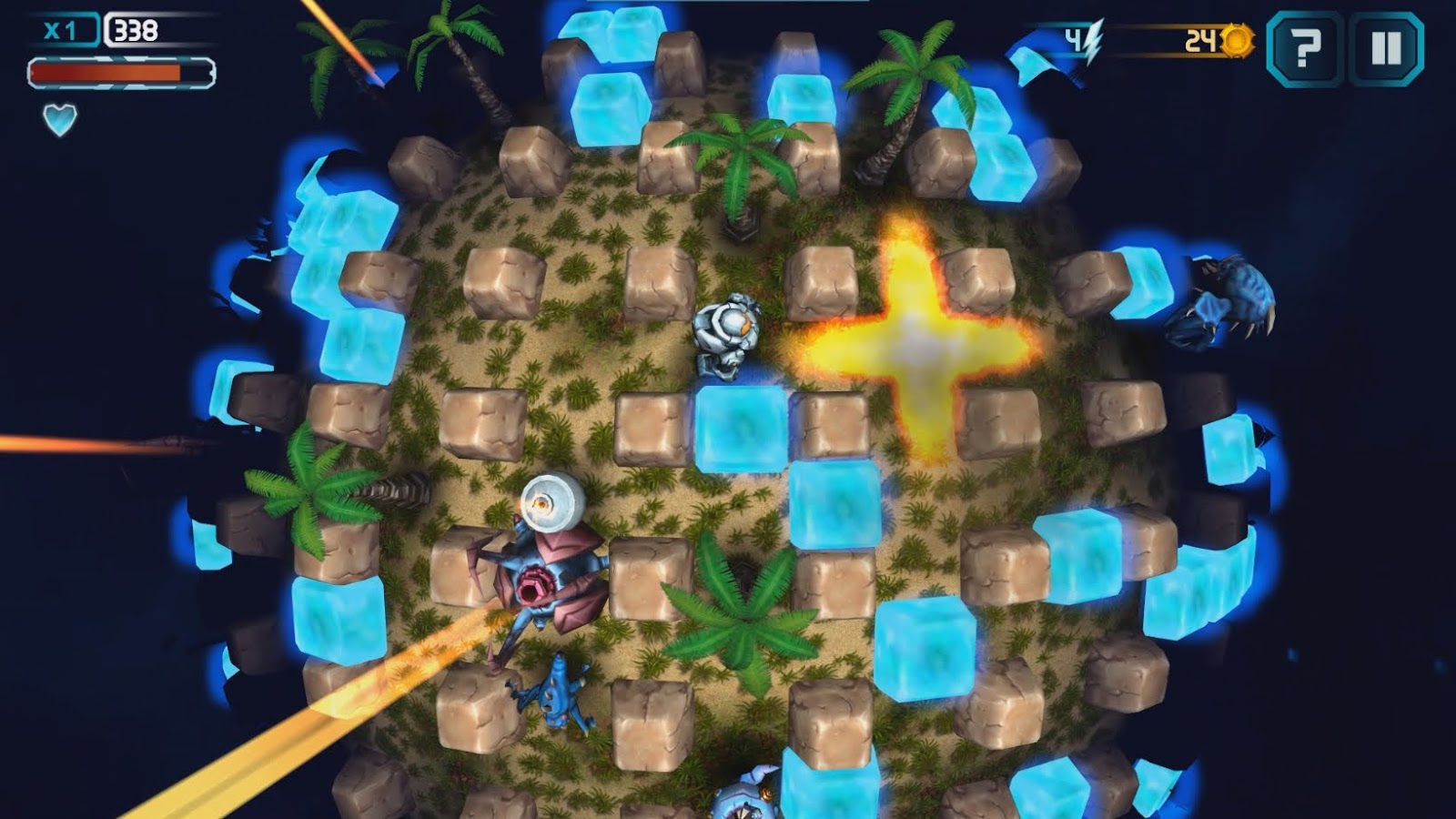 Getting It To Run
Install Steam (if you don't have it installed already), It's under steam-launcher in Synaptic. Then start it. You will need to create a new account, if you do not already have one. Once you have Steam up and running, go to the store tab. Click on the Linux tab if you wish and search for Bomber Zone. Click on and download the demo. If you have updated your system, including graphics drivers, you should be good to go.

BomberZone