by Paul Arnote (parnote)
Once again, the annual winter holiday season has descended upon us. It really does feel as if it comes around faster and faster every year.
Here are some gift ideas for those on your holiday gift list. Just as in previous years, there is a list from Meemaw, YouCanToo and me. Obviously, the items on each of the lists will be somewhat influenced by what each person finds interesting, or items that appeal to that person. It's kind of that "different strokes for different folks" thing, shaped by varied likes and dislikes, and different life experiences. But, between the three lists, we are certain that you should be able to find some excellent holiday gift ideas.
All prices listed are in U.S. dollars.
Ferrari Portugese Double Lever Corker ... $13.59
One of my "newer" hobbies (actually, a rediscovered one) is homemade wine making. I had forgotten how easy it is to make your own wine at home. You won't believe all the flavors you can make, limited only by your access to what 100% pure fruit juices (without preservatives, which prevent or retard the fermentation) are available near you. I've made red grape, white grape, apple, mixed berry, raspberry-strawberry, pomegranate, pineapple, cranberry, watermelon and black cherry wines, because I have access to 100% pure juices made from those fruits. Blended juices are fine, but not anything with preservatives.
Over the past year and a half, I've accumulated quite the collection of wine. I always have one or two batches fermenting at any given time, tweaking my recipes. Since neither I nor Laura drink alcohol much, we end up giving away quite a bit of it to friends and family.
Of course, once you make a batch of wine, you need to bottle it, which means you need a way to seal those bottles. There is little else that is as effective as using traditional corks to seal your filled wine bottles. But, without one of these, it's extremely difficult (if not impossible) to get the corks into the wine bottles. This corker makes the task nearly effortless.
By the way, if anyone is curious about getting started making homemade wine, give me a shout in the PCLinuxOS forum. I'll be happy to help steer you in the right direction. It's easy and fairly cheap to get started. Don't worry. Your first batch or two can be accomplished with a bare minimum of "equipment" ... like a disposable plastic gallon milk jug, a latex balloon, a rubber band, fruit juice, sugar, and yeast. You can buy the "other" equipment quite cheaply, later (this corker, along with a supply of inexpensive corks, should probably be one of your first "equipment" purchases). Meanwhile, ask your wine drinking friends to save their empty bottles for you to recycle while your first batch is fermenting, so you have something to use when bottling your batches of wine.
Battlestar Galactica: The Definitive Collection [Blu-ray] ... $93.99
If you have a Battlestar Galactica fan on your Christmas list, this will make the PERFECT holiday gift for them. No, I'm not talking about the very popular reboot of the series that appeared on the Syfy network. This collection is all about the original series from 1978.
Included in this version is the theatrical release of the Battlestar Galactica movie/pilot that started it all out. Then, you get the entire television series. Finally, you also get the follow-up series, "Galactica 1980," which takes place 30 years later when they finally find and arrive at Earth.
But wait ... there's more! There are also over four hours of bonus features, including over three hours of deleted scenes, along with multiple special featurettes.
Hot Shot Men's "Bulls-Eye" Pop-Top Mitten ... $13.83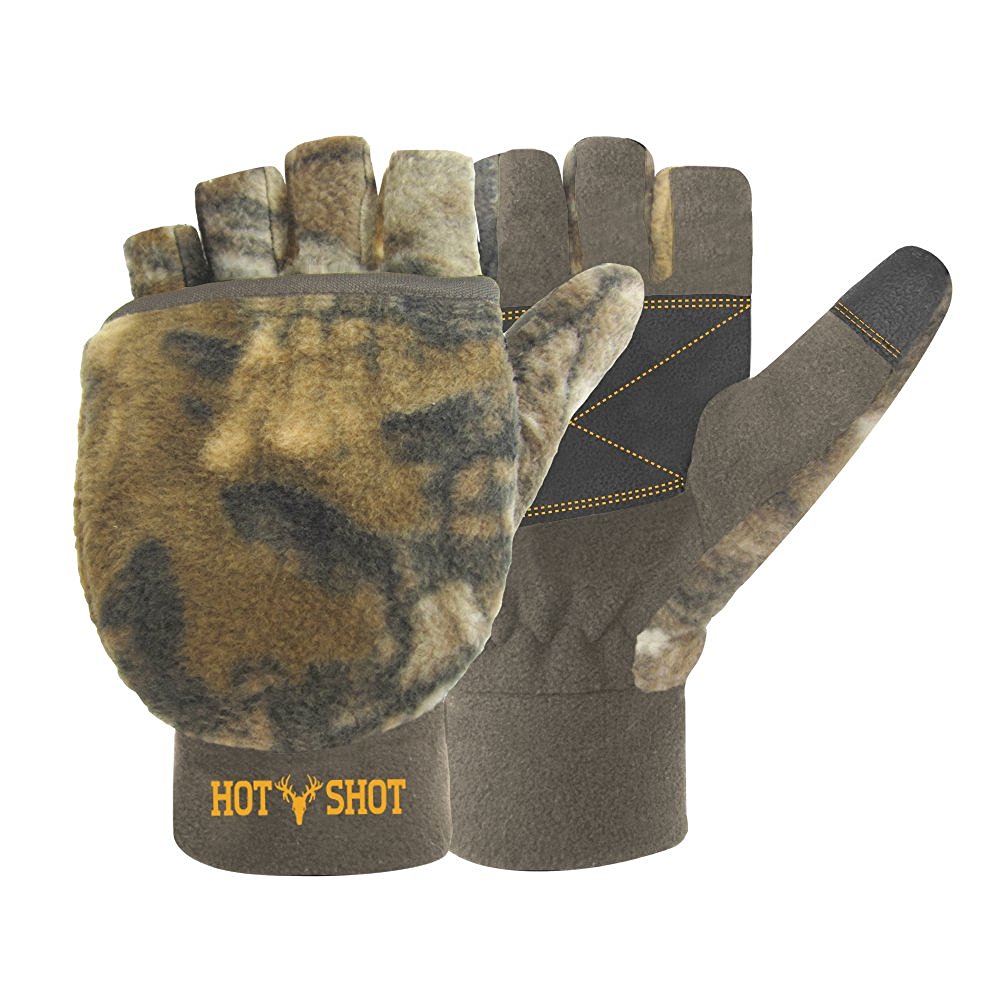 I don't make it a secret that I enjoy hunting and the outdoors. There is nothing worse than being outdoors when the weather turns cold and having cold hands. (The U.S. Navy did a study on divers experiencing hypothermia and discovered that one of the most efficient ways to rewarm those divers was by warming their hands and feet). I use something just like these when I go hunting in the cold, and boy do they ever help to keep your hands warm. Mittens tend to be warmer than gloves, so you get the best of both worlds with these pop top mittens. As an added benefit, you can easily place a chemical hand warmer in the pop top part of each mitten, or (as I do) slide one of those hand warmers into the palm of each glove. When you need your fingers free to perform more delicate tasks, just flip the pop top part of the mitten back to free your fingers. A magnet sewn into the back of the pop top part of the mitten meets up with another magnet sewn into the back of the glove, holding the pop top part of the mitten stationary so that it doesn't just swing around uncontrollably.
Hot Hands Value Pack 10pk ... $5.00
Speaking of the chemical hand warmers, here's an awesome buy that will make an excellent holiday gift for anyone on your holiday gift list who spends time outdoors during the colder months of the year. Hunters, ice fishermen, construction workers and mail carriers will all appreciate these. Simply open the package and you will have a safe heat source that will last for 10 hours. The hand warmer packets are activated by exposure to air, so don't open their individual packaging until about 10 minutes before they are needed. These are excellent to slip into gloves. Some people also slide one down into their boots, or place them in the sweatband of their hats or caps. I find that they are a little too thick to place into my boots (because I am flat footed), but tossing one into your hat or cap certainly works well. If you are at a store that sells these, also be on the lookout for similar products that are designed for use as toe warmers and foot warmers, which work equally well, without the unnecessary extra thickness. By the way ... these are single use items, and cannot be reused once they are depleted.
Toddler Basic T-Shirt ... $11.99
If you have younger children on your holiday gift list to buy for, why not enlist their help in spreading the word about PCLinuxOS? This 100% cotton toddler t-shirt is available in sizes from 2T to 4T, and in blue, white, pink or yellow colors (pictured). Machine wash in cold water, inside out (to preserve the printing). Tumble dry on a low setting, or line dry. A portion of the proceeds from the sale of PCLinuxOS merchandise go to help support PCLinuxOS.
Baby Bodysuit (Onesie) ... $19.99
For the even newer arrivals, there is apparel for them that helps spread the word about PCLinuxOS, as well. Might as well have them dressed in this as they are passed around to all the adoring friends and family at holiday gatherings. This baby bodysuit (also called a onesie or a romper) is available in white, blue, pink and kiwi green. The size availability is for 0-3 months, 3-6 months, 6-12 months, 12-18 months, and 18-24 months. These short sleeved body suits are made from 100% cotton. Machine wash in cold water with like colors, and tumble dry on a low setting, or line dry. A portion of the proceeds from the sale of PCLinuxOS merchandise go to help support PCLinuxOS.
PCLinuxOS Cap ... $18.99
While you're buying PCLinuxOS merchandise for others on your holiday gift list, you might as well pick up something for yourself, too. This PCLinuxOS cap would make a perfect way to help spread the word about PCLinuxOS. Available in white or khaki, this unstructured baseball cap is made of 100% cotton, and features a sweatband to wick away perspiration. A hook and loop adjustable band at the back allows this cap to fit a head circumference from 20 inches to 24 inches (50.8 cm to 61 cm). This item is listed as being hand wash only.
ETvalley 36 Watt Multi-Port 4 Port USB Outlet Wall Charger High Speed for Apple iPhone iPod iPad Samsung Android Tablets and Others (Black) ... $13.99
This standalone USB charger has enough "umph" to charge all of your devices, all at the same time. You can plug in an iPhone, a tablet, an Android phone and any other device that charges by way of a USB cable. Besides saving space, it also helps to reduce cable clutter. To top it off, this unit has received "five star" reviews almost across the board.
Lost in Space: The Complete Series [Blu-ray] ... $61.72
Bring home the timeless journey of Irwin Allen's LOST IN SPACE! Follow the heart-racing, cliff-hanging adventures of John Robinson and his family aboard the Jupiter 2, along with Robot B-9 and the delightfully devious Dr. Zachary Smith. This massive 18-disc set contains all 83 episodes remastered in high definition, and loads of exciting extras with recently discovered content you won't find anywhere else in the galaxy. It's out-of-this-world fun for everyone!

Additional Features
OVER 8 HOURS OF RARELY SEEN AND NEVER-BEFORE-SEEN EXTRAS
50th Anniversary Interviews with Original Series Cast Members
Original Cast Reunion Performance of Bill Mumy's 1980 Unproduced Script, LOST IN SPACE: THE EPILOGUE
Vintage Versions of 4 Original Network Episodes (AS SEEN ON AIR in the 1960s with Original TV Commercials and Bumpers)
1973 Animated Special
20th Anniversary Audio Interview with Lost in Space Series Creator Irwin Allen
2 Full-Length Lost in Space Documentaries
Original Animated Series Concept Pitch Video
Unaired Series Pilot Episode: "No Place to Hide"
Original Network Commercials, Vintage Cast Interviews AND MUCH, MUCH MORE!
HQ ISSUE Multi-Band Dynamo & Solar Powered Radio ... $49.99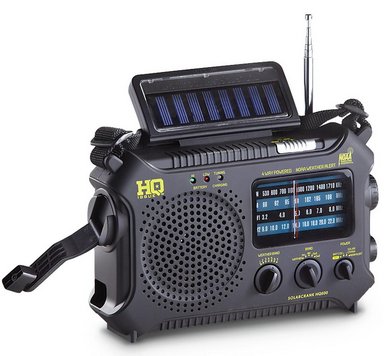 o power? No problem. Even when you're miles from the nearest outlet, this military-inspired radio keeps you in touch with news, weather, music and more. Top solar panel converts sunlight into power/sound. No sun? Just hand-crank the integrated generator to listen to crystal-clear sound on multiple bandwidths. Listen to news, sports, music and important weather broadcasts miles from the nearest outlet.
Solar panel on top converts sunlight into listening power. Or, simply hand-crank the dynamo internal generator to provide listening "juice." Versatile and rugged wonder works virtually anywhere, providing vital news, entertainment or key weather information.
11 bands: AM/FM, shortwave 1-2 and weather bands 1-7
NOAA weather alert sends dispatches directly to radio
LED flashlight, 5 LED reading lamp and SOS emergency light built-in
Protective rubberized case takes bumps, knocks
USB port, DC charger port and headphone jack (USB cord, DC charger and headphones not included)
Can run on 3 AA batteries (not included)
Measures 8" x 2.5" x 5"h.
Weighs 1.25 lbs. (0.57 Kg)
Keep informed and entertained at home or in the boonies.
There you have it. Ten holiday gift ideas. Of course, if none of these work for those on your holiday gift list, then perhaps you'll find something more suitable on Meemaw's or YouCanToo's list of holiday gift ideas.
All of us at The PCLinuxOS Magazine wish you all the happiest, merriest of holiday seasons!