By CgBoy
Ah, guitars... What wonderful instruments they are. Maybe you just like to strum along to a song. Or maybe you like to play awesome solos. This month I'm going to review programs useful to guitar players. Let's have a look at what's in the repository. I have put these in the order in which I reviewed them.
LINGOT
Who wants to hear an out-of-tune guitar? LINGOT is an easy to use musical instrument tuner. It has a nice, analogue style, gauge with a needle, and appears to be pretty accurate. It then, of course, shows you the closest note to the current estimated frequency.
LINGOT is very configurable, and can also be configured for tuning other instruments. LINGOT appears to be a fairly good tuner, and I've found it to work pretty well for tuning my guitar. Plus it's easy to use.
TuxGuitar
Ever wanted to write your own song for the guitar? Then TuxGuitar may be just the thing for you! It's a multitrack guitar tablature editor, with plenty of cool features. Although TuxGuitar has support for writing using normal sheet music, it's really intended as an editor for guitar tablature. It does handle tempo and time signature, though. It has a number of note effects, like "Bend", "Slide", "Vibrato", "Hammer-on/Pull-off", "Tremolo Picking", and more. It has a chord editor, where you can select and insert chords, or edit custom chords.
As I mentioned earlier, TuxGuitar is a multitrack editor, so you can have multiple tracks in your song, and then mix them together. It also gives you the option to add lyrics to your song. The music you write can then be played back using MIDI. TuxGuitar can also display the guitar fretboard, so you can see where to put your fingers to play the song.
TuxGuitar comes with a guitar tuner, that seems to work pretty well. Tuxguitar supports a number of file formats. It supports Guitar Pro files as well as other formats, like MIDI, PDF, WAV, and more. All in all, this is a good program for those wanting to write music for the guitar. I don't particularly like how note placement works. But maybe that's just me...
Guitarix
Guitarix is a virtual guitar amplifier that uses JACK. Now, I must admit that I don't know all that much about guitar amplifiers, or electric guitars in general, as I only have an acoustic guitar. But still, I will give a basic overview of the program. Guitarix has plenty of effects to use. Some of these effects include: "Wah", "Chorus, "Distortion", "Echo", and "Reverb". But there are plenty more then that. You can also load in LADSPA and LV2 plugins. It also allows you to record to an audio file.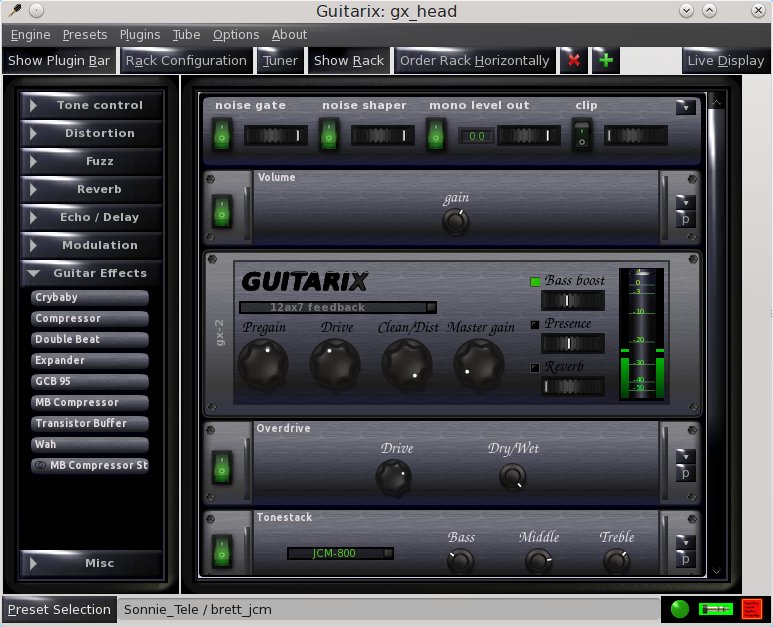 The program does have a nice interface, though, with virtual dials and switches. Guitarix also comes with a number of presets to choose from. And Guitarix also includes a guitar tuner. The program is able to emulate various amplifier tubes. Plus, Guitarix can be controlled from an MIDI device. This looks like a good program, but because I don't have an electric guitar, I couldn't test it out properly.
Free Music Instrument Tuner
Free Music Instrument Tuner, or FMIT, is a good instrument tuner with a number of interesting features. It's got some features that LINGOT doesn't have. It too has a digital needle. It too appears to be fairly accurate. And it too shows you the closest note to the current estimated frequency. But that's expected. And, FMIT can also be paused.
There's various sound information you can view. There's "Captured Sound" view, "Error history" view, "Volume history" view, "Waveform" view, "Harmonics" view, "Fourier Transform" view, "Microtonal" view, and "Statistics" view. Some of those could be pretty useful to musicians. Although not intended specifically for tuning the guitar, FMIT works well with one.
Rakarrack
Rakarrack is a guitar effects processor with many features. It uses JACK, and has a lot of guitar effects. Some of those include: "Distortion," "Echo," "Phaser," "Reverb," "Wah-Wah," "Chorus," and a lot more that I'm not going to list here. You can create presets, or use one of the many included. Rakarrack also comes with a guitar tuner and a metronome. And there's the "Analog Control Interface" which allows you to control an effect parameter with an analog signal.
And like Guitarix, Rakarrack can be controlled with an MIDI device. Rakarrack also has an experimental monophonic MIDI converter. Now, like I already said, I don't have an electric guitar, so I couldn't test out this program properly. But it does look like a great program for those who do have electric guitars.

Summary
Well, if you're looking for a dedicated guitar tablature editor, then you should try TuxGuitar. If you're looking for a good tuner, then I'd recommend FMIT. And if you want a virtual guitar amplifier, there's Guitarix. And finally, if you need a feature rich guitar effects processor, go for Rakarrack. Now, go and play some awesome Christmas carols on your guitar!