As hard as it is to believe, the July issue marks the start of my ninth (yes, 9th) year at the helm of the magazine! As I look back, it's a remarkable journey to reminisce about all the changes I've witnessed. With the magazine, we've experienced a LOT of growth. With PCLinuxOS, we've seen each release become more and more stable. With Linux in general, we've seen greater and greater hardware compatibility, coupled with a greater market penetration.
It had been said in the past that there just wasn't enough to write about to maintain a monthly magazine dedicated to PCLinuxOS. I think we dispelled that errant thought a LONG time ago. We haven't missed our monthly publication schedule since I started, and even come out with several "special editions" of the magazine, as well.
We've added regular columns (our graphics tutorials, PCLinuxOS Recipe Corner, PCLinuxOS Friends & Family Members, PCLinuxOS Puzzled Partitions), and at the same time, witnessed some of our earlier monthly columns come to an end (DoubleTake & Mark's GIMP Tip, ms_meme's Forum Foibles). Some columns, such as Repo Review, have experienced a rebirth. Thankfully, ms_meme's Nook continues as it has ever since the first issue when I took over the magazine back in July 2009 (and we hope she NEVER stops!).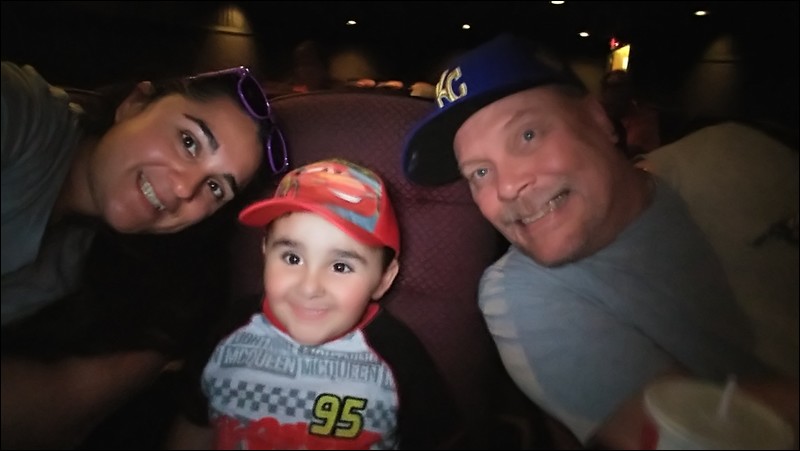 Mom, Ryan and Dad on opening night for Cars 3 -- and Ryan's first ever trip to a theater.
Dad and Lexi riding in a 1923 passenger rail car at Day Out With Thomas.
June has been a pretty busy month at our house. Ryan and Lexi got to ride on a full size reproduction of Thomas The Tank Engine at A Day Out With Thomas. Then, they got to go to the Kansas City Zoo for a day. Then, my best friend and I spent two days putting together a wooden backyard playset (boxes and boxes of precut wood, screws, bolts, nuts, and accessories to be assembled). Ryan and Lexi absolutely love the playset, and have spent a lot of time on it. Then, Ryan got to experience his first ever trip to a movie theater to see "Cars 3" on its opening night (good movie, by the way). Then, on Thursday nights during the summer, the theater on the town square shows free family movies outside in the parking lot, with the movie projected onto the side of the building. So the kids got to take in a movie (Despicable Me 2) in the outdoors, which finished just before a thunderstorm rolled through. In the mix, throw in some swimming in the small backyard pool (inflatable variety), visits with Grandpa, visits with Grandma, plus their regular daily routine, and you have a pretty eventful month.
Until next month, I bid you peace, happiness, serenity and prosperity.