by Agent Smith (Alessandro Ebersol)
Google caught everyone by surprise when it announced its Stadia video game platform. Previously, Google's research with video games was known as Project Stream or Yeti.
But despite the surprise that was the announcement, streaming games have been around for some time. Of course now, they are more in vogue than ever.
But before discussing the Stadia, let's look at the history of the so-called Cloud Gaming.
Cloud Gaming, a 19-year history
In 2000, G-cluster demonstrated cloud gaming technology at E3. The original offering was the Wi-Fi cloud gaming service for handheld devices. Video game developer Crytek began researching a cloud gaming system in 2005 for its Crysis game, but halted development in 2007 to wait until infrastructure and cable providers were ready for the task.
OnLive officially launched in March 2010, and its gaming service began in June with the sale of its OnLive microconsole. On April 2, 2015, it was announced that Sony Computer Entertainment had acquired the OnLive patents, and OnLive closed its doors.
In November 2010, SFR launched a commercial cloud computing service in IPTV in France with G-cluster technology. And the following year, Orange France unveiled its gaming service on IPTV based on G-cluster technology.
GeForce NOW is a cloud-based gaming streaming service offered by NVIDIA that was released on October 1, 2015.
Nvidia GRID is a recent creation of Nvidia, focused specifically on gaming in the cloud. Nvidia GRID includes graphics processing and video encoding on a single device that is able to shrink input to display the latency of streaming cloud-based video games. This is important because of the impact that the latency will have between what the user does and when the action is displayed on the screen.
Blade SAS Group launched Shadow, its flagship cloud gaming service in France in November 2011. In October 2018, Shadow announced that it was available in 19 states on the east and west coasts with additional expansion plans throughout the country.
LOUDPLAY announced the expansion of its cloud gaming service to Ukraine, Belarus and a number of other sites in Eastern Europe on May 18, 2018. On November 21, 2018, LOUDPLAY in partnership with Rostelecom and Huawei demonstrated the first showcase of 5G games in Europe (in Innopolis).
Electronic Arts acquired the Gamefly cloud games startup on May 22, 2018. A few months later, on October 29, 2018, Electronic Arts announced the Atlas gaming projects in the cloud.
Google unveiled Project Stream on October 1, 2018. The project was formally announced at the Game Developers Conference on March 19, 2019 as Stadia.
Microsoft introduced the xCloud project on October 8, 2018.
Cloud gaming and streaming also comes to fill the technological gap. Technology walks faster than anyone can keep up with, and with the increase in the price of video cards (thanks to cryptocurrency mining), better computers and more powerful boards are assets that have gone further on the horizon for many game fans.
So we've been looking for a solution for cloud games for the last 19 years. Now, we finally have a solution, in which a company like Google will put all its infrastructure strength to make it a success.
Stadia: The Good!
Imagine being able to play recent games, the so-called AAA, on any device that runs Google Chrome?
You do not need to have the Windows operating system (which is preferred for releasing such games), you do not have to have a super-powerful machine, since the game will be transmitted in images to the remote device, which will be in your house, and you can seamlessly network with your friends as the game will run on a Google render farm in a datacenter around the world.
But the thing goes further: Making videos of gameplays is quite common and successful on YouTube. With Stadia, you'll be able to make live gameplays, on the fly at the moment you're playing, and stream without any additional requirements, such as OBS or video capture cards. Your game, in real time, will be broadcast on YouTube.
What's more, while you're playing, if the game is a multiplayer one, you can invite your friends to join your game by simply sending a link to your game session.
How will it work?
Any device with an operating system that can run YouTube may be a Stadia gaming station. And, Google promises that any USB-HID joystick can be used. But for the sake of minimizing latency, Google recommends using its proprietary Wi-Fi joystick, connected directly to Google's data centers, to improve the player's experience.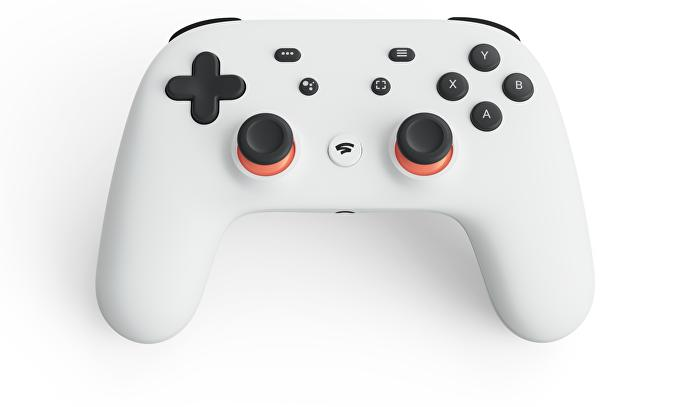 The Google Stadia Joystick
The advantage of the Stadia joystick is that the service can be accessed by Chromecast and played on a large-screen TV with no joystick connection to Chromecast. The Joystick will be connected via Wi-Fi to Google's data center running the game. The joystick will have chat and other interactive functions accessible by additional buttons on the control.
Another feature of having a joystick connected directly to the game is that it will be possible to jump from any screen to another screen and continue playing in a transparent and immediate way (according to Phil Harrison, head of the project at Google).
According to Google, any device running YouTube could be a Stadia receiver
The Official Announcement
Project Stream was the first sign of interest, announced by Google, in video game products. There have been rumors that Google has been working on a service called Project Yeti since at least 2016.
Google also hired gaming industry executive Phil Harrison, and was seen recruiting developers during industry events in 2018. Project Stream's main differential to previous services such as OnLive, GeForce Now, and PlayStation Now is its ability to run on any desktop Chrome browser, rather than specific gaming platforms. The service uses AMD Radeon graphics hardware.
Google announced the service in October 2018 and shortly thereafter opened invitations to beta testers with access to Assassin's Creed Odyssey. Players could request access and those who reached a minimum Internet speed could run the game on their Chrome browsers. Those who participated received a free copy of the game when the trial period ended.
The games available on the service announcement were Assassin's Creed Odyssey and Doom Eternal.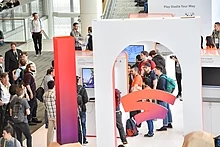 Google Stadia Stand at Game Developers Conference at the Game Developers Conference
Stadia was formally announced during Google's opening speech of the Game Developers Conference 2019 in March 2019. To support Stadia, Google also announced the formation of Stadia Games and Entertainment, its creative studio for original games, with Jade Raymond as the leader. In addition to developing its own games, Stadia Games and Entertainment will help support the transition from third-party titles to the Stadia service.
Harrison stated that "We are based on Linux, we use the Vulkan Graphics API, the developer develops in our cloud instance, so the development kits are now in the cloud. In our cloud, in the private data center of the developer or on his desktop ", affirming the ease and availability of the system for the developer.
One good thing that might come out of it could be the improvement of Radeon Linux drivers, which have never been as good as Nvidia's.
The Not so good
So far, there is no Google definition on how the service will work. And, especially, what will be the charge for services. Will it be charged per game, like Steam? Or will it be charged like Netflix? A monthly fee and the possibility of the subscriber to play the entire catalog of the service?
Other things to consider is that, in the event of service announcement, all screens running Assassin's Creed Odyssey were in a controlled environment, almost without lag or latency. How will it work in real life? With real lag problems and latency? And, will it be dependent on fiber optics?
Of course Phil Harrison ensures that Google is in a position to offer the service by having a large data center infrastructure around the world.
Even then, there were moments, in the demonstration, where the quality of the video was reduced, to keep up the frame rate, and the famous artifacts appeared on the screens. But, there are other outstanding issues, how about the data cap of internet plans? Yes, depending on the data plan that is signed with the internet provider, your data limit on the plan will be spent quickly with this service (not considering Netflix, You Tube, Hulu and others). So, will Google subsidize the plans?
The Bad
The announcement could not have come at a worse time: The gaming industry is going through a very ugly crisis (not like 1983), with many layoffs and job closures.
At the end of February this year the digital store GOG discreetly dismissed what it claims to be a dozen employees. GOG, which is owned by The Witcher 3 publisher, CD Projekt, did not say why the layoffs happened, but a fired official told Kotaku that the store was in financial trouble.
In the same month of February, Activision Blizzard fired 8% of its workforce, or 800 people. In the announcement of results, Activision Blizzard CEO Bobby Kotick told investors that the company "once again achieved record results in 2018" but that the company would be consolidating and restructuring because of the frustrated expectations in 2018. It would be cutting primarily non-game development departments and reinforcing its development team for franchises such as Call of Duty and Diablo.
ArenaNet, the studio behind the popular online games Guild Wars and Guild Wars 2, also informed its employees that they are planning major layoffs, according to a person who is working there.
So in the midst of a crisis with large digital entertainment companies, the emergence of a new video game platform may be more detrimental than beneficial, after all with the massive use of datacenters, many stages of the electronic gaming will be burned. Thinking in terms of chip factories and electronic boards, many will become superfluous.
As for Google, the more vertical the better, since the company will not use third-party resources, but only use of its own resources.
But why is the video game industry in crisis?
Well, one can speculate on what happens to the gaming industry nowadays.
Over the years, games have become bigger than Hollywood movies. Yes, far gone are the days when solitary programmers created video game games and those were a success. River Raid and Carol Shaw were in the distant year of 1982.
River Raid was a success of Activision in the Atari 2600, created by a single programmer, Carol Shaw
With the evolution of both software and hardware, the games started to require a production with budgets larger than most Hollywood movies. Motion capture artists, voice acting actors, screenwriters, directors, makeup staff, visual effects, sound editing, in short, teams with more than 20 people for super productions that leave many indie movies with envy. Uncharted 4 cost around $ 50 million, excluding advertising spendings, for a team of 150 professionals.
Now, the gaming industry is mirroring itself in filmmakers and betting on franchises: Games can be expensive to produce, so why risk it? If there is a franchise, which the public recognizes and has loyal fans, every year is produced more of the same and everyone is satisfied: fans with games and producers with the return of their investment with profits.
It would be great if it were not the franchise fatigue...
Yes, today, this problem does not only affect movies. As games are heading towards the franchises, the franchise fatigue is a reality. Today we see 4, 5, 6 titles about the same characters and stories, to the point that fans begin to lose interest. Alien Covenant was a great example of this, a franchise piece that fans have stopped caring about.
As for games, Assassin's Creed is already in its 12th version, the aforementioned Assassin's Creed Odyssey and the question that remains is: Are there so many stories to be told?
Games in franchises have already suffered with fatigue: Need For Speed and Tony Hawk's Pro Skater are two good examples of games that were exploited to exhaustion, and so much so, that today were forgotten.
The Ugly
Well, what I'm going to write now is speculation, but from the observation of previous events, it might happen.
Television as mass media no longer holds up, and people are seeking experiences that are closer to them: You Tube, Vimeo, and so many other personal video services where people create content for people. I myself follow the journalist Glen Grenwald of the Intercept website, and I think he has more credibility than many traditional TV anchors.
With the advent of these communication channels, and especially the measurement of the responses of the people who seek them, it is possible to outline the users, and to know their preferences, their tastes, who are their gaming partners, with whom they relate and etc. ...
And, all profiled.
With all this information in hand, what could happen? What manipulations could be done? The affair Cambridge Analytica / Facebook is there to show us how far people's manipulation can go based on their personal data. Knowledge is power, and knowing too much about an entire population means being able to manipulate the whole population.
Google's motto, "Don't be Evil," has already been forgotten, and has been deleted from its code of conduct when the company underwent a restructuring in 2015. Now we have only to wait when and how Google will be evil, but its collaborations with the Chinese and Pakistani governments show it is already conniving with evil.
The conclusion
No matter how cool the aspects of cloud gaming and streaming, a basic thing will die: Players will no longer own their games. And because of that, they will no longer be able to play whenever they want, but when the cloud gaming company makes the games available. There will no longer be possession, but only a glimpse, a look of what could be of the player, but for N reasons is not, nor will be.
They will no longer own the video games consoles, after all, the whole act of playing will be abstracted, and the player will have only the visual and sound experiences, that may degrade, depending on the conditions of the network and data centers.
But for now, we can calm down and be momentarily relieved: Google Stadia, as it stands, is just vaporware, and depending on how the infrastructure evolves (or doesn't), it will be another Google product dead on arrival, such as Google glasses, an interesting technology that never took off.