Pasta Primavera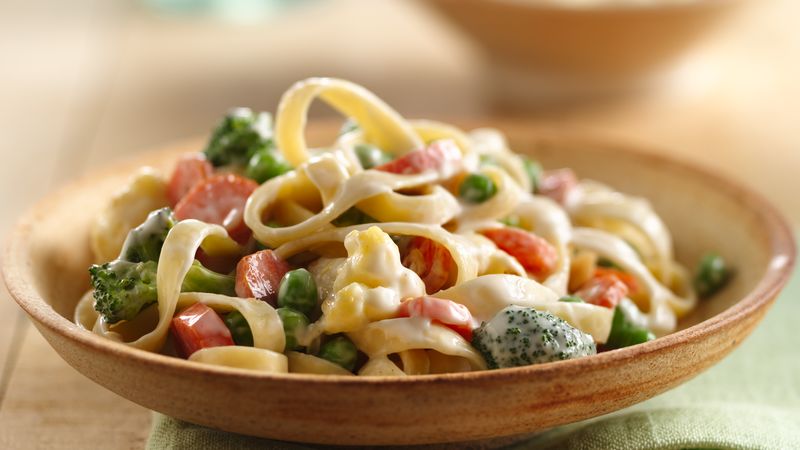 Ingredients
8 ounces uncooked fettuccine or linguine
1 tablespoon olive or vegetable oil
1 cup broccoli flowerets
1 cup cauliflowerets
2 medium carrots, thinly sliced (1 cup)
1 cup frozen green peas, rinsed to separate
1 small onion, chopped (1/4 cup)
1 container (10 ounces) Alfredo pasta sauce
1 tablespoon grated Parmesan cheese
Directions
1. Cook fettuccine as directed on package.
2. While fettuccine is cooking, heat oil in 12-inch skillet over medium-high heat. Cook broccoli, cauliflowerets, carrots, peas and onion in oil 6 to 8 minutes, stirring frequently, until vegetables are crisp-tender.
3. Stir in Alfredo sauce; heat through. Drain fettuccine. Stir fettuccine into sauce mixture; heat through. Sprinkle with cheese.
Tips:
Think spring! Primavera is Italian for "spring," and dishes titled "a la primavera" usually contain fresh vegetables. Pasta primavera is the most popular dish in the primavera family.
Too many veggies to chop? Take advantage of the precut vegetables in your supermarkets produce section.