Southwest Lasagna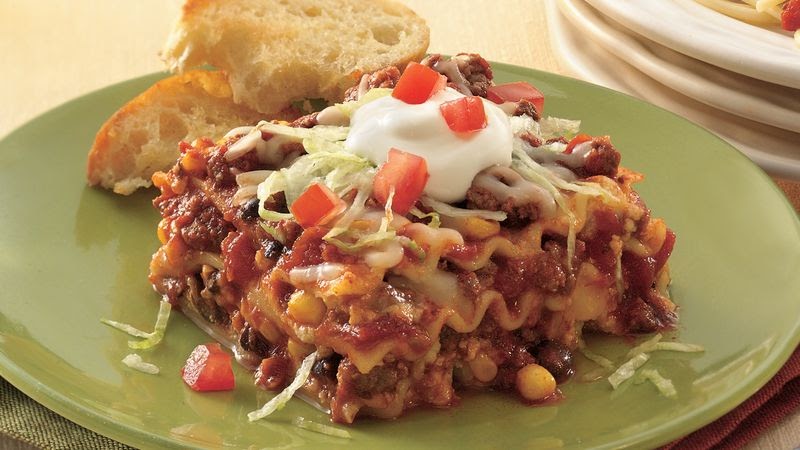 INGREDIENTS:
9 uncooked lasagna noodles
1 lb extra-lean (at least 90%) ground beef
1 package (1 oz) Taco Seasoning Mix
3/4 cup water
1 container (15 oz) ricotta cheese
1 can (4.5 oz) chopped green chilies
2 eggs
1 jar (26 to 28 oz) tomato pasta sauce
1 can (15 oz) black beans, drained, rinsed
1 box (9 oz) frozen corn, thawed
2 teaspoons ground cumin
3 cups shredded Monterey Jack cheese (12 oz)
DIRECTIONS:
Place cookie sheet or foil in oven on rack below middle oven rack; heat oven to 375 degrees F. Spray 13x9-inch (3-quart) glass baking dish with cooking spray.
Cook lasagna noodles as directed on package; drain. Rinse with cold water to cool; drain well.
Meanwhile, in 10-inch skillet, cook ground beef over medium-high heat 5 to 7 minutes, stirring frequently, until thoroughly cooked; drain. Stir in taco seasoning mix and water. Reduce heat; simmer 5 minutes or until thickened.
In a small bowl, mix ricotta cheese, chilies and eggs.
Stir pasta sauce, beans, corn and cumin into beef mixture. Cook about 5 minutes, stirring occasionally, until thoroughly heated.
To assemble lasagna, arrange 3 cooked noodles in the bottom of a baking dish. Spoon and spread 1/3 of ricotta mixture over noodles; top with 1/3 each of beef mixture and cheese. Repeat layers 2 more times, reserving the last 1/3 of cheese.
Place a baking dish on the middle oven rack; bake 25 minutes. Sprinkle with reserved cheese; bake 15 to 25 minutes longer or until lasagna is bubbly and cheese is melted. Let stand 10 minutes before serving. Cut into squares.