by Alessandro Ebersol (Agent Smith)

​ Remember that time, when two or more friends got together to play SNES, at one of their homes, and were the games International Superstar Soccer Deluxe (or Ronaldinho Soccer 96), or was it Top Gear?
Well, time does not go back, but it is possible to bring back the classics of the past, in a new guise, and updated for a new generation, pleasing old fans and conquering new ones. Horizon Chase Turbo is a game produced by Aquiris Game Studio, a Brazilian game company. From its press release:

"AQUIRIS was founded in 2007 by Amilton Diesel, Mauricio Longoni and Israel Mendes. They came together to develop virtual reality projects and advergames in a 30 square meter room. 20 games later, they gained experience and grew the company to 60 people, including three new partners: Raphael Baldi, Kely Costa and Sandro Manfredini. Today, AQUIRIS develops games for Cartoon Network, such as CN Superstar Soccer and The Great Prank War; original titles like Ballistic Overkill, a premium first person shooter for Steam; Horizon Chase World Tour, one of the Best Mobile Games of 2015 according to the App Store; Horizon Chase Turbo, the premium version of the acclaimed mobile game, released for Steam, PS4, Xbox and Switch; and Looney Tunes: World of Mayhem, a free-to-play mobile game that won over a million downloads on launch day."
The company is located in Porto Alegre, Rio Grande do Sul, Brazil.
One of the company's projects, Horizon Chase, which launched in 2016, received several awards, and placed the company on the map of indie developers at the time. With the company's natural growth, it went from being a small indie company to becoming a respected contractor and medium-sized developer.
Horizon Chase: The Game!
The game Horizon Chase came out first for cell phones, Android and iOS, and, it drew so much attention that a version for video games and PC's was inevitable. In 2018, Horizon Chase Turbo came out for PC, Nintendo Switch, PS4 and Xbox.
But, to try to explain the appeal of this game (which has a strong nostalgic appeal), we will have to look back at the games that "inspired" Horizon Chase Turbo, the Gremlin Graphics racers, Lotus Turbo Challenge and Top Gear.
Racing back to the past: Gremlin Graphics Classics.
Gremlin Graphics was a British company that produced games for personal computers, in the 80s and 90s, and started to develop for video games also, in a golden age of electronic entertainment. The war between Nintendo and Sega, which led to the lowering of prices in the market of domestic video games and the emergence of many high quality games, gave birth to timeless classics like Sonic, Donkey Kong Country, Top Gear, Lotus Turbo Challenge and many others.
Lotus Turbo Challenge 2 - Commodore Amiga
But, there was a title that stood out from the rest. That title was Top Gear, which was a disguised "port" from Gremlin's personal computer titles, such as Lotus Turbo Challenge, so much so that its music was the same as that of the computer game, but with a different arrangement.
Top Gear, the timeless SNES classic
Who didn't shiver with the opening of Top Gear? That epic song coming out of that little SNES video game?
The composer was Barry Leitch, an artist who, today, is not as well known by the new generations, but he worked a lot in the 80s and 90s. With more than 250 credits in his name, his works go from 1986 to Horizon Chase. That's right. Veteran master Barry Leitch, responsible for the soundtracks for these classics of the past, also lent his genius to the recent game from Aquiris Game Studio.
Leitch in a recent photo, with the Horizon Chase soundtrack CD
Horizon Chase Turbo: The PC Game
Well, after this introduction, I will analyze the game running on PCLinuxOS. As it is a Steam game, it works perfectly on PCLinuxOS, with Steam installed via Flatpak.
The version analyzed here will be the Windows version, running via Flatpak and Proton.
The game is based on the Unity engine, which ensures optimum compatibility with all operating systems supported by the engine (notably Android, Linux, Windows, iOS and MacOS).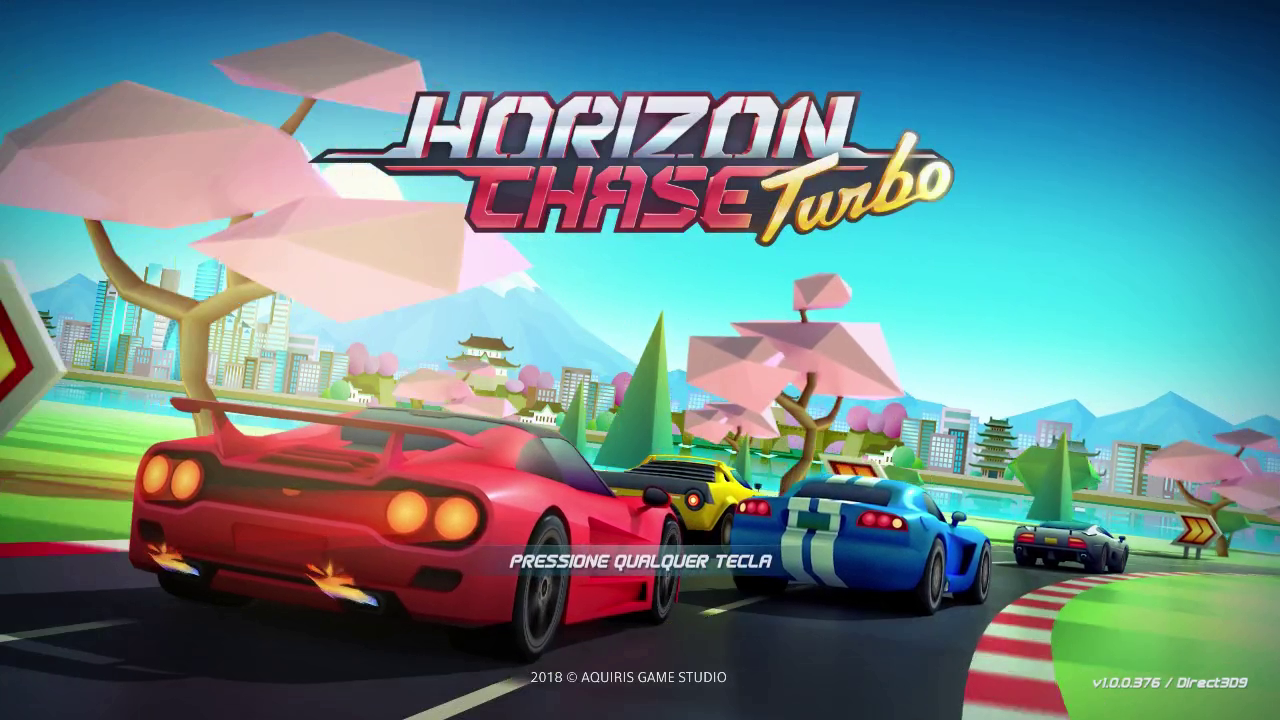 The splash screen
Now, let's look at four essential aspects of the game: Graphics, Soundtrack, Gameplay and Replay Value.
Graphics
Based on the Unity engine, the graphics are simple, yet detailed and very colorful. You don't have a definition and realism, let's say, of a Need For Speed: Underground or any recent title in this series, but, surprisingly, this is not necessary: The graphics, even simple, do the job, and recreate the spirit of the old racing games on which Horizon Chase Turbo was based.
I believe that, having been launched on mobile platforms, the graphics had to be minimalist, due to the platform limitations, and this minimalism was incorporated into the current PC and video game versions.
The graphics are cartoonish, but very efficient
Soundtrack
Here the game shines. Barry Leitch's virtuosity is felt in every moment of the game, in which Horizon Chase Turbo's songs evoke the old games, but they have their own personalities. The game is so well mused, that it is nice to just listen to its music, a mix of the past with new ideas, and some epic tracks that recall the good old days of gaming at friends' houses.
Gameplay
The gameplay is 100% arcade. It is not a simulator. Far from it, but an arcade racer, in which your car spins in the air, falls on the track and keeps racing.
The game takes place in 48 cities around the world, with 109 tracks and 12 different cups to compete, in the world tour mode.
The game accepts local multiplayer, with up to four players in split screen, has 31 different cars to be used (at the beginning, only two are available), and each car can still have 12 different upgrades that are applied during the game.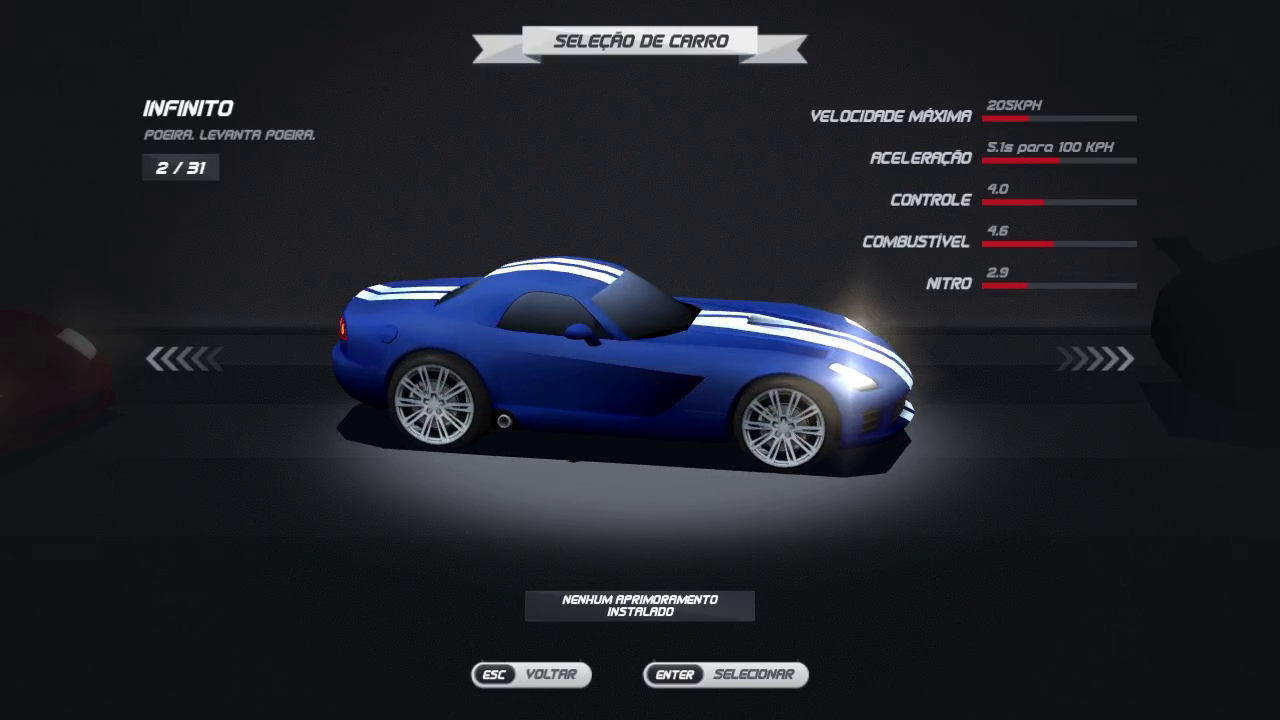 A Dodge Viper? Nah, the famous cars were not licensed, so clones with other names will be available.
The mechanics of the game are extremely simple, with acceleration, brake, right and left, without any major complications. The game is so simple, that anyone who has played one of the games mentioned above will be able to play it immediately.
One flaw, however, was that the game did not recognize any joystick that I connected to the computer, having to resort to the keyboard to play it, which is a less satisfying experience. Of course, you can always use Antimicro and remap the keys to some connected joystick, but for this review, I didn't get to do that. In the future, if I keep playing, I will make sure to use Antimicro, since keyboards can't take the beating from constantly playing the game.
Replay Value
With as many cars, tracks and upgrades as possible, this is another game that you will stay in for hours, weeks and even months, until you can finish it with 100%. Multiplayer also helps in the longevity of the game, and after getting tired of playing against the computer, play against your friends and see who is the best, which refreshes the challenge.
Verdict
Is it worth buying Horizon Chase Turbo? Yes.
There is the nostalgia factor, but all that nostalgia has been updated and can be enjoyed on current machines, with the resources available today. Big screens, maybe 4K, perfect sound and images via HDMI. All of this adds up to having a perfect retro experience these days.
Factsheet
Aquiris Game Studio
Based in Porto Alegre, Brazil
Founding date:
2007
Website:
https://www.aquiris.com.br
Game: Horizon Chase Turbo.
Steam: https://store.steampowered.com/app/389140/Horizon_Chase_Turbo/
Price: R $ 37.99 / US $ 19.99 Video review: https://youtu.be/3FtXCB2xJjg