by Mr. Cranky Pants - YouCanToo
A lot of things have changed since I first wrote the article about setting up your Nextcloud-client here.
Not only have we changed the client, we use and started using SSL connections. We have also updated the cloud server software along the way. We have grown from a few dozen users to well north of 450 users. We also have increased the amount of storage space from 15 GB to 25GB.
It has come time to rewrite the article on how to correctly setup your nextcloud-client to connect to PCLOS-Cloud server.
So let's get started...
If you haven't requested a PCLOS-Cloud account, do so now by filling in the simple request form here.
First make sure that the nextcloud-client is installed on your machine. Open Synaptic package manager and search for nextcloud-client. If it isn't already installed, check it and then install it. When it has finished installing, close Synaptic. You will find the newly installed nextcloud-client in your menu --> Internet --> Nextcloud desktop client sync as seen in the image below.
Once you have started the nextcloud-client, you should see the following page:
Click on "Log in".
In the Server Address field enter the cloud server address "https://pcloscloud.com". Make sure it starts with https://, not just http://. After you have filled in the server address, click "Next".
Click on "Re-open Browser". This is now how the cloud server will verify your account.
Your web browser will open and display the page above. You may find after this point that it asks for your username and password. You did sign-up for a cloud account didn't you??? If not, go sign-up for your free cloud account here.
When you see this window, you can safely close this browser window. You should see the following window.
You can use the default settings. Then simply press "Connect". Once it has connected and syncs any files that are in your Nextcloud folder, you should see the following window.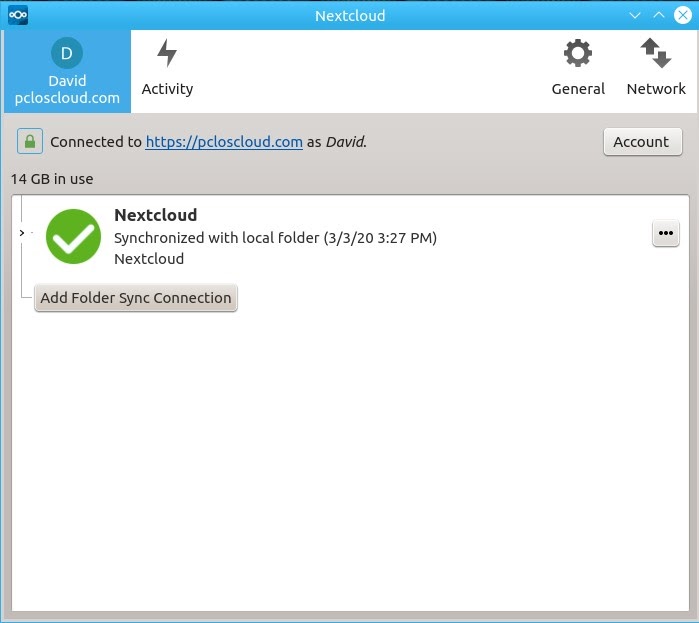 Congratulations... You have set up your nextcloud-client.
You can also access PCLOS-Cloud using the Dolphin file manager using the following address:
webdav://pcloscloud.com/remote.php/webdav
In Dolphin file manager, enter the above address.
It will then ask for your cloud account username and password. And then press "OK"
You should now be connected to your cloud account.