I would like to start off by saying from all
YOUR PCLinuxOS Family,
We wish you a very Happy Birthday!
What is your name / username?
Maurice is my real name, mutse is my username on the PCLOS forum, and mutse (Maurice) on the Dutch forum section.
How old are you?
Currently still 66, but on April 9, 2020, I will be 67 years young.

Are you married, single?
I have been married (13 years) and am currently single (already 26 years). I have no relationship, I don't feel lonely, and I go wherever and whenever I want or feel like it. I am "free" and I want to stay "free." I only take care of my son Korneel, with whom I live together in the house he bought in 2018. I feel good in my being, and also consciously choose a life as a single person.

What about children, grandchildren (names and ages)?
I have four children, who are all now adults.

Michiel, the eldest son, turns 38 on June 21, 2020. He has a girlfriend with whom he lives, they have 2 children. Auke is the oldest daughter and turns 10 (she is my godchild and also a cute smart child). Meike, the second daughter, will be 7 this year (she is also cute but less clever than her sister). They sold their house last year and bought another one that is 200 meters away on another street (it is also more spacious and there is also a garden).

Korneel, the second eldest son, turns 36 on 28 June 2020. Korneel has an intellectual disability and is autistic, and works in a place that offers him suitable work. He drives a car, and last year bought a house that I can live in (at his explicit request). I also do a lot of carpentry, laundry, groceries, cooking and other, less visible things.

Lieven, the third son, turns 33 on July 2, 2020. Lieven, like Korneel, has a disability and works in the same company, with adapted work, as his brother. Lieven was with a friend, where he has two children (a boy, Iben, who turns 11, and a daughter, Imke, who turns seven), but is now alone. He has the children in co-parenting with shared costs.

Goele, the youngest, a daughter, will be 30 on 15 March this year. She is together with her boyfriend Bart. Also bought a house last year. They don't have any children yet, but they do have a very beautiful and sweet cat.

Do you have pets, what is your favorite?
I once had 14 cats (then lived on 'the outside,' meaning in rural areas just outside the center of the municipality (after my divorce, I was a bit on 'the dool'. I didn't know what I wanted, and neglected myself. What, was on the 'dork', but continued to perform my work correctly.

I also had two sheep with which I went for a walk, and after the move (around Roeselare, West Flanders), I did not want pets anymore. I was bitten by fleas a long time ago, and when I worked in the attic in the cottage of Korneel, I attacked by a whole nest of fleas ... and suffered from it for months and also reacted very allergically to it. As a 12-year-old, I was also bitten by a dog by my hand (not much, but the shock has been there ever since).

I like to see animals, but, NOW, preferably from a distance. I also had a horse (mare, seven years old) and did dressage with it. I worked hard to teach her to get the rein, because she wasn't really built for that - it was also a 'vluchter'. I only got them back "after two years of patient training." She (her name was Lis) became 19 years old, was never sick. When she nevertheless fell ill, she died of it. I was sad about it. I have had very nice moments with her, even though I had to work hard at it. She never let me down and did it with pleasure in dressage. My children learned to ride with her (she was very child friendly - but has a proud character - sometimes a bit bossy).

My horse Lis has been a favorite animal. I still miss riding, although I am already 66 (and now the granddaughters are also riding), I get those 'jitters' again.
Are you retired, are you still working and what are you working for?
Yes, I have been retired since 1 May 2013 (almost 7 years);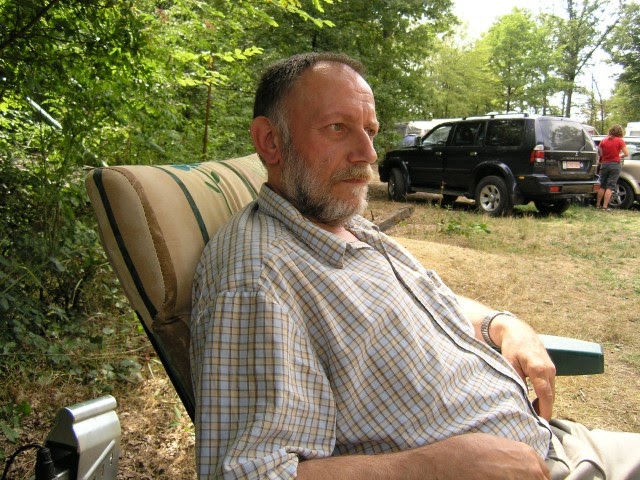 I still work, but then with my son Korneel in/at his house or I do many (carpentry) chores for the other children. Rest = rust!
Roof Renovation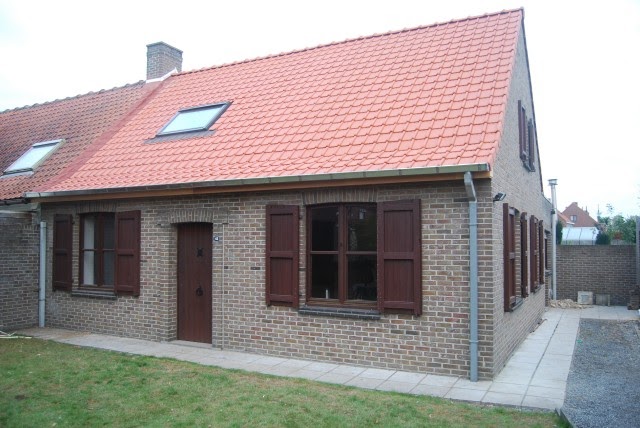 The new look of Korneel's Home
Family celebration at Korneel's home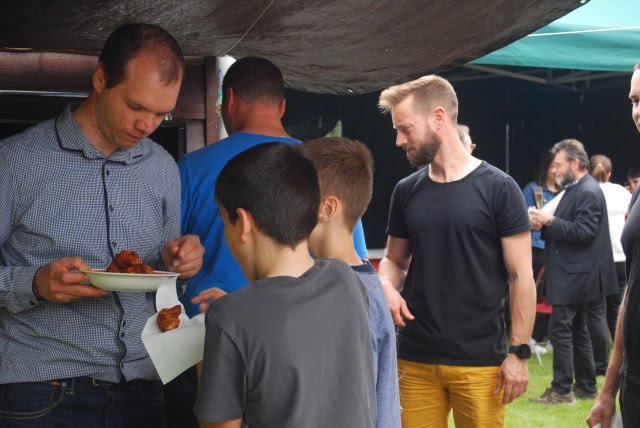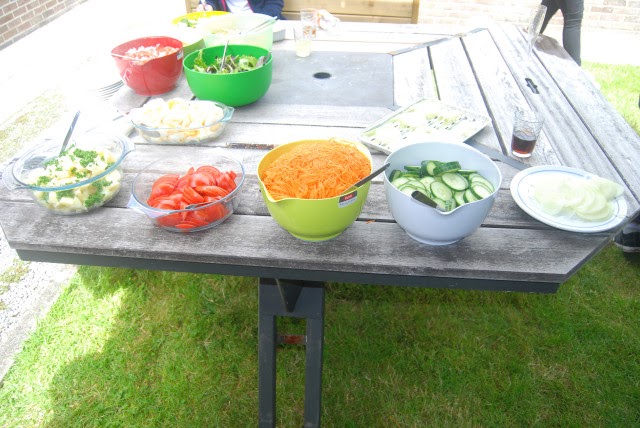 I also do gardening, but on a small scale, in square meters. I also do the laundry and the puddle, hang the laundry outside to dry and fold (I haven't been ironing for 26 years ...) then.
Where do you call home? How is it going? IE: weather, landscape?
Where I live NOW. It is currently cloudy, it is not freezing and the sun sometimes beeps between the clouds.
I live close to the center and yet it is almost whisper quiet here (there is no traffic here either), and only when the work cars of the municipality pass are there some engine noise. In the evening, (when it starts to get dark) I hear the roosters crow in the immediate neighborhood because they are already looking for their place to sleep in the birch trees. Now that the leaves have fallen from the trees, I can see them sitting nicely.
Where did you go to school and what is your educational level?
I come from a "large" working-class family. My father was a worker and my mother was at the "hearth" (housewife). I have 4 brothers still alive, all younger than myself.
I was a member of the Chiro (youth movement), later, after my military service, I became a member of the KAJ. (Catholic Workers Youth) During the school holidays, I started working (as a 12-year-old) on an abbey farm (one vacation) to help bring in the harvest and then with a gardener.
As a gardener, I did all kinds of work, learned to work with the draft horse, steered a tractor, harvested strawberries, clean leeks, wash carrots, wash and tie in bundles, go to the vegetable auction, learn to drive a car (with a Ford M16 and an old Ford Transit with fabric roof above the body - the gear lever was at the wheel and had to be operated in the opposite direction - unlike a normal manual gear lever) and gained a lot of life experience.
After primary education (1-6), I went to a technical school to follow a training course from Wood Technician and succeeded. I obtained the diploma (at that time it still existed --NU no longer - they are now talking about a certificate...) with 71%. - I was tired of studying and wanted to go to work.
After my secondary studies at a technical school (VTI-Bruges), I started working (July 1, 1970) in a family carpentry company. I also did one year of military service (1972 - 1973) (in Soest in Germany with the Grenadiers).
During the period from 1975-1978, I was also elected (twice) as chiefly responsible = chairman - of the Municipal Youth Council in Zedelgem. Unfortunately, the documents about the Municipal Youth Council ended up in the water during a flood. Where the archive was located (it was placed in the basement of the Town Hall), which, unfortunately, cannot be saved.
After 8 years of working at the family carpentry company, I exchanged that job for education (October 1978). I had to go back to school (because I was probably not smart enough) to follow a PHOKT course - Pedagogical Higher Education of the Short Type - to be allowed to teach. So I needed a Pedagogical diploma. That teaching was at the technical school where I was also a student (from 1965 to 1970)
I taught Practice Wood (1st, 2nd degree BSO and TSO), Technical Drawing (BSO and TSO - 1st and 2nd degree), ICT (2nd degree BSO) and the theory about growth, cutting down the tree, sawing the log, drying of the wood, processing, wood joints tool leather, handling woodworking machines, safety, etc. I had a lot of lesson plans, creating / developing courses, drawing work drawings (AutoCad and Inventor) for the papers and assignments that the students had to carry out, improving tasks and drawings of the students, taking tests, showing how to produce a paper (demonstrating) and which order they could follow in order to achieve a good result (= guidance), etc.
I also tried a lot of new things ... I didn't rest on my laurels, I was actively updating ...
At a certain point in time, I went down during the big vacation (2011). I got a 'Burn-out'. I didn't want anything anymore, didn't want to get up anymore, ate very little and didn't do anything at all, until I got into a conversation with a colleague who helped me get on top of it by making sure that I had carpentry on my hands again. Then I just started the new school year again as if nothing had happened.
I taught until the end of December 2012. I was officially retired on 1 May 2013. In that interim period, (1 December 2013 to 31 April 2013), I have taken a TBS (Temporary Availability Statement). So, I have made my contribution to society. It had been enough (was already working as a 17-year-old). I was entitled to an endless vacation and rest.
What kind of things do you like to do? hobbies, travel, fishing, camping?
Gardening, carpentry, reading, computer use - especially Linux, laughing, walking (briefly), occupying myself with the grandchildren, occasionally doing some free drawing/sketching (that is less than before due to all the activities at my work) , photography, enjoying my life as a retired civil servant, visiting former colleagues, visiting family.
But, during my lessons, I enjoyed myself at the blackboard with the piece of chalk where I displayed my drawing. The most beautiful trees and sections of the tree were drawn/sketched. I drew on the blackboard and the students did not believe their eyes. Also in the Technical Drawing lessons, I showed my drawing talent in drawing the different perspective shapes, wood connections in 3D, with the compass drawing vertical lines, angles, tangent circles and tangent lines, parallel lines, angular divisions, polygonal constructions, etc.
I can't travel much (I don't have the money). I have done camping several times (in France, the Loire region, more specifically on a castle farm at Bois de Girault) with the children during the big vacation (July - August).
Why and when did you start using Linux?
I started with 'Linux' after reading a magazine with a DVD with a number of 'Linux distros' in it, after it was mentioned that Windows XP would no longer be supported and would no longer receive security updates. I also did so out of curiosity and as a new challenge, in my already richly filled career.
I "hopped" from one distro to another and then, by chance, ended up at PCLinuxOS. I then registered on the Dutch forum (pclinuxos.nl) where I got a certain name, A.J. Baudrez (Wamukota), discovered and also read that he lived in Bruges (also read in the PCLinuxOS Magazine). After I contacted Alain, I was invited to come to the "Brutux" meeting(s). That's how I 'rolled' into that Linux world. I still go there every month.
I am very happy that I have discovered PCLinuxOS (and Linux in general). I've already received a lot of help from DeBaas (both at the forum and personally in The Hague Netherlands, where he works as a volunteer in the computer club), also Alain and everyone here at the USA PCLinuxOS forum. Many thanks for that. I wish I had so much knowledge.
What specific equipment is currently being used with PCLinuxOS?
- One desktop i5 (compatible with Linux) and three laptops (one Pentium and two i3).
Do you feel that your use of Linux influences the responses you receive from your computer mates or family? If so, how?
No, I have not, they are already used to me and I have no problems with their comments. They still come for advice and help. All my children now use Linux (I was able to coax them without pushing ...) on their computers.
What would you like to see happen within PCLinuxOS, making it a better place. What are your feelings?
That PCLinuxOS continues to go well the way it is now. I personally think it is excellent. I am being helped well. They sometimes dare to 'fool me', but that is fine (to tease someone is asking for love). Thank you to everyone who has already helped me.
I have read a lot about what is happening at the USA Forum and also a lot about 'Linux in general'.
I like it and already feel a bit like a member of the 'family'.
But, I still have to learn so much. I am still a "beginner". I hope more compatriots want and dare to take the step to work with a 'Linux-driven operating system' such as PCLinuxOS.
PCLinuxOS Family Member Spotlight is an exclusive, monthly column by YouCanToo, featuring PCLinuxOS forum members. This column will allow "the rest of us" to get to know our forum family members better, and will give those featured an opportunity to share their PCLinuxOS story with the rest of the world.
If you would like to be featured in PCLinuxOS Family Member Spotlight, please send a private message to youcantoo, parnote or Meemaw in the PCLinuxOS forum expressing your interest.