by Paul Arnote (parnote)
Looking through the Monthly Screenshots section of the PCLinuxOS forum, it's apparent that there are many individuals who know how to find great looking wallpapers for their desktops. But for others, finding high quality images for their desktops isn't so easy. Plus, with so many of us spending so much time at home, quarantined to help prevent the spread of coronavirus (or to help flatten the curve), it's inevitable that many will be spending an increasing amount of time on their computers. You might as well have some nice wallpaper to look at while spending all of that extra time in front of your computer.
Let me help you with that. There are several places on the web where you can find high quality images for your desktops ... that are free! So, let's take a look at some of them.
Before we start, though, let me give you one word of advice: be cautious! Collecting cool and unusual wallpapers can be a very addicting pursuit. It won't take long for you to wonder where all your hard drive space went!
Bing
Think what you will about Microsoft's search engine. But it does have one really awesome feature that sets it apart from the crowd. Each and every day, it features a new, high quality image that it uses as its background image.
There are whole websites dedicated to collecting and sharing the various Bing images. With just these images alone, you will be able to create some stunning desktops.
One site, Bing Wallpaper Gallery, is a great place to start. There are (on my laptop, anyway) 30 images per page ... and there are 28 pages filled with those high quality images.
Bing Wallpaper Download is another site that collects and "redistributes" the daily Bing images. There are 446 pages of images, with 10 images on each page.
One of the coolest, and probably most complete collections of Bing images, is from Bing Wallpaper Archive. Each month's images are displayed as a slideshow. When the image you want flashes before you on your screen, click on the image. The selected image will open in a new tab in your browser, where you can right-click your mouse on the image to save the image file to your hard drive. The monthly collections go all the way back to May, 2009, making this collection of Bing images massive.
I have also created a bash script to download the daily images from Bing. I originally wrote about it in the October, 2013 issue of The PCLinuxOS magazine. Since then, I've done some minor upgrades to the script, due to the slight changes in the way that the images were presented by Bing. You can download my updated script here.
Download the file to some location in your path, change the filename from bing5.sh.txt to bing5.sh, make the filename executable, and then run from a command line prompt (or run it when your computer first starts by placing it in your desktop's "startup" utility that starts programs when your desktop first starts). I've annotated the script (open ONLY in a bona fide TXT editor, like Kate, Mousepad, Leafpad, Geany, etc.!) so you can make any changes that you might want (like how long it waits to download the image after the script is run). You can also set up the script to run "automagically" every day at the same time by assigning it to a crontab job.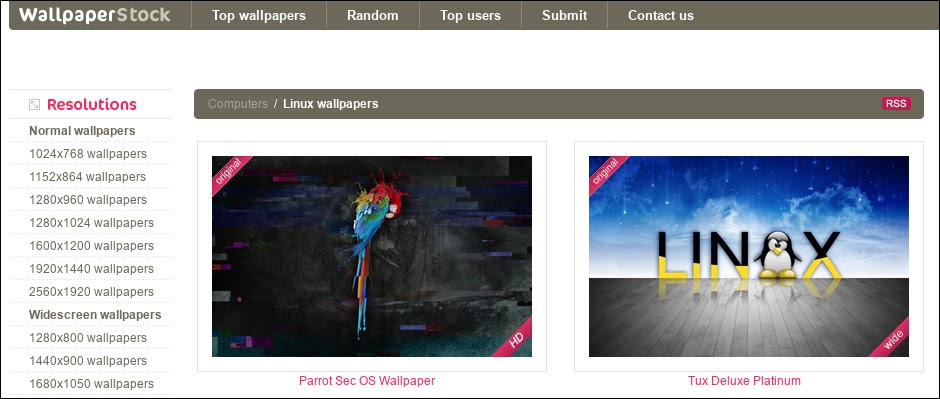 WallpaperStock.com has a literal ton of free, high quality wallpaper images. They are grouped together in categories, such as the Linux category shown above. You can also select the desired screen resolution (left side of the page).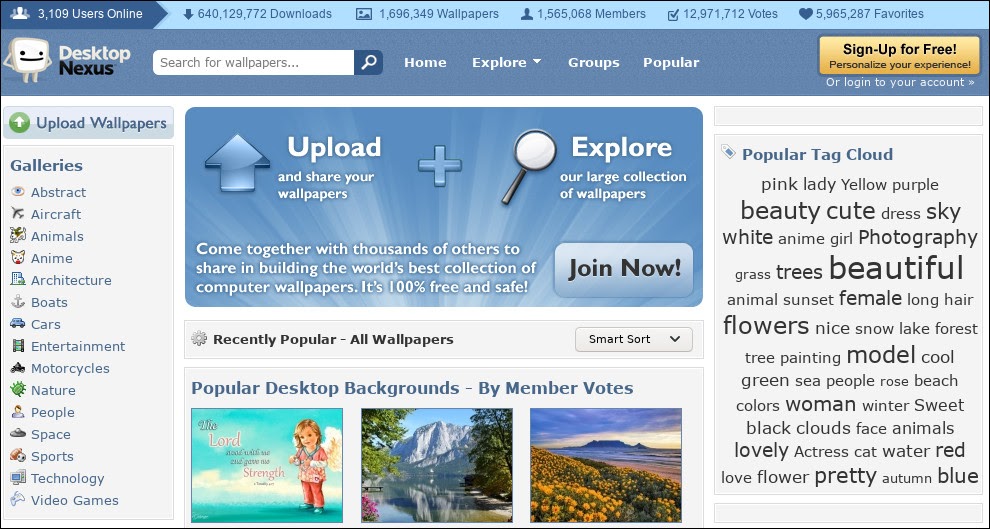 Desktop Nexus is an often overlooked site ... except for its 1 million registered users, who have uploaded over 1.5 million high quality wallpaper image files! And no, you do not have to register to use the site.
All of the images are sorted into categories, which they call "Galleries." Clicking any one of the galleries/categories opens up a whole slew of new subcategories. The images are sorted by "votes," which makes it easier to find popular image files. You do have to be a member to vote on images, though.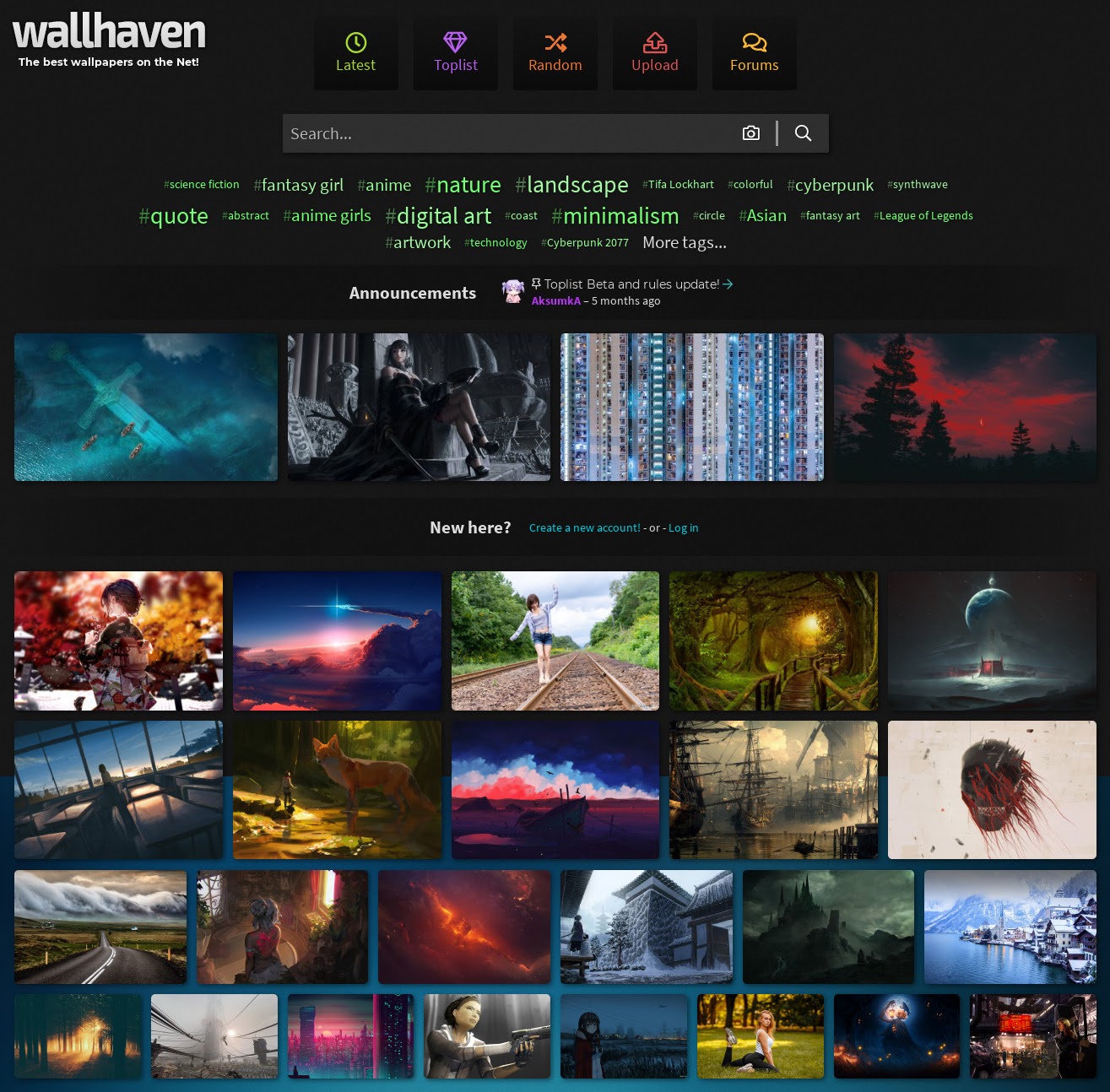 Wallhaven has a collection of over 700,000 high quality wallpaper images for you to browse and download. The site originally was designed to replace the now-defunct Wallbase. Once you sign up for a free account, you can browse for images by tags or popularity, search for "safe for work" images (or not), choose your favorite image resolution, or just take your chances with a random selection. The site features infinite scroll, so you don't have to load multiple pages of images to find the images you are interested in.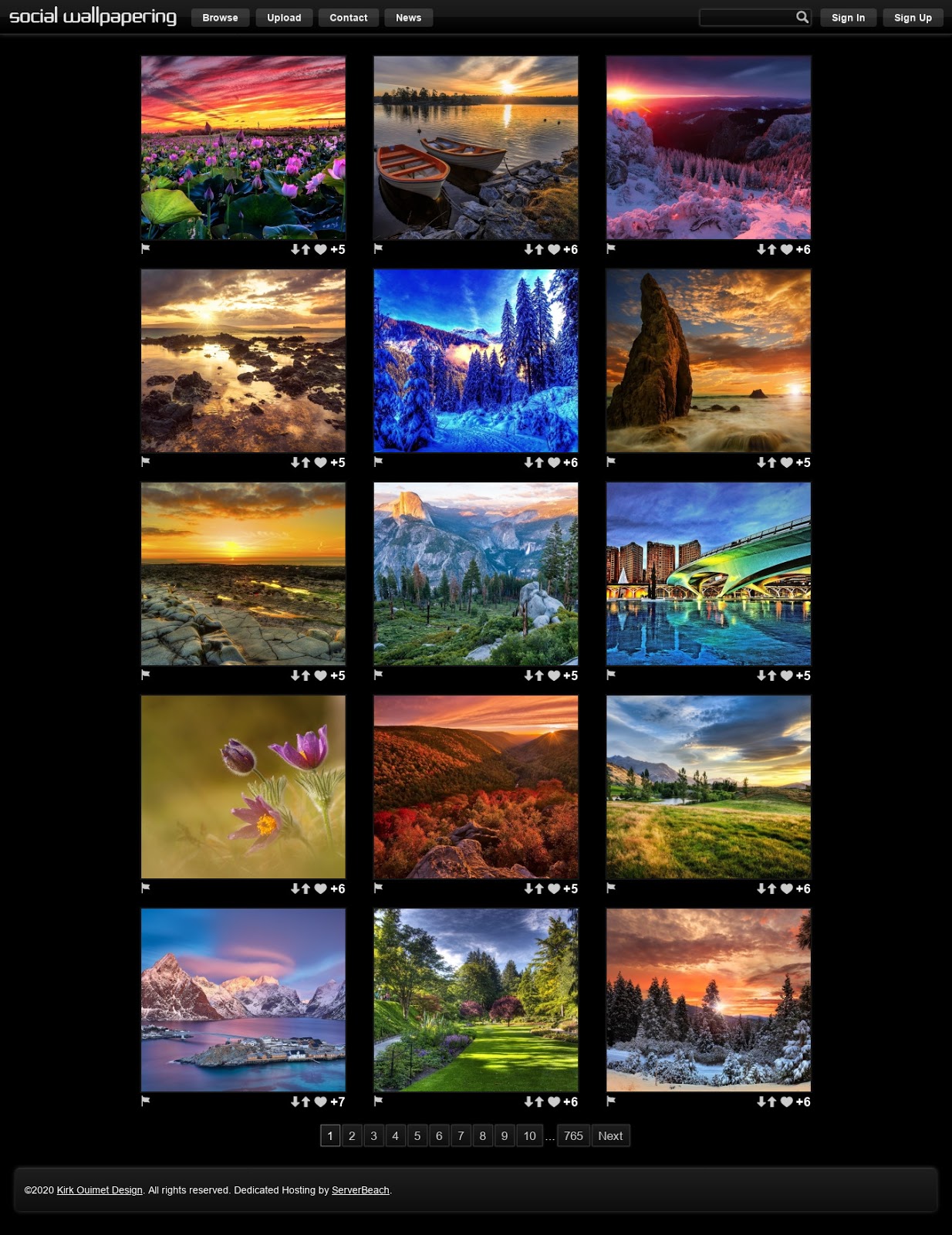 Social Wallpapering has been around for quite a while (since at least 2007). They have a quite large collection of high quality wallpaper images. Clicking on the "Browse" button will display some image categories to help you narrow your search to something you are interested in. You can also upload your own high quality images to the site, as well. Users can "up vote" or "down vote" images based on whether or not they like the images. Voting privileges are granted after signing up for a free account.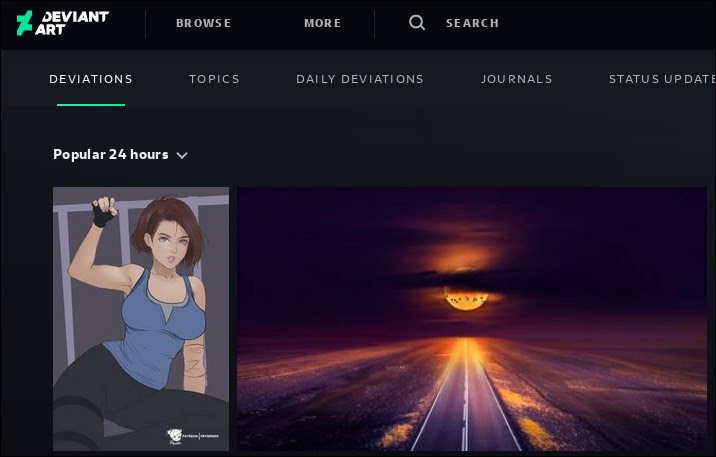 If you're looking for something eclectic or unique, you could do no better than DeviantArt. The site is THE site for artists, and they have a very large following. The collection of wallpaper images includes photos, illustrations, abstract art, fantasy art, fan art, video game art, movie art, comics art, and much more. Here's a hint: even if it says to "purchase" the image, click on it. Most of the time you'll be shown a high resolution image of your selection, and saving it to your hard drive is as easy as right clicking on the image and selecting "Save Image As..." from the context menu in your browser.
Updated daily, HDWallpapers.net is full of HD photos and illustrations just waiting to adorn your desktop. You can sort by featured images, popular images, the latest images, or browse based on category. Downloads can be chosen based on screen resolution, a specific mobile device, or a particular use (e.g., for use as a cover photo on social media platforms). No account is necessary to download images, but a free account is required to upload images and to save a list of your favorites.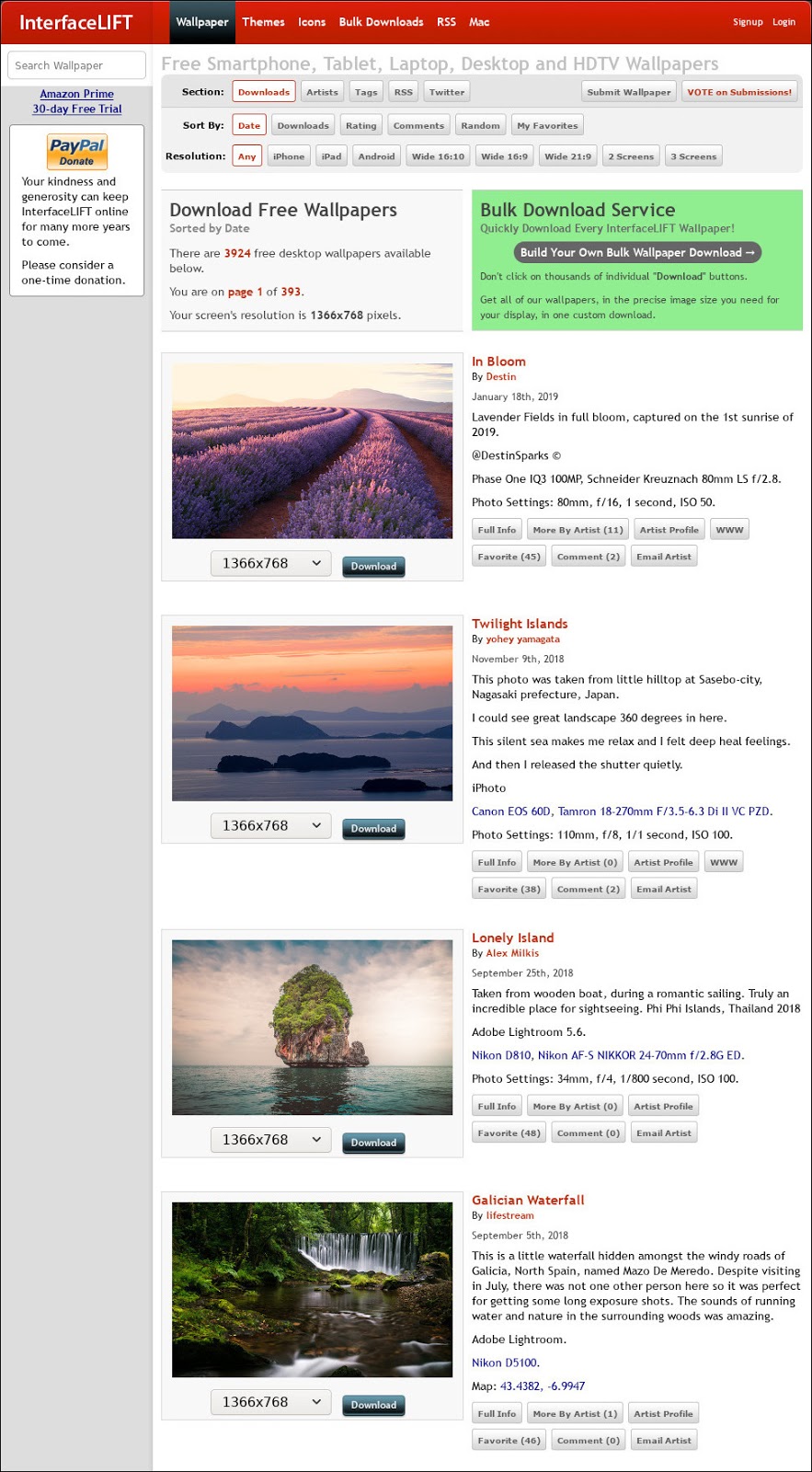 Interfacelift has been around for quite a long time now. Originally created in October, 1999, the site is a premier resource for gorgeous wallpapers. They have lots of natural scenes, photos, and more. You can also find icon packs and system themes on Interfacelift.
The site will automatically detect your screen resolution, and use that information to show you wallpapers that fit your screen. However, you can also sort wallpapers by screen resolution or device. One really nice and unique feature of Interfacelift is that you can see lots of additional information about the images, such as the camera used to shoot the image, who took them, and any comments that were added to the images.
Just as its name states, the wallpapers on Simple Desktops are simple. According to the "About" information on the site, Simple Desktops includes "a collection of wallpapers designed to make your computer beautiful without distraction." Calling the wallpapers on Simple Desktops "minimalist" would be an understatement. They definitely are not distracting, at least in the normal sense of what we define as distracting.
Summary
There you have it. I've given you several sites to go look for wallpaper to adorn your desktop. There are many other sites out there. I eliminated some from my list, like Digital Blasphemy, because they charge either a membership fee, or they charge per image. There are plenty of other places on the internet to grab some free wallpapers, so there's little to no need to pay for them. A quick search for "free wallpaper images" will net you a literal ton of sites where you can download them freely.
So now, go out and dress up your desktops!