by phorneker

Besides bringing back the EBCDIC to ASCII translation library, something else unexpected happened. While I was on YouTube, I came across a video that brought back memories of the early days of the Web.

How many of you remember a web hosting service called GeoCities?

This brings back memories as my flagship site (Horneker Online) got its start on GeoCities back in 1996 as a single page website about OS/2 (called "OS/2 Junction").

GeoCities was founded in 1994 by David Bohnett and John Rezner as a web hosting service where anyone who wanted a website on the Internet could build one. Websites hosted here were organized into neighborhoods based on the topic of websites, such as SiliconValley, Heartland, and MadisonAvenue.

My website there was placed in SiliconValley as it was a website about OS/2. (This was back in 1996, long before I started using Linux.) The URL for that site was http://www.geocities.com/SiliconValley/Heights/4301. The Wayback Machine at Internet Archive can be used to view websites that were on GeoCities back in the day.

Some neighborhoods got so large, sublets were introduced to further organize the location of websites hosted at GeoCities. On the filesystem used in GeoCities, sublets are nothing more than subdirectories contained with the directories assigned to the neighborhoods.

Each website hosted on GeoCities had to fit into one megabyte of space on the server. Back in the 1990s, websites hosted there were simply HTML coded web pages, and graphics in GIF and JPEG formats. Scripting on pages was done in JavaScript and only client side scripting was allowed.

Server side scripts were not allowed on GeoCities pages, but then, that was not the point of GeoCities in the first place. GeoCities was a place to showcase creativity when building websites.

...then Yahoo! stepped in.

On January 28, 1999, Yahoo! purchased GeoCities.

Back in the 1990s, the Google that we know today was simply a spinoff of Yahoo! and was nothing more than a directory of websites. Yahoo! was as powerful of a company then as Google is today. These days Yahoo! is now owned by Verizon, which happens to be both my Internet service provider and cellular phone service provider.

Users of GeoCities had their accounts converted to Yahoo! accounts and the websites were assigned a more conventional URL scheme, namely

http://www.geocities.com/username

where username was the login name used to log into GeoCities and later Yahoo!. After Yahoo! took over the service, priorities of the service changed to one of monetization. This took a toll on creative freedom, in terms of what happened to websites hosted there.

We all know how popup windows were the source of irritation for many website developers and consumers alike. GeoCities always had advertising as a funding source. Before the Yahoo! takeover, advertising appeared on the top of web pages in a non-obtrusive way. Since the Yahoo! takeover, those ads were literally "in your face" in the form of popups.

October 26, 2009 was the final day of the original GeoCities existence in the US, and ten years later the final closure of GeoCities as we know it came in Japan, the only country remaining where one could get a free website on GeoCities.

That same year, Yahoo! Small Business was set up as a repurposing of GeoCities from one of a straightforward community to one of an e-Commerce community.




What I did after Yahoo! took over in 1999

Before I adopted the name Horneker Online for my website, the site was given various names, namely:

While on GeoCities
OS/2 Junction


OS/2 in Focus


OS/2 and Linux in Focus
The last one here was an adaptation of OS/2 in Focus after I started using Linux back in 1998.
Since the Yahoo! takeover
OS/2 and Linux in Focus (on Bravepages)


32-Bits and Beyond Project (on Bravepages and later 20m.com and 50megs.com)


Cybernightlife (on 50megs.com until 2009)
The name cybernightlife was originally spelled as CyberNightLife and later changed to its final incarnation, cybernightlife.

The origin of the name is simple. It is a combination of the terms "cyber-" and "nightlife", or literally "technology after hours". I came up with this idea after having been to Las Vegas in 2002.

By 2007, the name started to take on a negative connotation. This is one of those "it seemed like a good idea at the time, but now it isn't" moments. At the time, I was a bit concerned about how the public image of my website was being presented.

As the old cliche goes,

"That was then, this is now."

The name cybernightlife may have been a good idea in 2002. But it proved to be a bad idea in 2007, given the growing popularity of Google usage as a way for employers to research candidates, and now with the plethora of security problems we now face on the Internet, it is more important than ever to have a name that cannot be negatively perceived.

I made the decision to drop the name "cybernightlife" and since adopted the current name of my website, Horneker Online.
Attempts to archive (and revive) GeoCities
Besides the Internet Archive, the following websites have attempted to archive the contents of GeoCities:
GeoCities.ws


Geocitiesarchive.org


Oocities.org
Of these, only GeoCities.ws is currently hosting that type of website, and under the same terms and conditions as the original GeoCities. The other two sites are directories containing (somewhat) archived versions of the actual GeoCities websites.
GeoCities.ws does the same, except that you get unlimited storage space for your website instead of the one megabyte.
This is reasonable as back in the 1990s, content on websites were typically measured in kilobytes rather than in megabytes as we measure content today. Back then, pages were encoded in HTML (usually version 3.2 or 4) and graphics were rendered as GIF and JPEG.
In the 1990s, we did not have PNG or WebP for graphics, nor did we have CSS, WordPress, Joomla or Drupal. If you wanted a video clip, the only viable choice was the AVI format. (Have you ever tried to use YouTube on a 56k dialup connection?)
JavaScript existed then, but it was mainly used for client side scripting, and mainly for basic website interaction or browser detection, and even then, the version of JavaScript was browser dependent, i.e. what worked on Netscape browsers (the commercial predecessor to today's Firefox) may or may not work on Internet Explorer (of dubious fame).
In fact, the versions of the Java Runtime Library were completely different amongst browsers. (Microsoft insisted on its own version of the Java Runtime Library at that time, which resulted in a lawsuit from Sun Microsystems regarding the licensing of Java.)
The company behind GeoCities.ws has paid hosting services provided by GridHoster. The domain geocities.ws was registered at GoDaddy and the space for the free version of the website resides there as well.

I would have gone for this offer. However, my domain is also registered with GoDaddy.com and my current website resides there, too, so it makes no sense to claim that older website through geocities.ws when I have my own web space on the same GoDaddy infrastructure.

Another reason not to go for this offer is that the signup form is on a non-secure server (i.e. accessed through HTTP and not HTTPS), enabling significant privacy and safety risks for personal data.
There is, however, one more website not already mentioned that really brings back the GeoCities experience, and from what I hear, is used by educators for training the next generation of website developers.
Introducing Neocities
What do you get when you combine the latest trends in cybersecurity, open source, a community spirit (not unlike what we have here at PCLinuxOS), and the freedom to be creative when building websites?
You get Neocities. Established in 2013 by Kyle Drake and Veronica Wang, this web hosting service can be best described as the next generation GeoCities.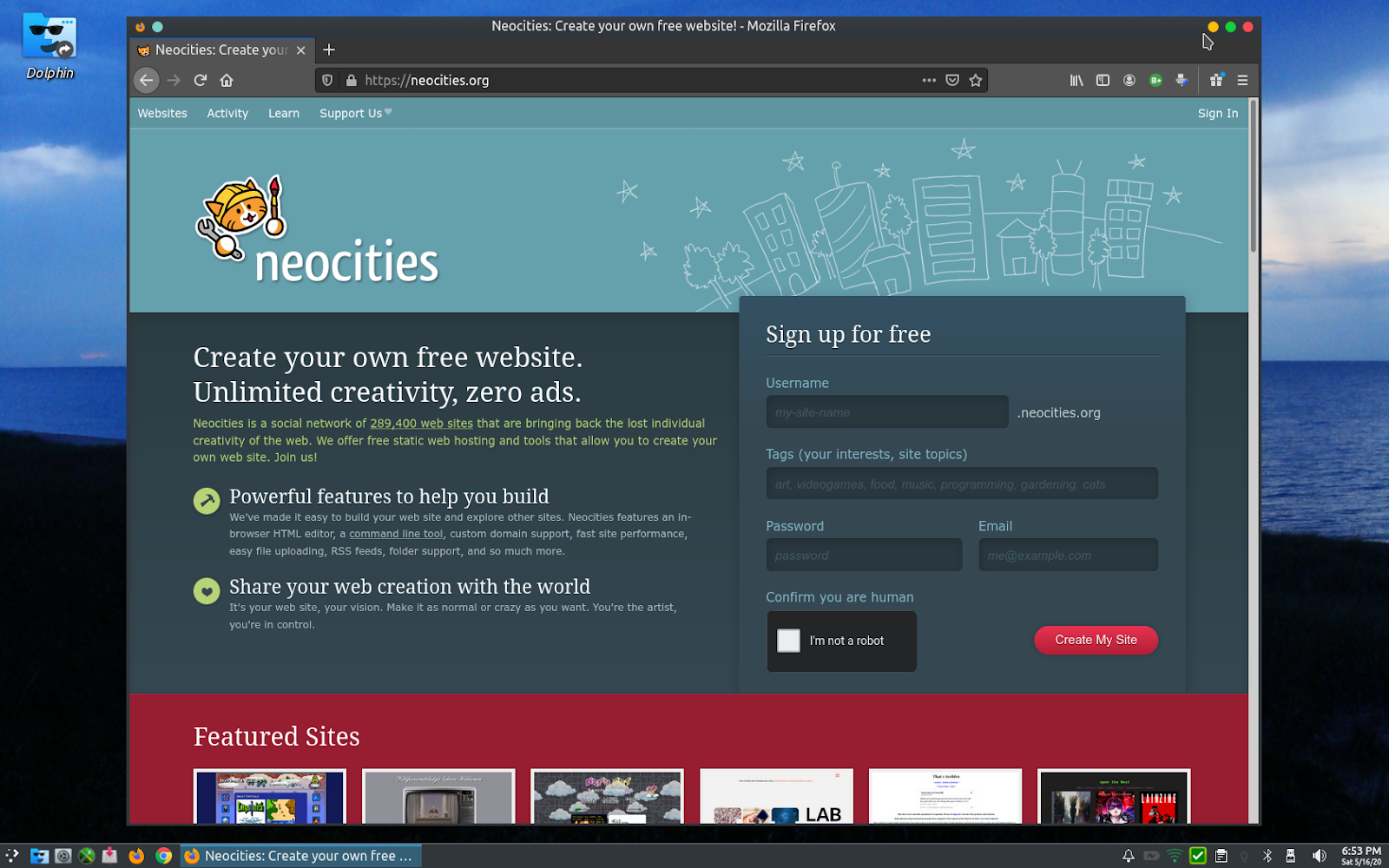 The main differences from GeoCities are as follows:
No advertising! Like NPR and PBS, Neocities relies on donations to function.


With the free account you get one gigabyte of space to store your website on (domain certificates included), 200 megabytes of bandwidth for website access, a subdomain, ability to backup your website to local disk with one click, RSS feed, a profile page, tags (not unlike what we use in social media), and a command line tool with Git style updating written in Ruby!


You can write HTML, CSS and JavaScript code with the built in editor accessible from a web browser.


Website development tutorials on the Neocities website.


A rather awesome (and cool) mascot!
While Neocities offers free webspace for websites, you have the option to obtain a support account for $5.00 per month. This expense is well worth it. Not only do you support the mission of Neocities, but you get some generous bonuses as well (including everything you get with the free version), namely:

50GB of web space with domain certificates and 3 terabytes of bandwidth (useful for high traffic websites)


The option to use your own domain in addition to the subdomain you get with the free version.


WebDAV access to your website. This means, with the davfs2 package installed from the repository, you can mount a Neocities website as a storage device on PCLinuxOS.


Create up to 30 websites with a single Neocities account. (The free version provides only one website.)


The ability to upload any file type to your Neocities space. (The free version only allows graphics and HTML/CSS/JavaScript code. But then, the same was true for the original GeoCities.) Of course, only content you have a legal right to upload can be uploaded to a Neocities site.


Just about anything else anyone could possibly want in a static website. The only restriction here is that the website has to be a static website. But then, that was true of the original GeoCities as there was no such thing as a blog back in the 1990s.

As for coding of websites, you can use HTML5 and CSS in addition to the classic HTML. The only scripting permitted in Neocities is that of scripts written in JavaScript. Websites here must be static. In other words, do not expect to be able to host a WordPress or Joomla website here, as the needed programming languages for that are not available for website development on Neocities, not to mention the cybersecurity risks involved with such websites.

Remember Webrings? Those pieces of HTML programming that effectively make up a linked list of related websites. They sure were a piece of work to maintain.

Neocities uses a database of tags, searchable from within Neocities (no login required to search the tags). With a Neocities account, you get a profile page which functions as a ChangeLog file on many software projects, including those hosted at SourceForge, GitHub or GitLab. Tags associated with your hosted website are maintained on your profile page.

From what I have seen when browsing the collection of websites hosted here. The spirit of GeoCities is definitely here. If you are using a smartphone to access these sites, prepare to do a lot of scrolling.




Net Neutrality Welcome Here

If there is one thing that Neocities got right, it is that the people behind Neocities are pro net-neutrality. Their blog entry for April 27, 2017 says it all.

Even at $5.00 per month, it is worth it to bring PCLinuxOS to Neocities.
How to Sign Up
That is the easy part. The homepage for Neocities is also where you create your Neocities account. All you need is a username, a set of keywords to use as tags, and a working email address. No more than five tags can be used for your Neocities website.
Once you create your account, you have the option to immediately upgrade to the Supporter account.
This is what you see when your account has been created.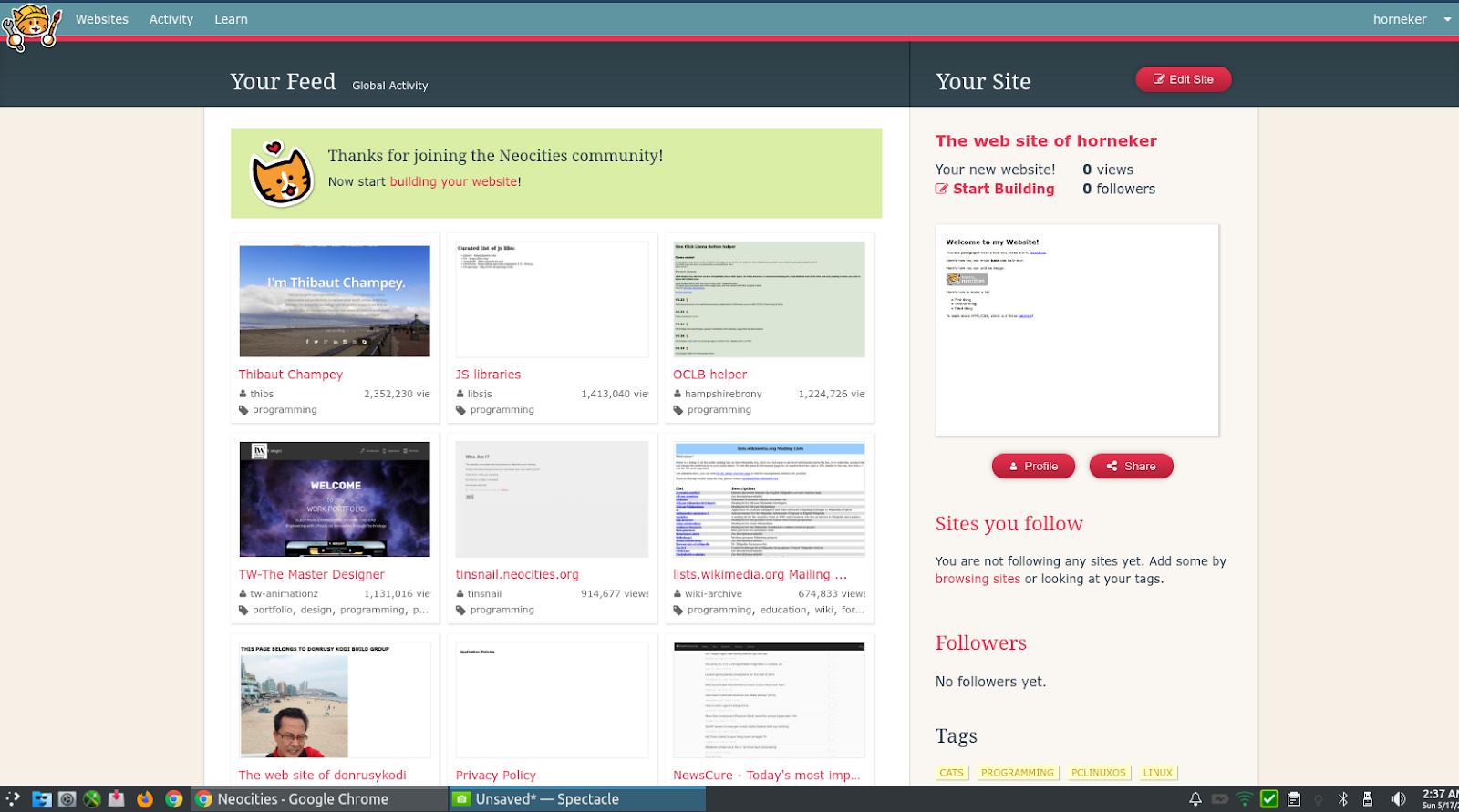 Every Neocities account comes with a profile.
This is very much straight forward. Click on Edit Site to enter the file manager.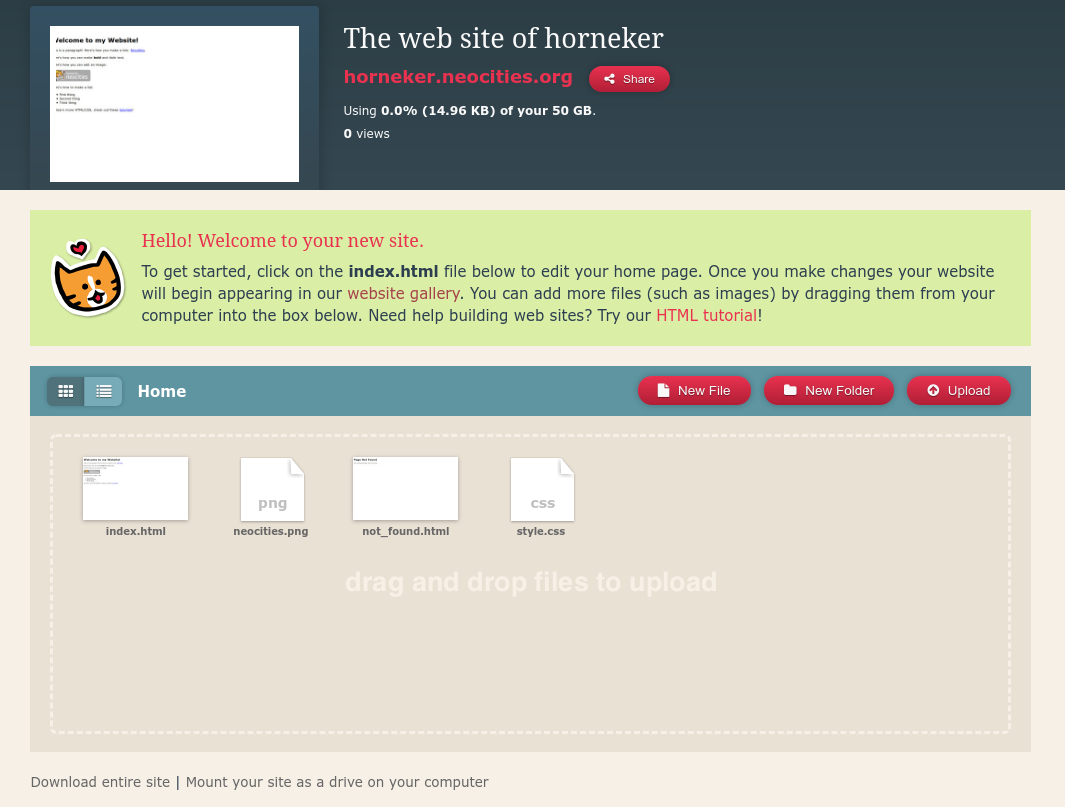 Here you can create new folders (such as a folder to store wallpapers for your desktop), a new file (text, of course), or you can upload files.
You can also drag and drop files and folders to the large space provided here. (Plasma desktop recommended for this feature.)
Also, you can download the entire website to your local disk (as a Zip file), which is useful for making backups of your website.
The link next to the website download is a link to instructions for how to mount your new website with the WebDAV protocol. (libdv2 must be installed from the repository for this to be possible).
There are four files already in this folder. The file called not_found.html is used in making a page to be displayed when someone tries to load a page that does not exist on the website (also called a 404 page, named for the HTTP Code 404 error, or File not Found).
Besides that, we have a graphic that tells us this site is hosted at Neocities, a homepage (index.html), and a simple CSS stylesheet
All the HTML and CSS files can be edited. (I do not recommend messing with the graphic file as it shows that the website is hosted at Neocities, which shares many of the values we have in the PCLinuxOS community.)
To edit a text file, simply click on that file's icon.
We can use any of the editors that are in the repository (such as Bluefish and Brackets) to create HTML and CSS pages, but this is available, and changes are immediate (simply click on Save).
With the exception of index.html, any of the other files in the file manager can be deleted or renamed by selecting that function from the menu that pops up when you hover over the icon.
Ready for the Renaissance
That is all we need to get started. I signed up with the Supporter option, not just for the bonuses, but for the values that are shared between Neocities and this community, and also with Horneker Online.
After having used the HTML5 template currently on my website, I am ready to try something new...a renaissance of 1990s web development fused with HTML5, CSS and simple website frameworks. The founder of Neocities has developed such a framework, and is a part of that website's design.
I will be taking a look at that, then see what transpires.
If you have a static website, i.e. one built on HTML, CSS and JavaScript, you really should consider this service to host your website, or support and/or promote PCLinuxOS itself for that matter.