Grilled Skinny Fish With Strawberry-Poblano Relish
Low Carbohydrate 5g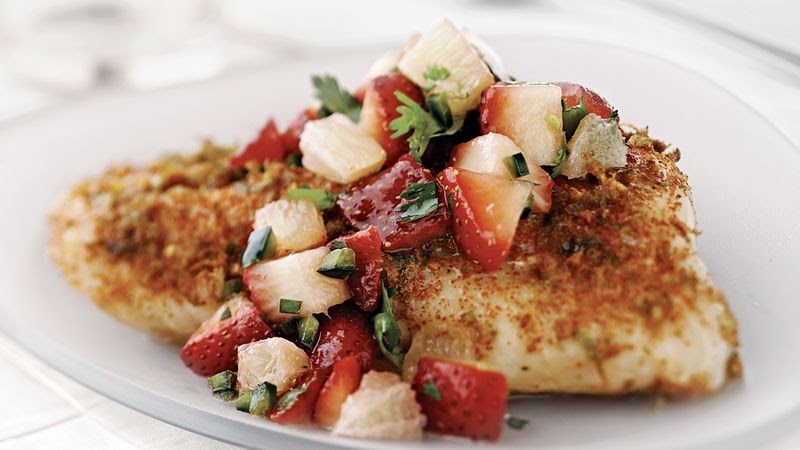 INGREDIENTS:
Fish 4-(4 oz to 5 oz) fresh or frozen sea bass or halibut steaks, cut 1 inch thick
1/4 teaspoon salt
1/4 teaspoon cayenne pepper
Relish
1 small lime
1 cup chopped fresh strawberries or frozen organic strawberries, thawed and chopped.
1/4 cup finely chopped seeded fresh poblano chile pepper (1/2 of a small)
2 tablespoons snipped fresh cilantro
1/2 teaspoon cumin seeds, toasted*
1/8 teaspoon salt
DIRECTIONS:
Thaw fish, if frozen. Rinse fish; pat dry with paper towels. Finely shred lime peel. Peel, section, and chop lime; set aside. In a small bowl, combine lime peel, the 1/4 teaspoon salt, and the cayenne pepper. Sprinkle mixture evenly over both sides of each fish steak; rub in with your fingers.

Arrange medium-hot coals around a drip pan. Test for medium heat above pan. Place fish on the greased grill rack over a drip pan. Cover and grill for 7 to 9 minutes per 1/2-inch thickness or until fish flakes easily when tested with a fork, gently turning once halfway through grilling time.

Meanwhile, in a medium bowl, combine chopped lime, strawberries, chile pepper, cilantro, cumin seeds, and the 1/8 teaspoon salt. Serve with grilled fish.