Garlic Roasted Red Potatoes
Serves 2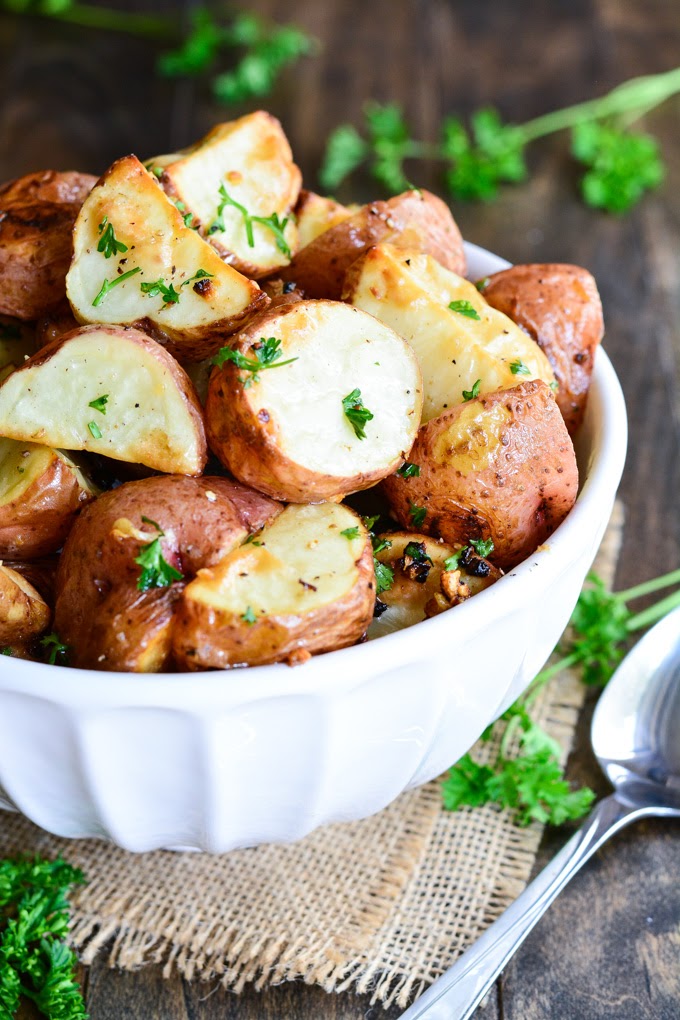 INGREDIENTS:
3/4 pound small red potatoes - about 6
1 tablespoon olive oil
2 teaspoons crushed or minced garlic - approximately 2 medium cloves
1 teaspoon kosher salt
DIRECTIONS:
Start by preheating an oven. I use 400F (204C) convection but combine in the oven with other dishes and adjust the cooking time accordingly.

Scrub your potatoes and cut into quarters if using small red potatoes. If using bigger potatoes, keep the size about 1 inch or less.

In a mixing bowl, combine the potatoes, 1 tablespoon olive oil, 2 teaspoons of crushed or minced garlic (2 medium cloves of fresh), and 1 teaspoon kosher salt.

Spread evenly over a non-stick baking pan. Keep them separated so they can brown well. If you don't have a non-stick tray then an oiled tray. I like to place the cut sides up.

Bake for about 30 minutes until nicely browned.
TIPS:
For those on a reduced sodium intake you can substitute the salt for your favorite salt substitute.

Red skin potatoes are highly suggested. You can choose any potato you want, like Yukon Golds, but russets would be a poor choice.

For a bit of variety add some fresh or dried Rosemary or Thyme. Try adding some quartered red onions to the mix before roasting.
NUTRITION:
Calories : 154 Carbohydrates : 28g Fiber : 3g Sodium : 631mg Fat : 4g