Here's something that I bet many people don't know about me. I love doing woodworking. Oh, trust me. I'm no "master carpenter" like our forum buddy sam2fish. But, I still love working with wood. But between working my regular job, the magazine, wrangling two young children and taking care of other things that come up, I haven't had a lot of time to scratch my woodworking itch in quite some time.
No, don't get me wrong. That itch is still present. I've not really had any extra time to work on scratching that itch. But that itch is becoming more prominent.
When I first moved into my house, I built my own mailbox. I wanted it big enough so that any magazines I receive in the mail didn't have to be "rolled up" just to fit in the mailbox. It opens up sort of like a night deposit box, a box within a boxed frame that opens by tilting out the inner box at the top, where the top of the inner box is open for the placement of mail. I even built the handle for the mailbox, routing it out of a piece of wood with places for your finger tips. It's stained and finished, and looks as good today as the day I made it.
I don't have a bunch of fancy woodworking tools. I definitely don't have a planer or jointer, as those items are typically priced out of my budgetary reach. I have a barely functional table saw, a few circular saws, a jigsaw (a band saw is as much of a distant dream as having a planer or jointer), a reciprocating saw, a couple of routers, a few drills, a second-hand small bench top drill press, a few pneumatic tools, and a smattering of hand tools. Most of what I am able to accomplish, I accomplish with simple hand tools and tons of elbow grease.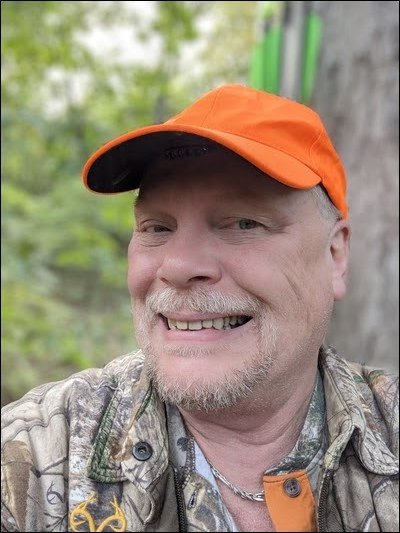 Not having a ton of money, I enjoy reusing/repurposing lumber. I built my chicken coop using mostly lumber reclaimed from a wooden fence I tore down. The only things I purchased were sheets of plywood sheeting to cover it and a few hinges. So, as you can imagine, building items from reclaimed pallet wood is something that REALLY appeals to me. Most places around here, pallet wood can be had free for the taking. It's hard to beat free.
I'm also a deer hunter. One of the things lately that has filled my mind is building a permanent deer blind using reclaimed pallet wood, especially since the deer archery season has recently opened in my area. On most days, the plans filter through my head. I run over, in my head, how big everything should be, what cuts I need or want to make, how to fasten it all together, where to find the materials at minimal (or no) cost, etc. But, just like with my chicken coop, none of those plans are "on paper." Instead, they fill my head, and I can see them clearly in my "mind's eye." Frankly, I admit that I suck at drawing those plans out, despite having tried many times in the past. My drawings always come out looking like a warped Picasso painting.
I do spend some time every deer season hunting from a popup fabric deer blind. So, a permanent deer blind doesn't have to be anything fancy. It just has to be something that obscures my profile, masks my movements, and helps keep the weather out. I do have a small propane heater to help knock down the chill on those chilly days, so an enclosed blind is advantageous in that respect, as well. Heck, just keeping the wind at bay is a huge help.
I'm also fully cognizant of the fact that not everyone reading this is a hunter, or likes hunting. So be it. We'll just have to agree to disagree. I'm not one of those "trophy" deer hunters that you commonly see on TV hunting shows or in the hunting magazines. I hunt for the meat. Just like a fisherman will often turn his catch into a meal or two for himself and his family, my family loves deer meat. For me, it's about putting meat in the freezer to sustain myself and my family with something we like to eat.
Until next month, stay safe. I wish you peace, happiness, serenity, prosperity, and continued good health.