One-Pot Cheesy Lasagna Soup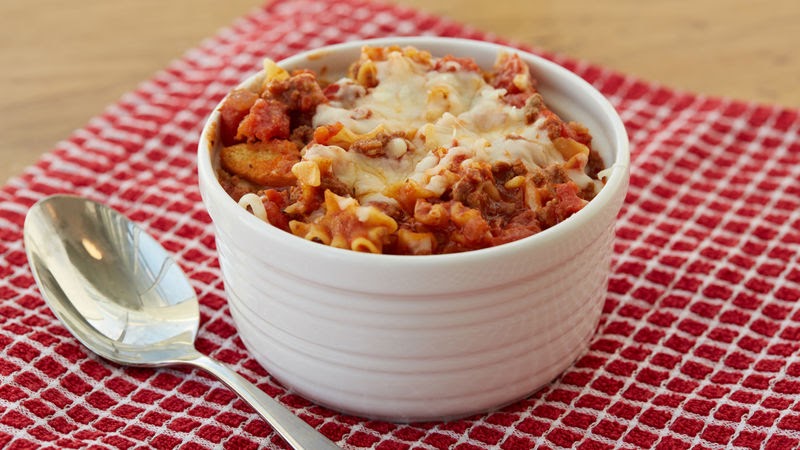 INGREDIENTS:
1 lb lean (at least 80%) ground beef
1 medium onion, sliced
2 large green bell peppers, cut into 1-inch pieces
2 cloves garlic, finely chopped
2 cups water
2 cans (14.5 oz each) organic diced tomatoes with Italian herbs, undrained
1 can (6 oz) organic tomato paste
2 cups uncooked mini lasagna (mafalda) noodles (4 oz)
1 tablespoon packed brown sugar
1 1/2 teaspoons Italian seasoning, crumbled
1/4 teaspoon pepper
1 1/2 cups Italian-style croutons
1 1/2 cups shredded part-skim mozzarella cheese (6 oz)
DIRECTIONS:
1. In Dutch oven, cook beef, onion, bell peppers and garlic over medium heat for 8 to 10 minutes, stirring occasionally, until beef is brown and onion is tender; drain.
2. Stir in water, diced tomatoes and tomato paste. Stir in pasta, brown sugar, Italian seasoning and pepper. Heat to boiling. Reduce heat; cover and simmer about 10 minutes, stirring occasionally, until pasta is tender.
3. Set oven control to broil. Pour hot soup into 6 ovenproof soup bowls or casseroles. Top each with 1/4 cup croutons. Sprinkle it with cheese. Broil soup with tops 3 to 4 inches from heat 1 to 2 minutes or until cheese is melted.
TIPS:
Store your soup, covered and refrigerated, for up to 3 days. This soup is great when made ahead and reheated; the flavor improves with age.
NUTRITION FACTS:
Calories: 203 Carbs: 27g Sodium: 700mg Fiber: 2g