by Paul Arnote (parnote)
Jupiter, Saturn Align To Create Christmas Star; First Time Since Middle Ages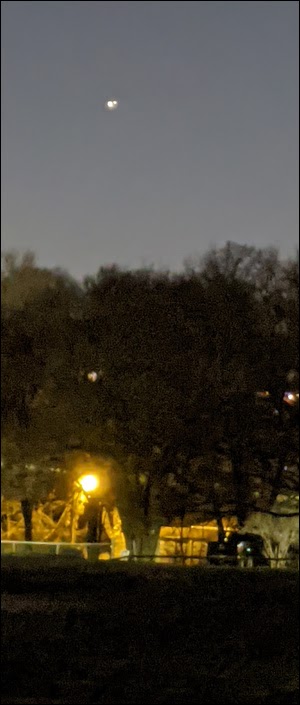 Photo by Paul Arnote, Pixel 3, Night Sight
With the calamity of a year as 2020 almost in the books (as I write this), the world could use a bit of inspiration. For the first time since March 4, 1226 ... nearly 800 years ... Jupiter and Saturn will appear less than 0.1 degrees apart in the sky, producing a bright star in the evening sky. The alignment peaked on December 21, just in time for the Winter Solstice in the Northern Hemisphere.
Viewable the entire week of December 21, parallels between its appearance and the biblical "Star of Bethlehem" were widespread. The alignment appeared as a bright point of light, starkly standing out in the night sky. The best viewing time was about 45 minutes after sunset, appearing in the southwestern sky. No special equipment was necessary to view the celestial event, either. I shot the photo above on December 21, 2020, using my Pixel 3 cell phone's camera on the "Night Sight" setting, carefully balanced on the corner pillar of a rock wall near my home. The conjunction of Jupiter and Saturn are clearly visible in the upper part of the photo.
Thankfully, humans won't have to wait another 800 years to see the alignment again. Those who are young enough today, may live long enough to see it again, in fact. My kids (currently seven and four years old) have a good chance to see it again, later in their lives. The next conjunction of Jupiter and Saturn will occur in about 60 years, on March 15, 2080. Those of us who were fortunate enough to have clear skies the week of December 21 got to view this rare phenomenon.
Intel Rocket Lake 8 Core/16 Thread 5.0 GHz CPU Benchmarks On Par With The AMD Ryzen 7 5800X
The 11th generation of Intel processors, termed Rocket Lake-S, are scheduled to be released sometime in the first half of 2021, and most likely early in 2021. Already, benchmark reports have been leaked regarding the performance of the new Rocket Lake processors.
Those reports place the performance of the Rocket Lake processors almost on par with the AMD Ryzen 7 5800X. Check out the table below, from WCCFTech, that compares the new processor with the latest Core i9, the AMD Ryzen 7 5800X, the Core i7, and the AMD Ryzen 7 3800X.
From the comparison chart, it appears that the Ryzen 7 5800X still holds an ever so slight lead in performance, even over the tested new Rocket Lake processor.
The Intel processor uses a 14nm core architecture, while the AMD processors use a smaller 7nm core architecture. It is expected that the smaller the core architecture, the faster a processor can theoretically go. So, with the AMD processors using a core architecture half as big as Intel's core architecture, AMD has a theoretical greater speed ability. Of course, CPU instruction sets, various optimizations, and many other factors play into setting the "speed limit" of a CPU's core architecture. With Intel still using the older 14nm core architecture, users should expect power consumption and temperatures to also be higher.
However, Intel is making other changes to help boost performance. Here are some of those changes, as listed by Intel.
Some of the new features being introduced with 11th Gen Intel Core S-Series include:
New Cypress Cove architecture featuring Ice Lake Core architecture and Tiger Lake Graphics architecture.
Double-digit percentage IPC performance improvement.
Better gen-over-gen performance.
Up to 20 CPU PCIe 4.0 lanes for more configuration flexibility.
Enhanced Intel UHD graphics featuring Intel Xe Graphics architecture.
Intel® Quick Sync Video, offering better video transcoding and hardware acceleration for latest codecs.
New overclocking features for more flexible tuning performance.
Intel® Deep Learning Boost and VNNI support
In related news from Intel, they have announced the discontinuation of the 9th generation Intel Core CPUs, and include certain i3, i5, i7, i9, Pentium, and Celeron processors. The last product discontinuance order date is planned for June 25, 2021 while the last shipments will be made until December 24, 2021.
Scrooged: Google Warns Gmail, Drive, Photos Users Content Could Be Deleted
On December 7, 2020, Google started sending an ominous email to users with Gmail, Google Drive, and Google Photos accounts (I have all three). I received my email on December 8, 2020, with a repeat on December 9, 2020 (as if the first one wasn't enough), and then another one about a week later (I guess because the third time's a charm).
Below is the exact email that I, along with every other Gmail, Google Drive, and Google Photos user, received.
Dear Google User,
We are writing to let you know that we recently announced new storage policies for Google Accounts using Gmail, Google Drive (including Google Docs, Sheets, Slides, Drawings, Forms, and Jamboard files) and/or Google Photos that bring us in line with industry practices. Since you have previously used one or more of these products in your Google Account storage, we wanted to tell you about the new policies well before they go into effect on June 1, 2021. Below is a summary of the new policies. Please reference our Help Center article for a complete list of what's changing.
Summary of the new policies (effective June 1, 2021):
* If you're inactive for 2 years (24 months) in Gmail, Drive or Photos, we may delete the content in the product(s) in which you're inactive. Google One members who are within their storage quota and in good-standing will not be impacted by this new inactive policy.
* If you exceed your storage limit for 2 years, we may delete your content across Gmail, Drive and Photos.
What this means for you:
* You won't be impacted by these changes unless you've been inactive or over your storage limit for 2 years. As this policy goes into effect June 1, 2021, the earliest it would be enforced is June 1, 2023.
* After June 1, 2021, if you are either inactive or over your storage limit, we will send you email reminders and notifications in advance and prior to deleting any content.
* Even if you are either inactive or over your storage limit for one or more of these services and content is deleted, you will still be able to sign in.
* Note: The inactivity and over quota storage policies will apply only to consumer users of Google services. Google Workspace, G Suite for Education and G Suite for Nonprofits policies are not changing at this time, and admins should look to the Admin Help center for storage policies related to their subscriptions.
Learn more about how to keep your account active
* To learn more about how to remain active with these products, visit this Help Center page.
* The Inactive Account Manager can help you manage specific content and notify a trusted contact if you stop using your Google Account for a certain period of time (between 3-18 months). Note: the new 2 year inactive policy will apply regardless of your Inactive Account Manager settings. You can learn more about these changes and ways to manage your or a loved one's account in our Help Center.
Learn how to manage your storage
* Learn more about the over quota policy and what counts against storage quota.
* You can use the free storage manager in the Google One app and on the web to see how you're using your Google Account storage, and free up space across Gmail, Google Drive, and Google Photos.
Thank you for using our services.
Your Google Team
Well, Ho! Ho! Ho! Happy Holidays, everyone! And why not? 2020 has pretty much been a shiitake mushroom show, so what's a little more tonnage dropped on the tonnage of bad things that have been thrust upon us this year?! What great timing, Google!
I doubt there's a good time to announce a movement from free, unlimited cloud storage to a metered system that incurs costs. And it's not that Google's 15GiB of free storage is unreasonable, either. Heck, it's 7.5 times what Dropbox offers. But, their timing couldn't possibly be worse. Their announcement comes in the midst of the most serious pandemic to hit the world in over a century. It comes at a time when extreme uncertainty fills users' lives. It comes when millions are out of work and without a regular income, due to the pandemic and government response to that pandemic.
Even by June 1, 2021, the date that Google has set for the changes to the cloud storage, much of what we are experiencing will still be with us. Despite the great news of a vaccine for the coronavirus, it's going to take much more time to vaccinate sufficient numbers of the population, and then for things to get closer to the "normal" that we all remember before the pandemic than the Google deadline for switching from unlimited, free cloud storage. Getting completely back to the old "normal" will never be possible. Those days are gone forever.
Shakeup For CentOS, Plus A Replacement

First released in May 2004, CentOS is a fork of RHEL (Red Hat Enterprise Linux). Initially, CentOS was released as version 2.0, which was forked from RHEL 2.1AS. The major difference between CentOS and RHEL is that CentOS is free and community supported, while RHEL is a paid version, where users pay for support. The current version of CentOS is CentOS 8.
CentOS, which has become a popular choice to power web servers and other Linux enterprise endeavors, was originally created by Greg Kurtzer as a free alternative to RHEL. Back then, it was known as CAOS. The late Rocky McGough was already working on a RHEL replacement for his employer, and rolled his efforts into the CAOS project, creating CentOS.
In January 2014, CentOS joined Red Hat, but remained separate from RHEL, guided by a new CentOS governing board. The latest version of CentOS, CentOS 8, was released in September 2019, and supports x86-64, ARM64 and Power8 architectures. On December 8, 2020, the CentOS blog reported that CentOS would be switching from a rebuild of RHEL to CentOS Stream, which will track slightly ahead of the RHEL releases, and will occur on December 31, 2021. Historically, releases of CentOS are supported for 10 years, and this move ends that lengthy support.
Reactions across social media were loud and mostly negative. The outcry was heard by Greg Kurtzer, one of the co-founders of CentOS. His response was to create Rocky Linux, named after his late CentOS cofounder, Rocky McGough. While there currently is no release of Rocky Linux available, and no release schedule or date has been announced, expect news to be forthcoming soon.
So why is this considered such big news? Well, you most likely have accessed content somewhere on the web running on a CentOS server. The users of CentOS include Disney, GoDaddy, RackSpace, Toyota, and Verizon. Others, such as GE, Riverbed, F5, Juniper and Fortinet, build products around CentOS. If I recall correctly, even the server that hosts The PCLinuxOS Magazine website is powered by CentOS.
Stay tuned. This saga is evolving quickly. The news has been extensively covered in the computing media. Check here, here, here, here, and here, for starters.
Fool's Gold: Some Users Are Putting Their Router In A Faraday Cage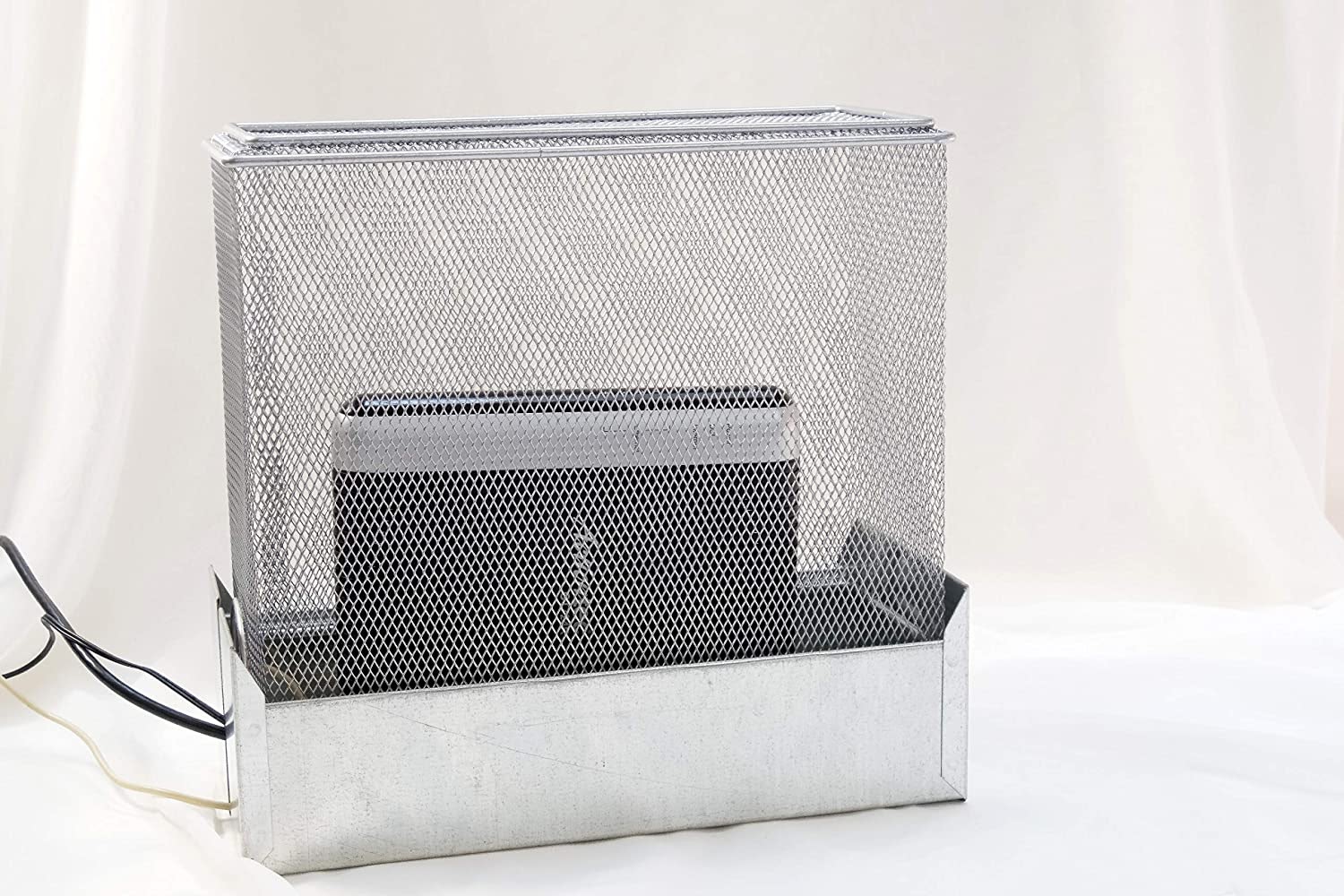 Have you heard the one about ... no ... I'm serious ... the 5G conspiracy/conspiracies running amok in conspiracy land? I don't know about you, but I've heard 5G conspiracies that blame everything from cancer to being able to read your mind to being able to reprogram your thoughts/behavior.
Well, some fools are buying it ... lock, stock and barrel. In fact, according to an article at The Verge, they even have these "less technically minded" individuals convinced enough to fork over $100 (or more) of their hard earned money to buy a faraday cage to put around their home wifi router!
These conspiracy theorists claim that all electromagnetic radiation is bad. What they fail to realize -- and fail to disclose -- is that we are bombarded with electromagnetic radiation continually, throughout our lives. Light is electromagnetic radiation. Radio waves are electromagnetic radiation. Microwaves are electromagnetic radiation. You cannot escape exposure to electromagnetic radiation, no matter how hard you try.
If you're not familiar with what a faraday cage is, it is designed to absorb and eliminate all electromagnetic radiation. Do you notice how your cell phone reception fails whenever you get into an elevator in a tall building? It happens because you are, essentially, getting into a metal box (the elevator), which blocks the transmission of electromagnetic radiation. Most faraday cages are built of a metal mesh material, which routes any electromagnetic energy around whatever is inside it.
As such, when these technologically challenged people put a faraday cage around their router, and are surprised when they can no longer connect to their wifi router. Yes, technically they can still use their router, but only reliably with a hardwired connection, via ethernet cable. Capitalizing on the 5G conspiracy fears, unscrupulous "merchants" are scamming people into spending $100, $200 or more to "protect them from electromagnetic radiation," and to preserve their health.
The old adage "a fool and their money are soon parted" couldn't possibly be more true in this case! I'm not going to make it easy for you, but just going onto Amazon and searching for "faraday cage" will net you a lot of results that will leave you either shaking your head in disbelief, or buying into the FUD that surrounds this issue. In fact, that's where I found the image above, for this section of the article.
U.S. COVID-19 Data: How Hard Has YOUR Hospital Been Hit?
Even though the first of the vaccines for COVID-19 are imminent and should be available soon, it's going to take some time to get sufficient numbers of people vaccinated before we feel much of a relief from this awful pandemic. This pandemic will likely be with us in the form of high numbers of COVID-19 cases and hospitalizations until at least the last quarter of 2021.
If you live in the U.S., you can now take a look at how your local hospital(s) are being hit with COVID-19 cases. Thanks to a website published by the U.S. Department of Health & Human Services on their HealthData.gov domain, you can gauge the impact your local hospital(s) are feeling, both overall and from COVID-19 cases.
Once on the site, scroll about 40 percent of the way down the page. There, you will find a CSV spreadsheet file (it opens easily in LibreOffice Calc) that lists all the hospitals in the U.S., and their reports to the U.S. Dept. of HHS. Included in the reports (among other things) are the capacity of those hospitals, how many confirmed and suspected COVID-19 cases they are taking care of, and their rate of occupancy.
The CSV file is updated every Friday, and gives a weekly snapshot of hospitals and what they are dealing with. The expected timeframe then is Friday thru the following Thursday. The latest version of the CSV file that I downloaded (I won't link to it directly here, since it changes frequently), however, had been last updated on December 16, 2020, just two days prior to me downloading it on December 18. That puts the update on a Wednesday. Whenever they update the CSV file, it's intended to give a weekly snapshot of hospital capacity and COVID-19 cases.
By all means, follow reasonable requests from local health officials to help contain the spread of the virus (many political types are using the pandemic as a power-grab, and/or politicizing the virus and the response to it). The more of us that do so, the quicker we can get this pandemic thing into our rearview mirror. I do say "reasonable," because there are some putting forth rules and suggestions who are not following the science, evidence and common sense, relying more on a "knee jerk reaction" that has no basis in fact or effectiveness.
Happy 25th Anniversary, JavaScript
December 4, 2020. From The OpenJS Foundation -- At the OpenJS Foundation, we owe so much to JavaScript. With more than 97 percent of the world's websites using JavaScript, it is the foundation for online commerce, economic growth, and innovation.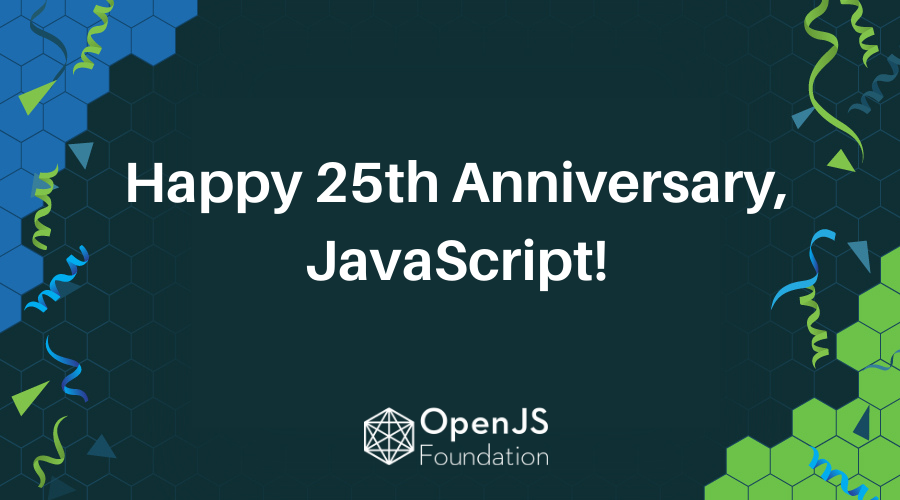 On December 4, 1995, Netscape and Sun announced the creation of JavaScript, "an open source, cross-platform language for enterprise networks and the Internet."
At this year's OpenJS World, we had the honor of hosting Allen Wirfs-Brock, an authority on JavaScript history, for a fireside chat with Alex Williams, the founder and editor in chief of The New Stack. In this talk, "Exploring the History of JavaScript," The OpenJS World audience got a front-row seat for an intriguing conversation packed with insights from Wirfs-Brock, who was the project editor for the ECMAScript Language Specification, the international standard that defines the latest version of the JavaScript programming language. For those interested in exploring the colorful 25-year history of JavaScript, we encourage you to check out this talk.
Today, JavaScript is the common language that brings us to work and into our amazing community each and every day, and we want to take its 25th Anniversary to say thank you and reflect on the amazing year we had.
The open source projects that are hosted with the OpenJS Foundation are the heart of what makes the Foundation. The collaboration, innovative tech, and most importantly, the amazing people are what make the OpenJS Foundation special. This year was a great year for our projects, from new releases to bringing on incubation projects. We thank all project contributors for the important work you do.
We are so thankful to our members for their continued support of the OpenJS Foundation. So far this year, we welcomed Skyscanner and Netflix as the newest members of the OpenJS Foundation.
Thank you to our Board for your time, expertise, and leadership as we continue on our mission to drive broad adoption and ongoing development of key JavaScript solutions and related technologies.
While it hasn't been a typical year for any of us, this community never ceases to amaze when it comes to pivoting and innovating to continue on our path to grow, learn, and collaborate. For those who have experienced loss this year, we see you, and we thank you for being here.
Google "Year In Search" Results
Google has released their "Year In Search" results for 2020. Depending on how you feel about Google, you may or may not be surprised by their results, or what is missing from those results. More than circumstantial evidence has been presented within the past couple of years, showing bias in Google's search results to enable Google to push its own political agenda, and to shape/sway the minds of searchers who use Google to search for information on politically charged issues.
The link above defaults to the "Global" search results. However, you can change (via a dropdown selection box) to view the search results for individual countries. So, if you live in Peru, you can search for the top search results for Peru, instead of the conglomeration of global search results.
Still, it is somewhat interesting to see what matters most to different people and cultures across the world. As you might imagine in the dumper fire year of 2020, coronavirus pretty much tops the list most often.