by Meemaw
Inkscape 1.1 was released on May 24, 2021. It's the latest major Inkscape release. Let's look at some of the new features.
--- A Welcome dialog, which is different. Choices for a new document's size or file to open are available. In the left column under "Time to Draw" are:
Existing Files - This is self-explanatory; your previously created files would be listed here,
Print - You can choose the page size you want when starting a new project,
Screen - This gives you choices for your monitor resolution,
Video - Lets you choose the type of video you want to create,
Social - This contains pre-formatted templates for items to be uploaded to social media sites like Facebook, Snapchat, LinkedIn, etc.,
Other - This includes preformatted templates for icons and name tags.
Also, the look of Inkscape can be selected (Quick Setup). Choices are how you want your canvas to look, what keyboard you are using, and the appearance you want (including 6 choices of tool icons), and whether it should be dark or light.
Also in the Welcome Dialog is a tab named "Supported by You" which contains credits and links to Inkscape.org
There's also a checkbox to turn off the Welcome screen (in the Time to Draw tab).
Other improvements are:
--- A Command palette that opens when the ? key is pressed which allows you to search and use many functions without having to use a keyboard shortcut or going through the menus.
In the overlay that appears, a search box allows you to find any available command to execute on the whole drawing or selection. The list of available commands is currently restricted to those commands that have already been converted to 'actions'. Additionally, it includes the option to import or open files from Inkscape's document usage history. Since I hadn't typed anything in yet, everything is there. I needed to search for a particular action.
--- It is now possible to copy, cut and paste parts of paths with the Node tool. These nodes can be inserted into the original path, into a different path or they can be pasted as a completely new path. I selected several nodes (below) and copied and pasted them into my drawing, but separately.
--- The dialog docking system has been rewritten, which resolves many issues with Inkscape's docked dialogs and allows you to dock dialogs on either side of the screen. I don't ever dock any of them, so I didn't try this one.
--- The Pen and Pencil tools feature a new 'Scale' option to set the width of paths created with a "Shape" option other than "None" numerically. I did a line with the "Triangle Out" option, and if you select the Nodes tool, there is still a handle on the end to adjust the stroke width. However, there is now a numerical setting that you can access while you still have the pen/pencil tool selected.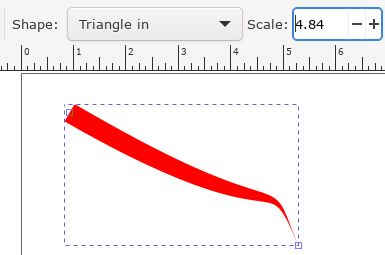 --- A new Outline Overlay mode that displays object outlines while also showing their real colors. You can see the difference here between Normal View and Outline Overlay View. For very detailed drawings I'm sure this would be very useful. These are in View > Display Modes.
--- The Preferences options are now easier to find by using the new search field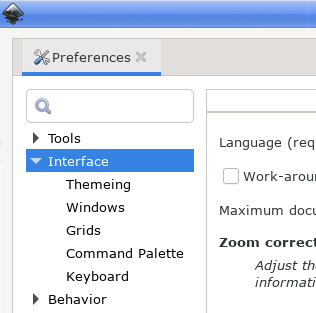 When you search with a particular term (zoom, for example), the window will show you every section in which you can find it.
--- The maximum handle size has been increased, so you can enlarge them to a more comfortable size from Edit > Preferences > Interface: Handle size. The handles on the left are size 4, and those on the right are size 8. (This may help some of us whose eyes aren't as sharp as before.)
The rotation center handles have been made more visible. (I always had to search for the little plus sign.)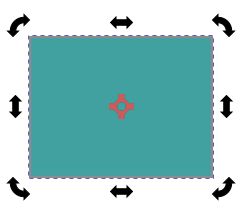 --- When pasting a copied object, Inkscape can now paste it directly on top of the currently selected object by default. You can copy an object, select a different object, and when you paste, your copied object will be pasted on top of the one you selected. The feature can be disabled, if you wish.
--- A new selection mode for the selection tool was added, which can now select every object that is either within the box or that touches its boundaries. The mode can be activated by pressing the corresponding button in the Selector tool's control bar. On canvas, you can see that the mode is activated by the red color of the selection box while dragging. When not activated, the selection box is black.
When I released the mouse button, all shapes except the bottom circle were selected.
--- An extension for updating extensions and installing additional extensions, called the Extension Manager (currently in beta stage). I haven't tried installing anything yet.
To learn more, see the full release notes for Inkscape 1.1. I'm sure you can find something else interesting!