Pizza-Stuffed Pasta Shells
Serves 6
INGREDIENTS:
1 lb lean (at least 80%) ground beef
1 clove garlic, finely chopped
4 oz pepperoni slices, cut into quarters
3 cups organic pizza sauce
21 uncooked jumbo pasta shells
2 cups shredded mozzarella cheese (8 oz)
DIRECTIONS:
Heat oven to 375F. Spray 13x9-inch (3-quart) glass or ceramic baking dish with cooking spray.
In a 10 or 12-inch nonstick skillet, cook 1 lb lean ground beef and 1 finely chopped garlic clove over medium-high heat 5 to 7 minutes, stirring occasionally, until thoroughly cooked. Drain. Stir in half of the 4 oz quartered pepperoni slices and 1 cup of the pizza sauce. Cook for 5 minutes or until mixture is thoroughly heated. Remove from heat.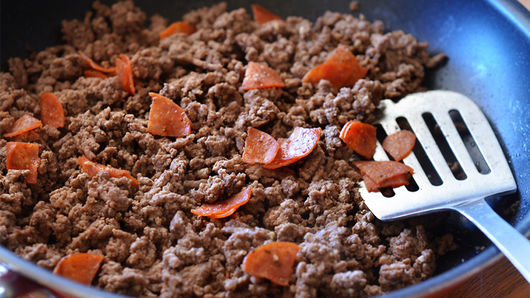 Meanwhile, cook 21 uncooked jumbo pasta shells as directed on the package. Drain.
Stuff each cooked shell with 2 tablespoons of beef mixture; place in a single layer in a baking dish. Cover shells with remaining 2 cups pizza sauce, the 2 cups shredded mozzarella cheese and the remaining half of the pepperoni.
Bake for 25 minutes or until bubbly and cheese is melted. Let stand for 5 minutes before serving.
NUTRITION:
Calories: 530 Carbs: 36g Fiber: 3g Sodium: 1130mg Protein: 32g