by Paul Arnote (parnote)
Assault On Your Privacy Monthly Update
Amazon Prime Days shoppers were the favored targets of phishers and scammers, according to an article on TechRepublic.
The IT security company Barracuda Networks found that HTML attachments are the most malicious types of files by more than double the next leading types of files, according to an article on TechRepublic.
The U.S. government is warning healthcare companies to watch for and protect themselves against ongoing ransomware attacks from cybercriminals sponsored by North Korea. In a joint advisory posted Wednesday, the FBI, Cybersecurity and Infrastructure Security Agency, and Department of the Treasury cautioned that these state-sponsored attackers have been using Maui ransomware to target hospitals, laboratories and other public and private healthcare organizations, according to an article on TechRepublic.
Researchers have discovered a new Russian malware sample capable of hiding from more than 50 antivirus (opens in new tab) products available on the market right now, according to an article from TechRadar. The malware was discovered by cybersecurity researchers from Unit 42, the threat intelligence team at Palo Alto Networks. The team first spotted the strain in May, when it discovered that it was built using the Brute Ratel (BRC4) tool. The malware hides in a weaponized ISO file, and is suspected of coming from the Russian state sponsored hacker group Apt29, a.k.a. Cozy Bear.
Cyberattacks caused the website that handles unemployment benefits for several states to be taken down, in an effort to stop the attacks, according to an article on TechRepublic, and another from the Associated Press. The website handles unemployment benefits for 35 states and territories, including Tennessee, Florida, Texas and Nebraska.
A new Android malware family on the Google Play Store that secretly subscribes users to premium services was downloaded over 3,000,000 times, according to an article on BleepingComputer. The malware, named 'Autolycos,' was discovered by Evina's security researcher Maxime Ingrao to be in at least eight Android applications, two of which are still available on the Google Play Store.
A new method devised to leak information and jump over air-gaps takes advantage of SATA cables as a communication medium, adding to a long list of electromagnetic, magnetic, electric, optical, and acoustic methods already demonstrated to plunder data, according to an article on The Hacker News.
Google pulled 60 malware-infected apps from its Play Store, installed by more than 3.3 million punters, that can be used for all kinds of criminal activities including credential theft, spying and even stealing money from victims, according to an article on The Register.
Dozens of apps in the Google Play store were discovered that harbored Joker, Facestealer and Coper malware, according to cybersecurity researchers at ZScaler ThreatLabz. The malware-infected apps were downloaded over 300,000 times. A full list of the apps (over 50 of them infected with Joker malware alone) is available at the link. The apps have all since been removed from the Google Play store, and uninstalled from users' devices than might have them installed.
Mozilla Sends Microsoft A Cake To Commemorate IE Death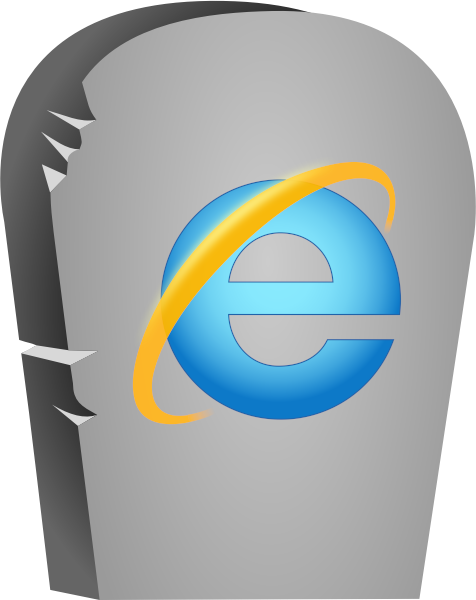 In case you haven't heard, Microsoft OFFICIALLY killed off Internet Explorer, otherwise known as IE, in June of this year. The raucous cheering noise echoed throughout the computer world, glad to be finally done with this scourge upon web browsers. IE 11, the latest and last version, was officially released on October 17, 2013… nearly NINE YEARS AGO… with the nearly as infamous release of Windows 8.1.
To commemorate the milestone occasion, the Mozilla team sent a cake to the folks at Microsoft. But this might not be the end just yet. The IE core engine is hanging around as "Internet Explorer Mode" in the new Microsoft Edge browser, and it's looking like Microsoft plans to continue supporting that until 2029 at the earliest. Once that happens, maybe it'll be an occasion for another cake… or maybe a steak dinner?
Wolfenstein, Doom Designer Making A New Game
John Romero, a former ID Software designer who helped design Wolfenstein 3D, Doom and Quake, has started a new company called Romero's Games, according to an article on Cracked.
The yet-to-be-named game will be built on the Unreal Engine 5. He's currently hiring folks to help bring his vision to a gaming console/PC near you.
Given his past creations, it's a safe bet that whatever game he comes up with will involve shooting "stuff."
Examining Webb Telescope Damage
Image Source: NASA/CSA/ESA
NASA has released images that show the damage done to one of the hexagonal mirror panels of the James A. Webb Space Telescope. The image (above) shows a white "scar" in the lower right corner of the mirror array.
Despite the micrometeor strike, the JWST continues to ooh and awe with images of unprecedented clarity and detail. Already, it has delivered images of space never before seen by human eyes, and in a level of detail that surpasses even best estimates.
If you want to see more images from the JWST, you can pop on over to its Flickr page. Prepare to be amazed by the clearest pictures ever captured of the cosmos.
Scary: OpenAI Prepares To Launch DALL-E
The company OpenAI has announced that it will launch its beta of its new artificial intelligence image generator DALL-E to 1 million lucky users, from the millions of people who have signed up for beta access on its website. The company announced that it would be notifying individuals within the coming few weeks of their participation in the beta.
DALL-E is capable of creating photorealistic images from a simple text prompt. All a user has to do is describe the scene they want to create, and DALL-E will create the image. The images are so realistic that it's difficult to discern what is real and what isn't. And that is the scary part.
Pricing seems reasonable. Every DALL-E user will receive 50 free credits per month, and additional credits will be available for $15 (U.S.) for 115 credits. One credit is applied each time a prompt is entered and a user hits "generate" or "variations."
To increase safety, OpenAI is putting some restrictions on what it will allow. For example, they will reject image uploads containing realistic faces and attempts to create the likeness of public figures, including celebrities and prominent political figures. They will also disallow image uploads that violate their content policy, which does not allow the creation of violent, adult, or political content. DALL-E will also use a new technique that more accurately reflects the diversity of the world's population. Additionally, they will use automated and human monitoring to insure against misuse.
With DALL-E, your mind's eye is the limit. Users of DALL-E get full usage rights to commercialize the images they create with DALL-E, including the right to reprint, sell, and merchandise. This includes images they generated during the research preview.
The PCLinuxOS Magazine Short Topix Roundup
Already the most secure mobile platform, Apple has announced that it is adding another layer of security, called Lockdown Mode, according to an article at TechRepublic. The extra layer of security will be available this fall for iOS, iPadOS and MacOS Ventura. When activated, it will harden device defenses and will strictly limit device functionality to greatly decrease the attack surface of the device, thereby increasing protection against mercenary spyware.
According to an article on Science Alert, an astrophysicist has shown that faster-than-light travel could work within Einstein's physics. It's an interesting look at the whole concept and exploration of faster-than-light travel, and makes for an interesting read. Even though the article is a fairly easy read, it's far above my pay grade to even present a summary here.
Microsoft has done a U-turn on its decision to disallow monetization of open source apps in the Microsoft store, according to an article on PC Gamer. While they were attempting to "do the right thing" regarding open source software, it turns out that doing nothing at all is an even better solution.
Google Search and Drive are erroneously flagging links to Association for Computing Machinery (ACM) research papers and websites as malware, according to an article on Bleeping Computer. The ACM was founded in 1947 as a non-profit, and is headquartered in NYC. Bleeping Computer confirmed that both Google and Google Drive were reporting the ACM site as "harmful."
If you have always wanted to get into drones and drone photography/videography, but were always deterred by the high costs involved with getting into drones, this next one will interest you. ZDNet Academy has the Copernicus Mini Drone available for only $91 (U.S.). The full-featured drone is small enough to fit into your hand, but is capable of producing high quality photographs and 4K video with its onboard camera.
The first quarter numbers for Netflix should/could have been foretelling. In the first quarter of 2022, Netflix lost 200,000 paid subscribers in its largest market (Canada and the U.S.). According to an article on ZDNet, Netflix lost 1.3 million subscribers in its second quarter of 2022. Ouch! The only thing that Netflix attributes to not losing more subscribers is the Netflix series "Stranger Things 4.