by CgBoy
Rapid Photo Downloader is a handy tool to help you download and organize photos and videos from your digital cameras. It allows you to easily copy, rename, and backup all of your camera's important data, while supporting most common image and video formats, including RAW photos. Rapid Photo Downloader also has a very nice, easy to use interface.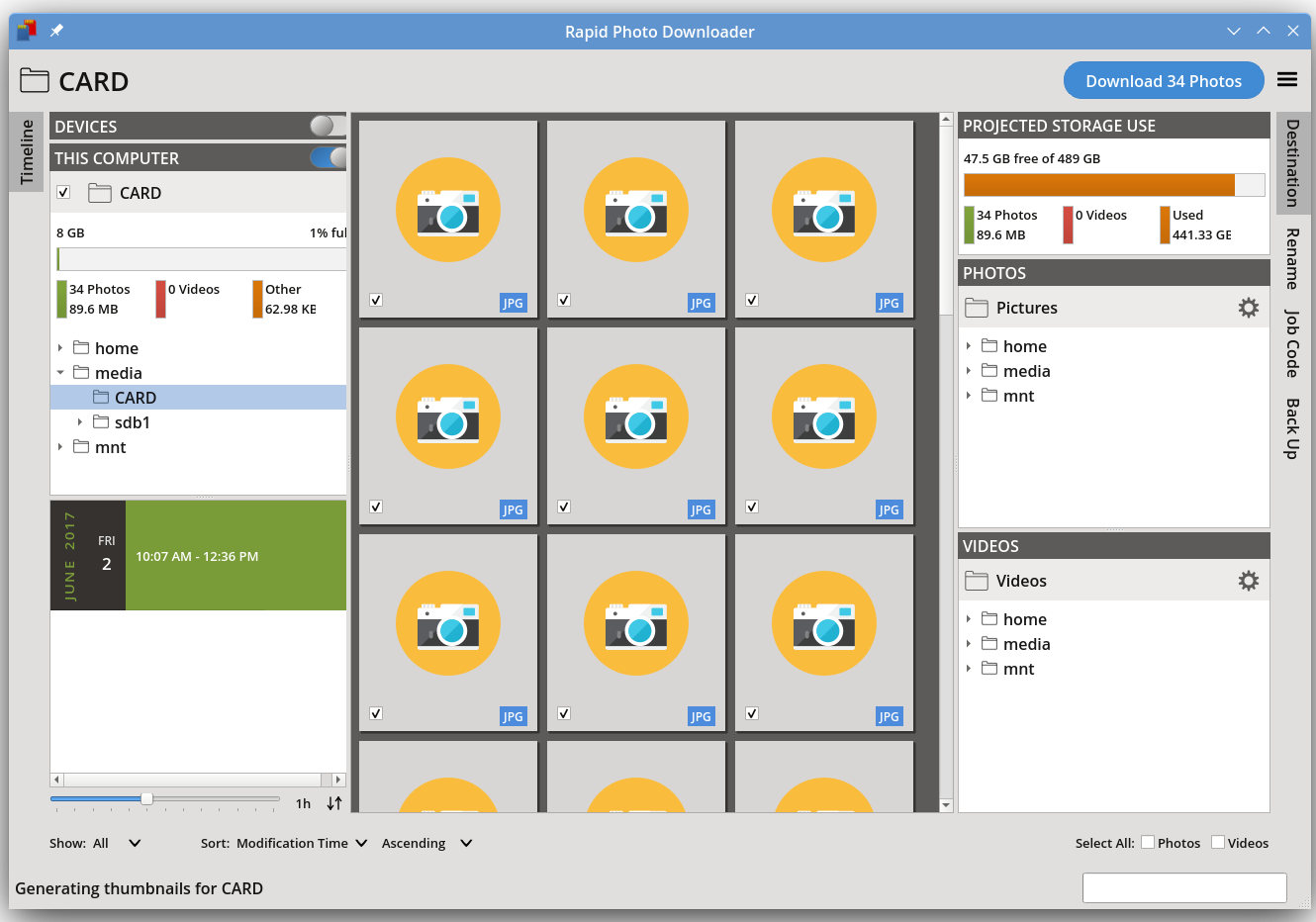 To begin, you must first select a source to download photos from. You can choose an external media device, such as a camera or card reader, or simply a local folder. Rapid Photo Downloader will show you how much free space is left on the source and destination storage devices.

Once you've selected a source, all your images and videos will appear as thumbnails in the main screen, allowing you to choose and sort which ones you want to download. To the left is the timeline, which allows you to find photos based on the date you've taken them and how much time has elapsed between each group of photos. Once you are satisfied with all the options, you can choose a download destination. Photos and videos can be downloaded to separate destinations.

Rapid Photo Downloader lets you rename all your photos and videos when they are downloaded. You can choose from a variety of filename presets, such as date-time and image number, date and number of image downloads, date-time and job code, image resolution, or you can create your own custom file naming scheme.
Job codes can be created and used as labels to help you organize your photos and videos. For example, you can create a job code called Wedding and apply it to one group of photos to help differentiate them from another group with the job code Birthday. You can then use the job codes to control the file and directory names when downloading photos.
Rapid Photo Downloader also gives you the option to back up photos and videos to another location as they are downloaded. You can choose a custom location, or simply let Rapid Photo Downloader automatically detect and use any storage devices connected (Flash drives, external hard drives, etc). When you're finally ready, just hit the big Download button to start downloading your photos.
Summary
When using Rapid Photo Downloader, I did encounter some issues, such as thumbnails not always generating properly, as well as a few other minor problems, but I am unsure if these are program bugs, or some sort of Python issues. All in all, however, Rapid Photo Downloader is still a very useful and very easy to use utility for any photographer.