Chili Casserole with Cornbread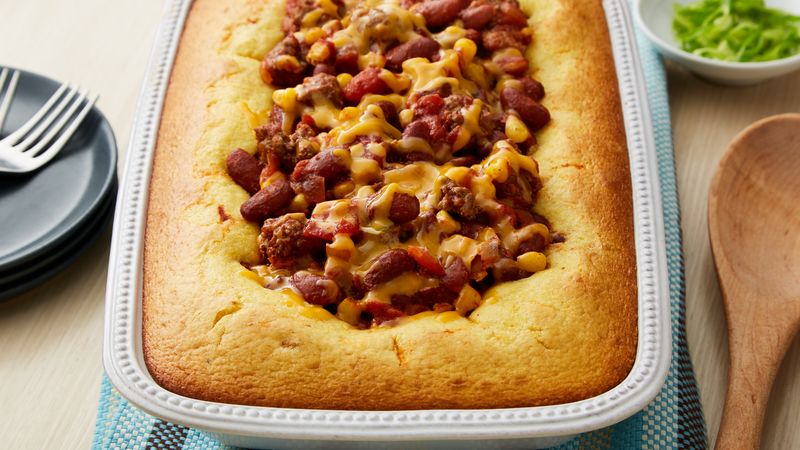 INGREDIENTS:
1 lb lean (at least 80%) ground beef
1jar (16 oz)Thick and Chunky salsa
2 cups dark red kidney beans (from 19-oz can), drained
1 can (14.5 oz) diced peeled tomatoes, undrained
1 1/2 cups frozen corn
3 teaspoons chili powder
1 teaspoon ground cumin
1 pkg (6.5 oz) cornbread & muffin mix
1/3 cup milk
1/3 cup shredded Cheddar cheese
1 tablespoon sliced green onion (1 medium)
DIRECTIONS:
Heat oven to 400F. In a 12-inch skillet, cook ground beef over medium-high heat, stirring occasionally, until thoroughly cooked; drain. Stir in salsa, kidney beans, tomatoes, corn, chili powder and cumin. Cook 3 to 4 minutes, stirring occasionally, until thoroughly heated.
Meanwhile, make cornbread as directed on the pouch, using milk. Spoon cornbread batter around the outside edge of an ungreased 12x8-inch (2-quart) glass baking dish. Spoon hot beef mixture into the center. (Casserole will be full.)
Bake for 18 minutes. Sprinkle with cheese; bake 4 to 5 minutes longer or until the cheese is melted and cornbread is deep golden brown. Sprinkle it with green onion just before serving.
TIP:
Fresh fruit and a mixed-green salad are good ideas for serving with chili and cornbread.
NUTRITION:
Calories: 608 Carbs: 59g Fiber: 10g Sodium: 632mg Protein: 28g