Quesadilla Burger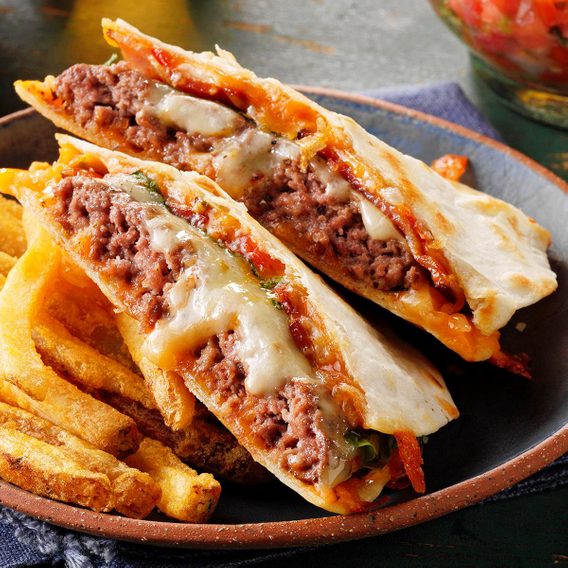 Serves 4


INGREDIENTS:
1-1/3 pounds ground beef
3/4 teaspoon salt
1/4 teaspoon pepper
1 tablespoon canola oil
4 slices pepper jack cheese
8 mini flour tortillas
2 cups shredded cheddar cheese
4 cooked bacon strips, halved
4 lettuce leaves
1/2 cup ranch salad dressing
1/2 cup pico de gallo
DIRECTIONS:
Shape ground beef into four 5-in.-wide patties. Sprinkle it with salt and pepper. In a large skillet, heat oil over medium heat. Add burgers; cook until a thermometer reads 160F, 4-6 minutes on each side. Remove from heat; top with pepper jack cheese. Cover and let stand for 5 minutes.
Meanwhile, place tortillas on a griddle. Sprinkle 1/4 cup cheddar cheese on each tortilla. Cook over low heat until the cheese is melted, 1-2 minutes; remove from heat. Top half the tortillas with the burgers, bacon, lettuce, ranch dressing and pico de gallo; top with remaining tortillas, cheese side down.
TIPS: Serve with a side of guacamole or cheese sauce dip.
NUTRITION:
Calories: 278 Carbs: 26g Fiber: 2g Sodium: 528mg Protein: 27g