by CgBoy
Thorium Reader is a free Electron-based ebook reader designed with accessibility and ease of use in mind. With support for both EPUB 2 and EPUB 3, PDF, DAISY, LCP DRM, and numerous other ebook as well as audiobook formats, Thorium Reader should be able to open most books without a problem.
Thorium Reader provides a very uncluttered interface, making it quick and easy to navigate. The application is divided into three tabs allowing access to the main books page, OPDS catalogs, and the application settings. From the My Books page, you can open and manage all your ebooks, which can easily be imported into Thorium Reader by simply dragging and dropping them into the application. Books are automatically sorted into separate categories for those that were recently added, and those that you've already started reading. You can also add custom tags to books in order to help organize them better. A search bar is also provided to make finding books easier.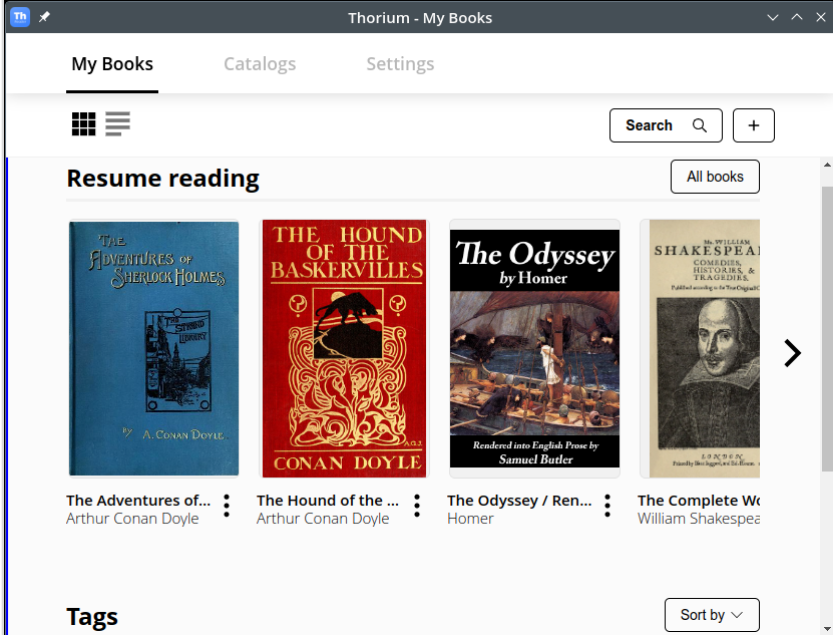 Clicking on a book will open it in a new reader window, and resume from where you finished reading last time. As with the main menu, the layout of the reader screen is clean, simple, and well designed. At the top of the window is a toolbar, from which you can return to the main menu, view information about the current book, perform searches in the book, add bookmarks, switch to fullscreen mode, access the reading settings panel, and access the navigation panel. From the navigation panel, you can view the book's table of contents, go directly to a specific page number, and access any bookmarks you may have added. At the bottom of the screen you'll find the page navigation buttons, and a bar showing your progress through the book.
By default, the size and number of text columns displayed on the page will automatically change depending on the size of the application window, but this can be manually adjusted from the reading settings panel. You can also change the page view to scrollable, if you prefer navigating by scrolling. Thorium Reader provides numerous other reading settings you can adjust as well, such as text size and font, letter and word spacing, and several interface color themes that can be enabled. Thorium Reader has the option to use text-to-speech to read aloud books for you, but unfortunately I could not get this feature to work when I tested it.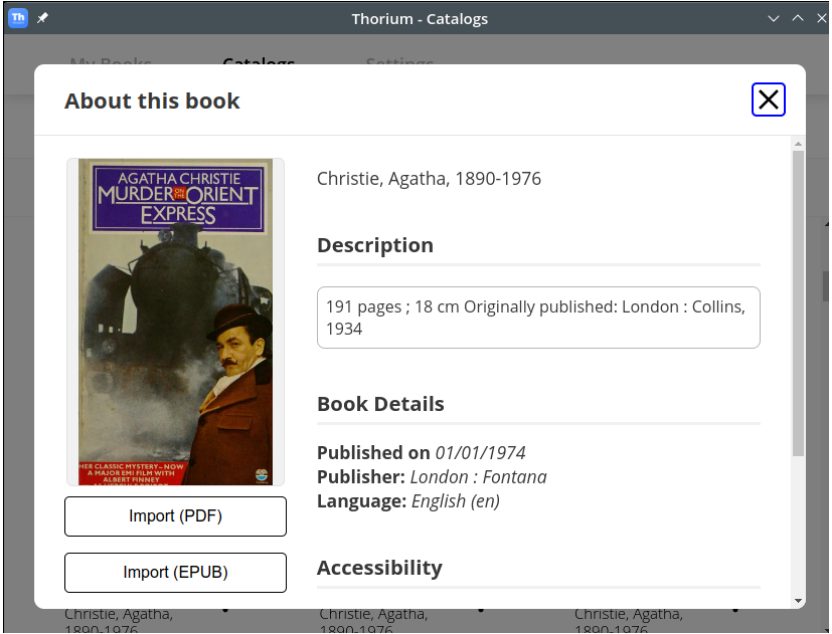 Thorium Reader supports adding OPDS (Open Publication Distribution System) feeds, allowing you to easily access large online ebook catalogs, and import books into the application. One can, for instance, add the Project Gutenberg OPDS feed and then be able to quickly find and read any book available in their collection. This feature definitely makes Thorium Reader very useful.
Summary
Thorium Reader provided a very smooth and distraction-free ebook reading experience, and was generally quite enjoyable to use. I didn't really encounter any real bugs or problems during my testing of it. Overall, I'd highly recommend Thorium Reader to anyone looking for a clean and simple, yet still powerful, desktop ebook reader.