Copycat Girl Scout Samoa Cookies

Makes about 30 cookies

INGREDIENTS:

1 cup butter, room temperature
1 cup granulated sugar
1 egg
1 teaspoon vanilla
1/2 teaspoon kosher salt
2 teaspoons baking powder
2-1/2 cups all-purpose flour




TOPPING:

1-1/2 cups unsweetened shredded coconut
2 (11-ounce) bags soft caramel candies, unwrapped
1/3 cup heavy cream
1-1/2 cups dark or semisweet chocolate
1 tablespoon coconut oil




DIRECTIONS

Step 1: Sift together dry ingredients In a medium mixing bowl stir together the flour, baking powder and salt. Set aside.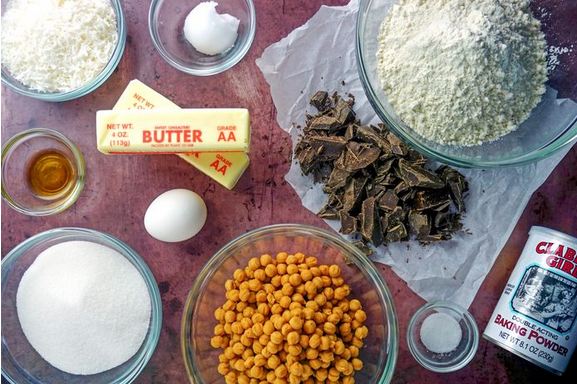 Step 2: Mix dough in a bowl, cream together the butter and sugar for 4-5 minutes until light and fluffy. Beat in the egg and vanilla, then slowly stir in the dry ingredients until fully incorporated.
Step 3: Turn the dough out onto a clean surface and shape it into a flat disk; about 1 inch thick. Wrap tightly in plastic and then chill for at least 1 hour, or overnight. Don't skip this step — it's important to chill your cookie dough.
Step 4: While the dough chills, toast the coconut. Spread the coconut in a single layer in a large skillet over medium-low heat. Stirring continuously, toast the coconut until it is fragrant and golden in color. Remove promptly to a bowl and let cool.
Step 5: Preheat oven to 375F. Remove the dough from the fridge and roll it out, using a rolling pin, to 1/4-in. thick. Use a 2-1/2-in. doughnut cutter (or two round biscuit cutters sized 2-1/2 in. and 1/2-in.) to cut out the cookies.
Re-roll any scraps and continue to cut out cookies until all the dough is used.
Step 6: Arrange the cookies, 1 inch apart, on a parchment-lined baking sheet, leaving an inch between each one. Freeze for 15 minutes. Bake for 10—11 minutes until just barely golden around the edges. Remove and let cool completely.
Step 7: While the cookies cool, melt the caramel candies in a saucepan over medium-low heat until smooth. Stir in the heavy cream, then remove from the heat and let cool slightly. (You could also make your own soft caramel candies.)
Step 8: Transfer 3/4 of the caramel to a bowl and gently fold in the toasted coconut.
Step 9: Use the remaining caramel to spread the tops of each cookie with melted caramel.
Then, take 1—2 tablespoons of coconut-caramel topping and spread it gently onto the top of each cookie. Let the caramel set.
In testing, we found spreading an initial thin layer of plain melted caramel on the cookies helps make spreading the coconut-caramel mixture onto the cookies much easier (and less messy).
Step 10: In a double boiler, melt the chopped chocolate until smooth (or try one of these tried-and-true methods to melt chocolate). Stir in the coconut oil until fully incorporated, and then remove the chocolate from the heat.
Step 11: One at a time, dip the bottom of each cookie into the melted chocolate, shaking off any excess so a thin, even coating remains. After dipping, place the cookies (chocolate-side down) on a clean piece of parchment paper to set.
Step 12: Transfer any remaining chocolate to a piping bag or quart-sized zip-top bag with the tip snipped. Then, pipe an even drizzle of chocolate stripes over the top of each cookie. Allow the chocolate to set completely, then enjoy!
TIPS:
Once the chocolate is fully set, store your homemade Samoa cookies at room temperature in an airtight, covered container for up to 1 week. If they last that long....
NUTRITION:
per 2 cookies
Calories: 142 Carbs: 19g Fiber: 1.3g Sodium: 53mg Protein: 1g