How old are you?
I just turned 74 in August, 2023.
What is your marital status?
I am a widow. My husband suffered from ALS and passed away in 2020. I have 50 years of wonderful memories, though, and I'm thankful for that.
Do you have any children or grandchildren? If so, how many of each?
I have 2 daughters, 3 grandchildren (2 girls and a boy, all grown), and a beautiful great granddaughter, just recently born. I also have a son-in-law who gave me two step-grandsons and 5 great grandkids when he married into the family.
Do you have pets, what is your favorite?
I love dogs, but I don't have one of my own. I'm content to love my daughter's pets.
Are you retired or working, and for how long and at what?
I'm working in an office, three days a week. I might retire one of these days.
Where do you call home? What is it like? IE: weather, scenery
I live in Southeast Kansas, in the central US. I'm in a rural area so much of the land has crops. It's been hotter than normal and we're still in a drought, but I had a bit of rain a couple of weeks ago. Most of the trees are green at the moment, and crops are being harvested. We're hoping for lots more rain soon to fill up the farm ponds so the cattle will have something to drink now and this winter.
Where did you go to school and what is your education level?
I went to high school in a suburb of Kansas City, and attended two different colleges in Kansas, one to get my Bachelor's degree in Education, and one to get my Master's degree in Special Education. I taught school for about 20 years before I became a secretary. I've been at my present job for 27 years.
What kind of things do you like doing? hobbies, travel, fishing, camping?
I love to read, and of course helping with the PCLinuxOS Magazine! I do a fair job at some computer graphics, and I'm trying to learn more about photography. Our family loves to go to the mountains together and ride ATV's. I did a little fishing and camping when I was younger, but not any more.
What caused you to try Linux and join this forum?
I've told this story before! I had trouble with my desktop computer back in 2004 while my older brother was visiting. After trying to restore it and failing, I had given up and intended to take it somewhere to be reinstalled. My brother said, "Why aren't you using Linux?" He proceeded to tell me all about Linux, which he was using. From there, I spent a couple of years researching and downloading live CD's to try, until I found PCLinuxOS. I loved it so much, I put it on my computer and never looked back. In those days, I even had to configure my wireless card using the terminal, which I had never used. Somehow, I figured it out.
What specific equipment do you currently use with PCLinuxOS? I have an old Dell desktop, but I don't use it much anymore. I also have 3 fairly new laptops (2 Lenovos and 1 Dell) that all have PCLinuxOS on them, all completely updated.
Do you feel that your use of Linux influences the reactions you receive from your computer peers or family? If so, how?
Well, my family used to look at me weird when I mentioned Linux, but they don't any more. My coworkers think I know everything about computers! They are wrong, but I can usually help them with minor problems or help them use one of their programs for something they don't do all the time.
What would you like to see happen within PCLinuxOS that would make it a better place. What are your feelings?
I love how things are running now, and I hope we all continue to be a happy family.
If you want, send some pictures of you and your area of interest.
The bike path in my town and one of the mountains in Colorado we ride on.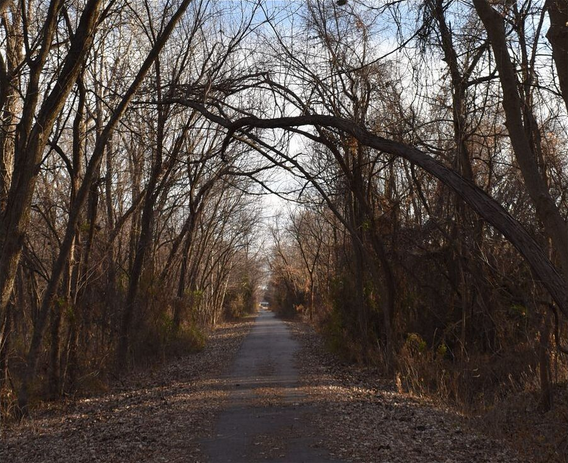 Locke Mountain, outside Westcliffe, CO