Application Changes In 2007
by Papawoob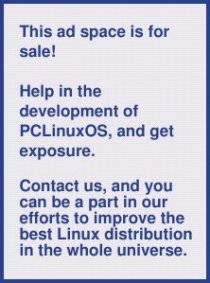 We are on the verge of the release of the much anticipated PCLinuxOS 2007. With this in mind, I thought that I would bring you up to date on what is new, what is gone, and what is still in the default menu. The entire repository has been recompiled using the new gcc and glibc. Also included in 2007 are Beryl, Compiz, Aixgl, and Xgl for 3D graphics support. Now let's get back on track.

Let's start with Internet (It used to be Networking.)
Chat:

Adds KSirc and keeps XChat.

File Transfer:

Frostwire and Kget return while KFTPGrabber and KTorrent replace gFTP and Bittorent. Smb4K moves here from Remote Access.

Instant Messaging:

Kopete
Mail:
Kmail, KSig, and Kshowmail are gone, but Thunderbird is back.

News:

Logjam remains and Akregator, Knode, and gPodder are no shows.

Remote Access:

KPPP, KPPPLogview, Krdc, Krfb, and Putty made the cut, but Nmap did not.

Video Conference:

(another new sub-menu) has Ekiga Softphone.

Web Browsers:

Konqueror and Firefox 2.0 are back, Opera is missing, and Nvu has been moved to the new sub-menu Web Editors.
Now we need to move on to Office.
Accessories:

Kcalc, Kjots, and glabels Label Designer are new while Dictionary is the lone holdover.

Communications:

(moved from Accessories) contains the new sub-menu, Fax, which returns KdePrintFax and adds Hp Send Fax, Kfax, and Kfaxview.

Drawing:

Open Office Draw

Presentations:

Open Office Impress

Publishing:

Kpdf is back and Scribus is new.

Spreadsheets:

Open Office Base and Calc

Word Processors:

Open Office Writer returns and Math is gone.
Most of us use Multimedia applications so let's see what we have.
Graphics:

digikam, Gimp, Gqview, Ksnapshot, Kwikshow, Kview, shoFoto, and XSane have made it back in and Kalbum, Kover, kcdlabel, Xcam, Wink, and Xscanimage are the new kids on the block.

Sound:

Kscd, Amarok, Aumix, and KMix have been rehired; MPlayer is new;
Audacity, KAudioCreator, Krec, Streamtuner, Xmms, and SoundKonverter have been fired.

Video:

Kaffeine, Mplayer, TVtime Television Viewer remain unchanged.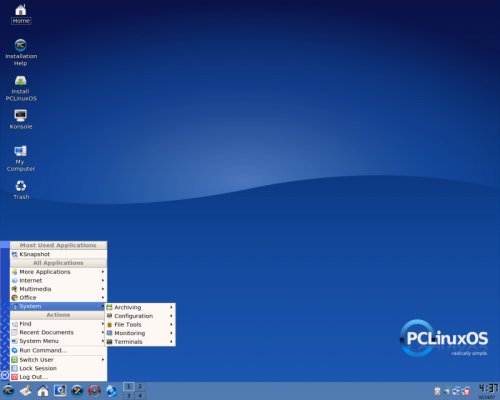 Now we can look at what is in the System menu.
Archiving:
CD Burning:

k3b and Lightscribe

Compression:

Ark and Konserve

Configuration:

Configure Your Desktop

Configure Your Computer

Kde:

has hardware, printing, and packaging sub- menus. Other: kinfocenter, kmenueditor and menu style.

File Tools:

Find/Files Folders, File Manager Super UserMode, Krusader, Krusader Root Mode

Monitoring:

Ksysguard, Gkrellum, HP Printer Toolbox, Kdiskfree, Kjobviewer, Knetstats, KwikDisk, NetApplet, NMap, and SuperKaramba.

We are almost done so let's move on to our last menu item, More Applications:

Databases:

OO Base

Development:

Kjscmd

Documentation:

Kde Help Center

Editors:

Kate, KRegExp Editor, and KWrite return with this sequel while VI Editor guest stars.

Well, that wraps this up. I think we can see that there are fewer sound applications, but more graphics and monitoring applications. Since we have such a nice repository of applications and Linux gives us that wonderful thing called CHOICE, it is up to each of us to make our distro of choice whatever we would like it to be.