Use Amarok to transfer music files to your Zen
by Papawoob
Just a short How-To that took me considerable time to figure out. Hope this saves someone from the trials and tribulations of having to figure this out for themselves. This will only work on a 2007 install. On .93, either Amarok, or libmtp0 was not quite there yet. You can transfer files but, the names will all appear in Chinese characters which, if you can read Chinese would be great I suppose but, I am not able to read Chinese. In 2007 it works like a charm!
Open Synaptic and install "libmtp0" then close Synaptic.
Open "Amarok -> Main menu ->Multimedia -> Sound -> Amarok"
If this is your first time opening Amarok it will ask you some configuration questions like where do you store your music so that it can import it and organize it. Unless you prefer some other music manager I would go ahead and let your music be imported.
Go to "Settings -> Configure Amarok -> Media Devices -> Add Device"
You will see a window with 3 boxes like the one above. Click the arrow to the right of the first box and choose "MTP Media Device." In the second box enter a name for your device like "My Zen." Leave the third box alone and then click "OK."
You should now see it listed at the top of the Configure Amarok window. Click "Apply" and then "OK."
You will now be back at the main window. In the bottom left corner you should see a tab that says "Devi..." shows the first few characters of the name you gave your Zen (in my case, "Devi..."). Click this and at the top you should see a "Connect", a "Disconnect", and a "Transfer" button.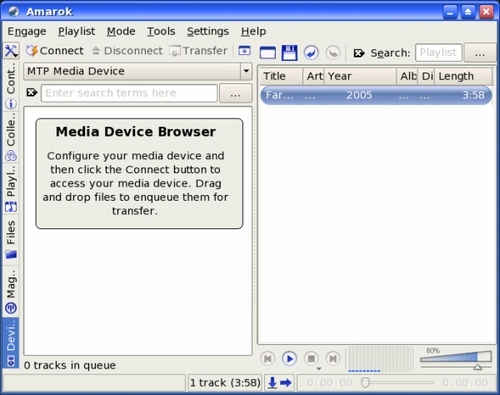 At this point you can now plug your Zen into your USB port. Next, click "Connect" and you should see your Zen connect. If you have any music files on your Zen they will appear in the left hand window.
Browse to the folder where you store your music and open it. Move the two windows around so that you can see the left half of the Amarok window and as many of your music files as possible.
Drag and drop all of the files you want to transfer to the left half of the Amarok window.
NOTE: When you drop the first file the window will split in half and you will see the file you dropped in the bottom window. Continue to drop files in the bottom window until you have everything you want to transfer.
Next, click the "Transfer" button and you should see the files being transferred to your Zen.
When the transfer is complete, click the "Disconnect" button and it will now be safe to remove your Zen from the USB port.
Happy Zenning!