Three New Releases!
PCLinuxOS MiniMe 2009
PCLinuxOS MiniMe 2009 can be best described as a barebones installation of an updated PCLinuxOS 2009.2. MiniMe is mostly used by users who want to populate PCLinuxOS with their favorite applications, building it from the bottom up.
Linuxera did 99% of the work in MiniMe 2009. Here are screenshots from a VMware virtual machine from top-clockwise:
The GRUB Bootloader. Bootsplash. and KDM Login Manager.
from right-clockwise:
KSplash, The PCLinuxOS MiniMe 2009 Desktop, VMware session, and KShutdown.
Download new PCLinuxOS releases from the following mirrors:
---
PCLinuxOS 2009.2
PCLinuxOS 2009.2 is the product of Neal Brook's lead on the Quarterly Updates. It is basically PCLinuxOS 2009.1 complete with the latest updates and artwork. Here are a few screenshots from right-clockwise:
The GRUB Bootloader. Bootsplash. KDM Login Manager, and the Desktop.
---
Zen Mini
Zen Mini is a minimal PCLinuxOS Gnome desktop based on the latest version Minime09. Texstar announced on June 28 the availability of the 361 Mb ISO for download.
The following are screenshots from Texstar's Picasa web gallery. From top-right clockwise: GRUB, Bootsplash, and Login Manager.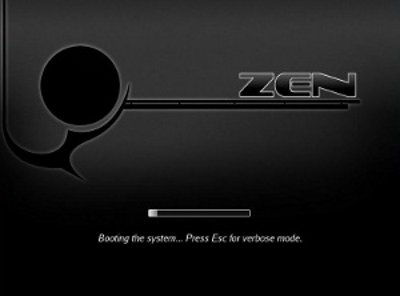 Zen Mini desktop screenshots from top clockwise, Update-notifier, Menu, Firefox.