Through the Lens
What is "Through the Lens"?
"Through the Lens" is a column about digital photography using the PCLinuxOS distribution. There are many books, magazine articles and websites that cover digital photography, but many of these publications use only tools and techniques under Windows and Mac OS-X. Only in the past couple of years has there been any mention of Linux in digital photography.
This column covers digital photography, but with tools and techniques that use software and hardware running on PCLinuxOS, as I strongly believe that Linux in general is a great platform for digital photography and the digital arts in general.
I chose PCLinuxOS as it is best suited in terms of software available for digital photography and artwork, and that PCLinuxOS runs the best on my laptop (a Toshiba Satellite L305-S5944) as opposed to other distributions, which work just as well, and each has its good points. PCLinuxOS is one of the easiest distributions to configure and administer, so the digital photographer can spend more time on photography, and less time on system administration.
As a result, the digital photographer will get a stable, fast and secure environment to work on (not to mention cost effective), at the same time, be able to be as productive in their work as if they were on an iMac or a Windows PC.
Let's Start With the Basics
Digital photography is resource intensive. Though PCLinuxOS only requires 256MB of RAM to run, I recommend at least 512MB, preferably more if you can afford it. The more RAM you have in your system, the better the performance of the digital photography software.
As for disk space, I recommend at least 20GB of disk space. This allows for the PCLinuxOS installation on the hard drive, which I also recommend for performance as running Linux on the hard drive is much faster than running it off a CD/DVD or even a USB flash drive.
When it comes to CPU requirements, I have been able to do digital work on a 500Mhz Pentium III, and even a 266Mhz Celeron (Coppermine) machine. You can get by on such a machine if you do not attempt to manipulate images larger than a postcard.
For serious photographic work, I recommend at least a 1Ghz machine (Pentium 4 or newer) with at least 1GB of RAM, preferably more. My laptop has 2GB of RAM, a 250GB hard drive with all of the disk allocated to PCLinuxOS, and a Intel Duo Core processor, of which PCLinuxOS treats astwo 32-bit processors.
Now that we have covered the CPU, let us cover the other essentials for digital photography.
You will need a quality color printer, and preferably a photo printer. Though you can use any color printer to make photographs, a printer designed to print photographs will yield better results than a general-purpose color printer.
For PCLinuxOS, you cannot go wrong with a Hewlett-Packard printer. In fact, Hewlett-Packard is one of the major companies that has invested significant money in Linux development, and their HPLIP package has support for almost every printer they manufactured.
Yes, Epson does manufacture some great photo printers, and support for older Epson models such as the Stylus Photo R260 is excellent. However, support for the newer all-in-one models is lagging. In fact, you will need to download and install a proprietary driver (called iscan) for Epson's all-in-one models. (There is a version of the driver for PCLinuxOS on that website.)
As for the other brands, it is a hit-or-miss situation. In fact, Kodak is promising to provide Linux support for their newest all-in-one devices.
Most likely, you have a collection of photographs (stored in albums, shoe boxes, or framed on walls). You will need a scanner to digitize these images. The SANE project provides support for many image scanners and all-in-one devices, and is the definitive guide you must check when you consider the purchase of a scanner.
I recommend Hewlett-Packard's all-in-one devices as they are supported by the HPLIP driver, of which there is a SANE driver that is part of the package, and you can fulfill the printer and scanner requirements with one device, saving you both money and desk space.
Choosing a Digital Camera for PCLinuxOS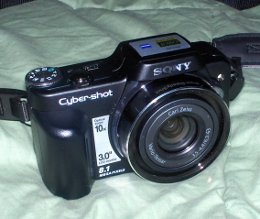 Of course, you could not have digital photography without a digital camera. While you may use commercial photofinishing services to obtain digital images from film, a digital camera is the most convenient way to get digital photographs.
Which camera you use depends upon your needs, and that is a subject already covered on numerous websites and books on photography. Thanks to the gphoto library and applications suite, most any digital camera made should be compatible with PCLinuxOS.
Many digital cameras made over the past seven years (as of this writing) have a USB Mass Storage setting such as the one shown here. This allows your camera to connect to your PCLinuxOS machine as if it were another storage device such as a flash drive or an external hard disk. Though you do not need gphoto in this case, I recommend installing the gphoto package from Synaptic to ensure that all applications that use the gphoto package (such as DigiKam and F-Spot) have access to your camera. In addition, gphoto supports cameras that connect as a USB mass storage device.
If your camera has a PTP (or Picture Transfer Protocol) mode enabled, you will need to have the gphoto package installed. Though many PTP-enabled cameras are listed as supported by gphoto (including Apple's iPhone series), gphoto includes a generic PTP driver that should work with any PTP-enabled camera.
Now that we have covered the basics of digital photography, there is some additional hardware that you may need.
Most digital cameras store images on memory cards such as SD/MMC or Sony's MemoryStick Duo Pro (the two most common types of memory cards in use). While you can connect these cameras with a USB cable, it is more common to use a card reader/writer to transfer images to your PCLinuxOS machine. Not only is it a convenient method of file transfer, you can use the memory cards to order prints from a photo kiosk at your local major discount retailer or drug store chain that does one-hour photo processing. Also, you can use the memory cards to print photos to all-in-one devices that are not supported by PCLinuxOS such as Kodak's ESP series of all-in-one devices.
Of course, you can use most any USB keychain drive (sometimes called flash drive), external hard drive, or an internal or external CD/DVD burner. These devices are generally supported by PCLinuxOS, either as ATAPI or SATA devices, or as USB mass storage devices.
Some of you are saying, what about floppies and Zip disks. At one time, these devices were used for storage and transfer of photographs, and they are well supported by PCLinuxOS. However, these devices are deprecated by the aforementioned keychain drives, external hard drives and even the CD-R, though you can use them if you are transferring small size images, e.g. 1024 x 768 resolution or smaller.
The PCLinuxOS Installation
PCLinuxOS comes with the GNU Image Manipulation Program (aka GIMP) and DigiKam already installed on the KDE version. If you are using the MiniMe version of PCLinuxOS, you will need to run Synaptic to install the GIMP and Digikam. This is not to say that you cannot install other programs for digital photography. In fact, the entire PCLinuxOS repository (accessed through Synaptic) contains some great applications usable for digital photography.
If you are like me and like to have multiple desktop installations on your PCLinuxOS machine, i.e. GNOME, WindowMaker, XFCE, AfterStep, and FluxBox in addition to a full KDE installation, you would like to download and install these applications and have them available. With Synaptic, you can do just that (as I have done on my laptop).
Why?
Like any Linux distribution, each application has its good qualities, and its not-so-good qualities. It also allows you to try each application and then you can decide which photographic application is right for you.
For example, some people prefer to use DigiKam, while some others prefer F-Spot, and some others prefer Picasa. While most of us would use the GIMP for photographs, some would prefer to use Adobe Photoshop running on Wine (mainly because of what they are used to using).
I am sure we all agree that the GIMP is the most essential piece of software for digital photography under PCLinuxOS (or any other Linux distribution for that matter).
What Is Next
I have covered the basics of what you need to do digital photography under PCLinuxOS. This article is the beginning of a series of articles that cover digital photography under PCLinuxOS (and Linux in general). The techniques, software packages, supported hardware, and other topics are discussions for future articles in this series.
About the Author - Patrick G Horneker
I have worked with computers since the early 1980s, with my first hands-on experience with an Apple II+. I have graduated with a Bachelor of Arts degree from Valparaiso University back in 1989 with a mathematics/computer science major, and a liberal arts background including exposure to the fine arts.
I have spent the first six years of my working life in the credit reporting industry where I was the information technology guru. Among the tasks I performed were custom programming of credit reporting applications, network maintenance, workstation repair and rebuilding, and technical support for software packages such as Lotus 1-2-3 and WordPerfect.
I migrated to Linux from OS/2 back in 1998, and have knowledge of MS-DOS, Data General's AOS/VS, Unisys BTOS, AppleDOS and CP/M. Programming languages I have worked with C, C++, Pascal, BASIC, Fortran, and Java for applications programming, and I currently work with HTML and JavaScript for website development. I am currently learning Python and PERL.
Back in 1998, I was downsized from my job at the credit reporting agency. I then setup a freelance consulting operation of which I still operate to this day, in addition to my current job in retail.
Photography has been a hobby of mine since 1977. Yes, that was thirty two years ago. I currently work with both film and digital cameras.
My current photographic equipment roster consists of a Canon EOS Rebel X as the sole film camera, and for my digital cameras, I use a Sony Cybershot DSC-H10, a Hewlett-Packard Photosmart M22, and a Cobra 8MP (aka the Black Friday special because it was available dirt cheap on the busiest day in retail).
This is also my debut article for PCLinuxOS Magazine.