R.I.P Joe Gable, aka Joble: 1963 - 2011

By Paul Arnote (parnote)

Sometimes the reality of life becomes surreal. It throws us a very unexpected curve that makes us stop and take a second look – and maybe even cause us to re-evaluate our own lives. On October 18, 2011, the PCLinuxOS community received such a curve, when we learned of the tragic and untimely death of one of our own, Joseph Andrew Gable, better known simply as "Joble" among his PCLinuxOS family. Joble was just 48 years old.
Joble's Time With PCLinuxOS
Joble joined the PCLinuxOS community on October 4, 2007, and most recently posted on the PCLinuxOS forum on October 12, 2011 – just one day before his untimely death.
Joble frequently joined in on any forum discussion that caught his eye or struck his fancy. Particularly, Joble focused on helping users get their wifi cards running properly, either with native Linux wifi drivers, or via ndiswrapper and Windows drivers. Joble was especially good at the latter.
Never at a loss for words, Joble had a penchant for interjecting humor into just about any topic. Things didn't tend to stay on a serious note for long with Joble around. Topic after topic, time after time, Joble would find humor in just about any topic, and would lighten the mood by revealing the aspects of the topic that he found to be humorous. Sometimes, that made it hard to know when Joble was serious or when he was just joking around.
In 2009, Joble was appointed as a Global Moderator in the PCLinuxOS forum. It's a position he held for the rest of his time with PCLinuxOS. In 2010, when Sproggy had to briefly step away from maintaining Phoenix, Joble stepped up to the plate and became the maintainer of Phoenix, until Sproggy's subsequent return.
Joble was there from the beginning when I made my debut as the chief editor of The PCLinuxOS Magazine. He would frequent the magazine's channel in IRC, as well as the main PCLinuxOS channel and the PCLinuxOS Support channel. Although not "formally" a magazine staff member, he was always there in the early days of my tenure as the magazine's guiding force, offering advice, opinions, and his usual injection of humor.
The IRC discussions would often continue late into the night. As was typical for Joble, there was no "sacred cow" topic. He often flirted (harmlessly) with my wife – or any other female – who happened to be present, but always remained respectful.
Even though he wasn't "formally" a member of the magazine staff, Joble was an administrator at the magazine forum. He was a huge supporter of The PCLinuxOS Magazine, and often raced to be the first to download the latest issue. He usually followed up his "victory" with a "neener-neener-neener … I got my copy first" type of post in the PCLinuxOS forum. He even wrote a couple of articles for the magazine. The first was his own "self-interview" for the magazine's "Behind The Scenes" series, in the November 2009 issue. The second was a guide on how to create a packaging environment in Phoenix, in the July 2010 issue.
There was a time when Joble couldn't afford his own internet connection. So, to maintain his connectivity, he would sometimes "piggyback" his connection on a neighbor's unsecured wireless signal. Most of the time though, he would frequent the local coffee shop, where they also happened to offer free wifi access. He would take either his laptop or his prized netbook along and spend hour after hour keeping up with his favorite Linux distro and his PCLinuxOS friends, who became a part of his family.
More about Joble
Joble always feared revealing his "real" name and identity to the public, and revealed it only to his closest online friends. He served in the U.S. Air Force as a military police officer, and he was ever fearful of retribution from those whom he had arrested and sent to jail or prison. It was in 1986, while he was stationed at Andrews Air Force Base, in Maryland, that he married Michelle.
Up until his death, Joble worked for the Montana Department of Transportation, as a computer support specialist.
One of Joble's other passions was riding his Harley-Davidson motorcycle. He was proud of his motorcycle, and frequently went on long rides along the highways and byways of the scenic Rocky Mountains surrounding his home in Helena, Montana. He had moved to Montana sometime around 2003.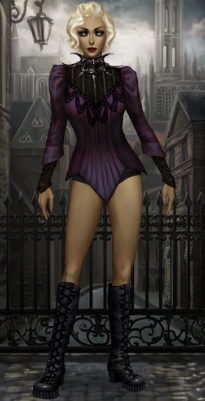 Joble's Vampire Wars Avatar
More recently, Joble became deeply involved with "Vampire Wars" on Facebook. Unbeknown to his PCLinuxOS family, he generously offered up his help to many there who were just getting started playing "Vampire Wars," as evidenced by an outpouring of emotional sentiment on his Facebook page.
Joble would also sometimes visit and interact with those on the Montana Linux site, assembled as a gathering place for Linux users living in Montana.
What happened
On October 13, 2011, Joble was shot and killed by his estranged wife at his Helena, Montana apartment. The two had been separated for over two years, with his wife, Michelle Coller Gable, living with her parents in Clinton, Maryland during that time period. Over that period of time, Joble fended off repeated suggestions and urgings from Michelle that he move to Maryland.
Sometime in September 2011, Michelle returned to Montana, according to news reports. On September 20, 2011, Joble was in the process of changing the locks on his apartment when Michelle came by to gather her personal belongings. An emergency 911 call was placed by Michelle, stating that she had been assaulted by Joble, who was not present upon arrival of police authorities.
On September 21, 2011, Joble filed a petition for a temporary order of protection (also known as a restraining order in some jurisdictions), citing that Michelle had stalked him, tried to intimidate him, and held him against his will. Joble goes on in his application for the order of protection that, "She has been out of Montana on the East Coast in Maryland for over two years, came back unannounced and is now trying to disrupt my life any way she can apparently." He went on to add that, to the best of his knowledge, Michelle did not own or possess any firearms.
Later that day, District Judge Dorothy McCarter denied Joble's petition, stating that Michelle posed "no personal danger or threat" to Joble.
On October 11, 2011, Joble filed divorce papers, citing "serious marital discord" and no prospect of reconciliation. Two days later, Joble was shot and killed by Michelle, along with Joble's female friend, Sunday Cooley Bennett, from Texas.
Michelle was found by police officers at the scene, standing in the doorway over Joble's wounded body. Police heard Joble state, "My wife shot me," and was dragged to safety from the scene by police officers, because he was unable to move. Upon learning from Joble that Sunday had been shot, police officers entered the apartment and found her with a gunshot wound to the chest.
Joble was pronounced dead at an area Helena, Montana hospital at 6:59 a.m., and Sunday was pronounced dead at 7:06 a.m.
Michelle is currently in custody, and faces two charges of deliberate homicide, each of which carries a $50,000 fine, as well as 10 years to a maximum of life (or 100 years) in prison.
You can view news reports of the events here and here. Additional news accounts can be easily found by performing an internet search on any of the names of those involved.
Missing a friend and family member
Joble's PCLinuxOS Avatar, made by ms_meme
The PCLinuxOS community will undoubtedly miss Joble and his contributions over his brief time with us. Along the way, Joble touched the lives of many PCLinuxOS users, both with the generous help he would offer, along with his humor.
Every once in a while, you meet someone who has a profound effect on the lives they touch. Sometimes, neither person – the person having the impact, nor the person whose life is being impacted – realizes the extent of the impact they are having, at that time. Joble was such a person.
All of Joble's forum posts included this line in his forum signature: "Hero means I talk a lot, nothing more, nothing less!" He also lived by the motto of "do one thing, and do it well."
Rest in peace, Joble. You were a friend to us all. You were family. You did it well.