2012 Annual Holiday Gift Guide: Paul's Picks
by Paul Arnote (parnote)
During this time of year, it's easy to get caught up in the holiday gift giving experience. Hopefully, you'll be on the receiving end. So what about your favorite PCLinuxOS user that you may want to buy holiday gifts for?
Once again, it's time for the annual PCLinuxOS Magazine Holiday Gift Guide. This year, three of us – ms_meme, Meemaw and I – are going to give you some holiday gift suggestions that any PCLinuxOS user would enjoy. Meemaw and I are going to pick out 10 gift suggestions. Coupled with ms_meme's six gift suggestions, this will give you a total of 26 suggestions to pick from.
So, without any further adieu, here are my holiday gift suggestions for the 2012 holiday season. The items listed below were available at the time that this article was written, and the quoted prices were current at that time, as well. Prices are subject to change over the weeks before the holidays.
OCZ Onyx Series OCZSSD2-1ONX32G 2.5" 32GB SATA II MLC Internal Solid State Drive (SSD) – Newegg.com, $49.99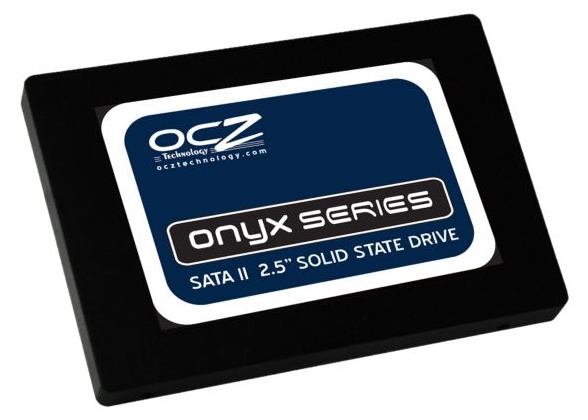 From personal experience, aside from having plenty of RAM and a fast processor, there's not much else that will improve the performance of your PCLinuxOS system than the addition of a solid state drive (SSD). As you may recall, I installed this very drive in my new desktop computer build that I wrote about in the February 2012 issue of The PCLinuxOS Magazine. I used the entire drive as my / directory. As a result, my boot time is around 10 - 12 seconds.
Believe me when I tell you that there is nothing special you need to do to prepare a SSD for use. All I did was format it with the ext4 file system, and I installed PCLinuxOS. (My /home directory is on one of four partitions on a 2 TiB conventional SATA II hard drive). It literally was that simple. It has been an outstanding performer ever since.
ICY DOCK MB990SP-B Dual Bay 2.5" to 3.5" SATA/IDE SSD & Hard Drive Bracket / Adapter – Newegg.com, $12.99
Of course, if you're going to try to insert a 2.5" SSD into a desktop, you'll need a hard drive adapter to fit it securely into a 3.5" space. That's where the ICY DOCK adapter comes in. Sure, there are other adapters that are cheaper, but the price of this is very reasonable, and it makes the insertion of that 2.5" SSD into a 3.5" hard drive space a cinch. In fact, you can place two 2.5" drives into the space used by one 3.5" hard drive.
Installation is easy. The 2.5" drive clips into either the upper or lower caddy. Then, you simply press the lever on the right side, slide it into the 3.5" drive bay, and release the lever. The pins on the side of the adapter lock it into place. No screws. No tools. No hassles.
TP-LINK TL-WDR3500 N600 Wireless Dual Band Router IEEE 802.3/3u, IEEE 802.11a/b/g/n – Newegg.com, $50.99
Most anyone who spends any amount of time on the internet (and who doesn't, these days?) would love to be able to get "things" done faster and better (again, who wouldn't?). Recent advances in wireless network speeds may have made your favorite PCLinuxOS user's wireless router slow, inefficient and practically obsolete. While their current router may be keeping up with low-level networking tasks, it is most likely showing its age when it comes to its ability to stream high definition video feeds.
With today's wide range of devices that connect to the internet – PCs, tablets, E-Book readers, smart phones, BluRay players, etc. – and with such things as high definition video feeds (YouTube, Hulu, Vumu, Netflix, etc.) becoming increasingly viewed in the home, it may be time to upgrade your wireless router to one that is more capable of meeting those increasing demands on your wireless signal.
This router is not only affordably priced, but it also provides a 802.11n 600 Mb/s wireless connection that is more than capable of streaming 1080p high definition video. With a new router, your favorite PCLinuxOS user may be able to "cut the cord" with the local cable television company, and save some serious money by streaming all of his/her favorite shows.
Nikon Coolpix L26 Black 16.1 MP 5X Optical Zoom Wide Angle Digital Camera – Newegg.com, $85.94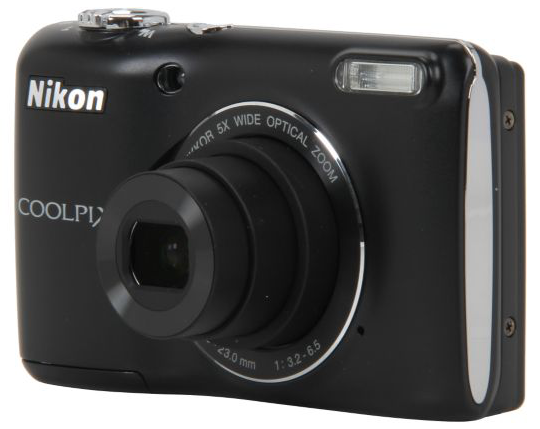 When it comes to a point and shoot digital camera – in fact, when it comes to any camera – it's hard to beat the high quality glass that Nikkor lenses are made from. Of course, to get to use Nikkor lenses, you have to use Nikon camera.
It's no secret that I (in what seems like a distant former life) used to be a professional newspaper photographer. Even back then, Nikon had the reputation of having the best "glass" (slang term we used for lenses) around. In fact, the difference was so remarkable that I could look at black and white negatives and tell you if it was shot with a Nikon (I still can, by the way).
This camera comes packed with excellent features: a 5x optical zoom (with an additional 4x digital zoom … focal length of optics is 4.6 mm to 23 mm, a 35 mm camera equivalent of from a 26 mm wide angle lens to a 130 mm moderate telephoto lens), 16.1 Megapixel resolution, a 3" LCD screen, an image stabilization system (for helping eliminate camera shake), recording HD movies in 720p resolution, 19 special "scene" modes, uses readily available SD/SDHC/SDXC memory cards, and uses only two AA batteries as its power source.
The latter feature is a HUGE benefit, in my opinion. For a while, camera manufacturers were drifting towards using standard size batteries to power their camera. Now, the pendulum is swinging back the other way, towards using proprietary Li-ion batteries. Let's say you're out in the middle of nowhere – biking or hiking – and your batteries start to fail. With a Li-ion battery, you have to be somewhere near another power source to recharge your proprietary battery. Don't think for a second that you can just go buy another one (remember, you're out in the middle of nowhere). Even if you could, that proprietary battery will probably cost you $50 or more – and most likely not have a full charge.
Yet, since this camera uses standard AA batteries, not only can you carry spares, you can buy more when you get back to even the most remote outpost. Also, you can use rechargeable Li-ion or NiMH AA batteries, to further reduce your battery costs. I use NiMH rechargeable batteries, and carry along several alkaline AA batteries as backup spares. When I buy a camera, my first choice is to always to buy cameras that use readily available standard size batteries.
Dolica WT-1003 Floor Standing Monopod – Newegg.com, $19.99
I know … when you think about ways to stabilize your camera and minimize camera movement – especially at slow shutter speeds – most people immediately think of a tripod. Take a word of advice from a former professional photographer (me). Tripods aren't always the answer, nor are they the only answer. Often times, a tripod is just plain impractical. You can't set them up on the sidelines of an American football game, for example. Or, if you're on a cruise ship and trying to shoot pictures at slow shutter speeds, a tripod transmits the ship's vibrations up three legs, effectively amplifying those vibrations. Meanwhile, a monopod transmits less of those vibrations to your camera, through its single leg.
You will be amazed at how well a monopod helps to stabilize your camera (especially if you've never used one before). Plus, a monopod is much smaller, lighter and less bulky to carry than a tripod. As an added benefit, it can also be used as a walking stick, if you're hiking.
Simply thread the screw on the top of the monopod into your camera's tripod socket (by turning the monopod). This aluminum monopod, fully collapsed, is only 21.3" in length. Yet, when fully extended, it reaches a height of 67" (5' 7"). It also comes with a carrying pouch, complete with a shoulder strap.
SpillNot No-Spill Mug Holder – ThinkGeek.com, $13.99
We know how many PCLinuxOS users just LOVE their coffee. Isn't is just a crime when the cup is so full that we spill drops of that precious black gold? With the SpillNot No-Spill Mug Holder, you can say goodbye to crying over spilled coffee.
Simply place your full cup of coffee (or other beverage) on the platform of the mug holder. Then, carry it about with the strap. When you walk, you create horizontal force, causing the side of the cup to press against the liquid, which then rises up and over the edge of the cup. The flexible loop handle of SpillNot cannot deliver a lateral acceleration to the saucer or the cup. As the handle moves horizontally, the saucer and cup swing up slightly in the opposite direction, balancing everything out so the liquid stays in the cup.
Because of this – ruled by the laws of physics – you can even swing the mug holder, complete with a full mug of your favorite beverage, over your head in a circular pattern and never spill one precious drop.
Root Beer Brewing Kit – ThinkGeek.com, $26.99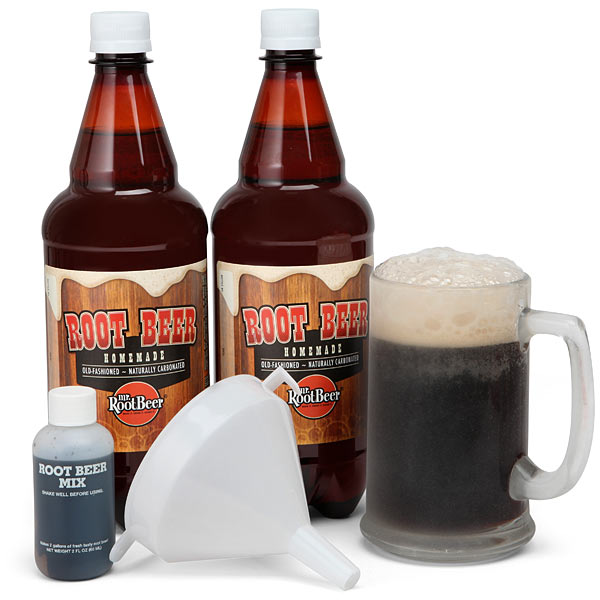 Set your favorite PCLinuxOS user up with a kit that allows them to brew their own beer … root beer, that is. Unlike the heavily carbonated stuff you buy in the grocery store, this root beer is more reminiscent of the smooth, creamy root beer of days past.
This kit contains all the ingredients (except for the two different kinds of sugar, which you need to provide) to make two one gallon batches of home brewed root beer. Once bottled, it is ready to be consumed three days later. Just note that this homemade brew, due to the carbonation process, will contain trace amounts of alcohol: approximately ½ of 1% alcohol by volume.
Luminglass – ThinkGeek.com, $39.99
Now, you can own your very own Luminglass Lightning Storm disc, exactly like the one first seen in the "Star Trek: First Contact" movie. Makes a perfect gift for any PCLinuxOS Trekker. Plug it in, and watch as lighting mysteriously dances inside a disk of glass that's less than a quarter-inch thick! Create everything from a delicate tapestry of spider webs, to a powerful lightning storm! Luminglass also features a sound-responsive mode which, when used with your voice or music, creates a pulsating rhythm of light that will dazzle the senses. AC adapter included, and it is wall-mountable.
Large PCLinuxOS Mug – PCLinuxOS Store on CafePress.com, $15.99
What self-respecting PCLinuxOS user wouldn't want to have this large, premium mug to drink their favorite coffee or tea from? Made from ceramic, this mug has a whopping 15 ounce (444 ml) capacity, and measures 4.5 inches tall and 3.25 inches in diameter. The mug is microwave and dishwasher safe. Plus, it has been officially approved by Neal ManBear.
PCLinuxOS Sticker – PCLinuxOS Store on CafePress.com, $3.99 each
Help your favorite PCLinuxOS user show their pride for their amazing choice in operating systems! Get them this sticker that proudly proclaims them a PCLinuxOS user, and helps them spread the word about PCLinuxOS.
Cover up that Dell or HP emblem on that laptop lid. Place one on the bumper or in the back window of your car. Measuring 3 x 5 inches, the sticker is available either in a rectangular or oval.