by Stephen Morrish (PendragonUK)
Introduction
Take the helm of your steamship and set sail for the unknown! Sunless Sea is a game of discovery, loneliness and frequent death, set in the Victorian Gothic universe of Fallen London.
Features
A deep, compelling world packed with 350,000+ words of stories and secrets. Find your father's bones. Determine London's destiny. Defy the gods of the deep sea.


Beautiful, hand drawn art - castles of sparkling ice, prisons perched on lily pads, fog-shrouded lighthouses and the DAWN MACHINE.


Your captain will die. But you can pass on resources from one generation to the next. Acquire a family home and a hoard of heirlooms. Build up your own story across generations of zailors who braved the sea and lost - or won...


Real-time combat against ships and Zee-beasts, spider-crewed dreadnoughts and sentient icebergs.


Light and dark, terror and madness: stray too far from the gas-lamps of civilisation and your crew will grow fearful and eventually lose their sanity.


Upgrade your steamship with powerful engines, cannons and pneumatic torpedo guns. (Or buy a bigger, better ship.)


Hire unique officers like the Haunted Doctor and the Irrepressible Cannoneer. Each has a story to tell, if you can draw it out of them.


Choose a ship's mascot: the Comatose Ferret, the Wretched Mog, the Elegiac Cockatoo, and more!


Trade or smuggle silk and souls, mushroom wine and hallucinogenic honey.



Who Makes it




Failbetter Games is a British video game and interactive fiction studio founded in January 2010. They are chiefly known for its Fallen London Victorian Gothic franchise which has garnered a cult following.


About the Game Sunless Sea is a survival/exploration role playing video game with roguelike elements. Taking place in "Fallen London", in which Victorian era London has been moved beneath the earth's surface to the edge of the "Unterzee", a vast underground ocean.

The player takes on the role of an "Unterzee" steamship captain, the background and ambitions of whom are customisable. The player can win by achieving their chosen ambition, such as becoming Fallen London's most celebrated explorer or amassing enough wealth to retire. Resources to achieve these ends are acquired by discovering new locations, trading goods across the "Unterzee", battling ships and "zee monsters", and completing story quests. There are several roguelike gameplay elements, such as partially randomised maps and permanent character death, but subsequent characters can inherit some of their predecessor's possessions, and a player may create a will to insure lodging and wealth for their successors.


Conclusion

A haunting exploration game with great music, a really unique setting, and lots of replayability. If you like dark works, macabre themes, great stories, and don't mind a lot of reading, give it a go.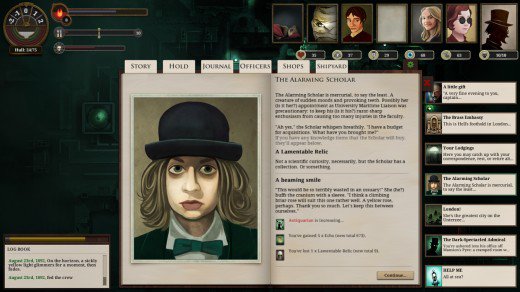 System requirements
MINIMUM:
Processor: 2Ghz or better
Memory: 2 GB RAM
Graphics: 1280 x 768 minimum resolution, DirectX 9.0c compatible graphics card, OpenGL Core
Sound Card: DirectX 9.0c compatible
Where to get it
Steam http://store.steampowered.com/app/304650/
Price $18.99 USD / £13.99 GBP
Humble Store https://www.humblebundle.com/store/sunless-sea
DRM Free download $18.99 USD / £15.49 GBP
More resources for the game can be found at the excellent WiKi
http://sunlesssea.gamepedia.com/Official_Sunless_Sea_Wiki