by daiashi
About The Game
The legendary iBomber series returns but this time it's time to ATTACK! Jump into your tank and get ready to blast your way around Europe and defeat the enemy in this visceral tour of destruction! With 24 missions full of explosive action to go at, iBomber Attack is a dose of high-octane entertainment that you won't be able to put down.
TOUR OF DESTRUCTION


From destroying Navel dockyards, airfields and secret bases to gunning down legions of flame-throwing soldiers, this is 24 levels of non-stop, high caliber, action.


AWESOME FIREPOWER


Earn 'Victory Points' and collect gold to power-up your tank with Bombs, Bunker Busters, Mini-Guns, Flame Throwers, Rockets, Airstrike's, Supply Drops & Super Boost's.


iBOMBER LIVES


Dripping with the quality gameplay, visuals and sounds that made the original iBomber games so loved, iBomber Attacks ensures the legend lives on!
Key Features:
Tanktastic action


Super smooth game-play


24 action packed missions


Amazingly detailed graphics


Collect Gold to buy Power-Ups


Win Victory Points for upgrades


Huge levels to explore and destroy


The satisfaction of blowing everything up!
System requirements
Software: Wine and steam.
Hardware:
Minimum:



OS: Windows XP


Processor: 1.5Ghz


Memory: 512 MB RAM


Graphics: OpenGL 2.0 Compatible. ATI, NVIDIA or Intel HD.


Hard Drive: 900 MB HD space


Sound: Windows compatible sound card.


Additional: Older Intel graphics cards may have slowdown issues.



Recommended:



OS: Windows 7


Processor: 2.0


Memory: 1024 MB RAM


Graphics: OpenGL 2.0 Compatible. ATI, NVIDIA or Intel HD.


Hard Drive: 900 MB HD space


Sound: Windows compatible sound card.


Additional: Older Intel graphics cards may have slowdown issues.




About The Company

How does an indie developer survive for eight years, get multiple BAFTA nominations and continue to create great game after great game?

Cobra Mobile was founded in 2005. The word "mobile" in the company name gives it away. We were making mobile games. The original tag line for the business was "Mobile is More," as we believed in 2005 that with the right content mobile gaming could be more than it currently was.

In 2005 that meant J2ME (but also BREW and Symbian). First off we spent six months creating our basic level of internal tools and tech, which enabled us to try and test game concepts. This was back in the day of chunky and clunky mobile phones (Google for Nokia 3510 or Sony K630 to glimpse the past). In early 2006, with a few cool game prototypes, we started speaking to mobile publishers.

Now, back in 2006, if you wanted to sell a game you had to sell into a publisher who then, in turn, would sell it to a carrier who would then, maybe, publish it and give it a bit of shelf space on the carriers' mobile deck; a clunky and very basic version of what we all know today as an app store.

The feedback on our titles was positive, but no-one wanted to sign them as they didn't have a big brand name behind them. Again, back in 2006, everything was about brand names. Luckily for Cobra one of our games got noticed and we were asked if we could re-brand it as a Lego game. Lego Bricks on mobile was born. Another company liked our game but wanted to re-brand it with their own franchise, and Sensible Soccer Skillz was born. We were off

.

All design work at Cobra begins with paper and a pencil



Through to the end of 2007 our mobile work was great. It was 90% work for hire, and we were working with major brands and making great games. As 2008 started the mobile landscape was slipping, our business had pretty much hit a plateau and porting was now the new mobile scene. Basically, mobile devices came in all shapes and sizes and languages, and any game needed hundreds, if not thousands, of build versions to cover worldwide carrier network demands. Companies had a few people working on games and hundreds working on porting. Porting could and would sap the will to live from you. This wasn't the "Mobile is More" future we'd dreamed of.

Luckily for Cobra a massive tectonic shift happened in 2008; Apple announced it was opening up an App Store for the iPhone and anyone could submit content. Apps didn't even have to be games! This may appear second nature now, but in 2008 this was revolutionary. This broke all the rules, along with the huge monopolies that companies and carriers had built. I would easily say 95% of companies we spoke to in 2008 thought Apple was a blip, and didn't think it would really offer any competition. I mean, the iPhone was just another smartphone, and Nokia already had these, right?

So when the Apple App Store launched, Cobra had a launch title: the fantastic Numba. We originally launched this with a publisher but after they reneged on the contract we pulled it and published ourselves. But what we saw from the early success of Numba was that the new business paradigm of the App Store would work, and we could directly be involved in taking our product to market instead of being porting monkeys and marketing bystanders.

The decision was huge, but pretty easy. We quickly pivoted and ramped down all J2ME mobile work, moving fully into iOS development. Scary move, yes. Few sleepless nights, yes. Right decision by a long shot? Yes. I remember at the time everyone trying to tell us we were crazy; we were daft, but anyway you looked at it, it just made complete sense.

After the awesome Numba, we developed Mouse About, which arrived to rave reviews but average sales. We also released a few novelty apps (Anthem USA and Anthem UK) to help market Numba and Mouse About to a wider audience. We needed marketing, but we're an indie studio trying to make it in the new app economy.

Some Gameplay Screenshots
Getting It To Run
Ok, first things first. Head on over and grab Steam. WINE should install it with no problems. You will need Winetricks from synaptic to get some needed files for steam to run properly. These are corefonts and vcrun6,both from winetricks.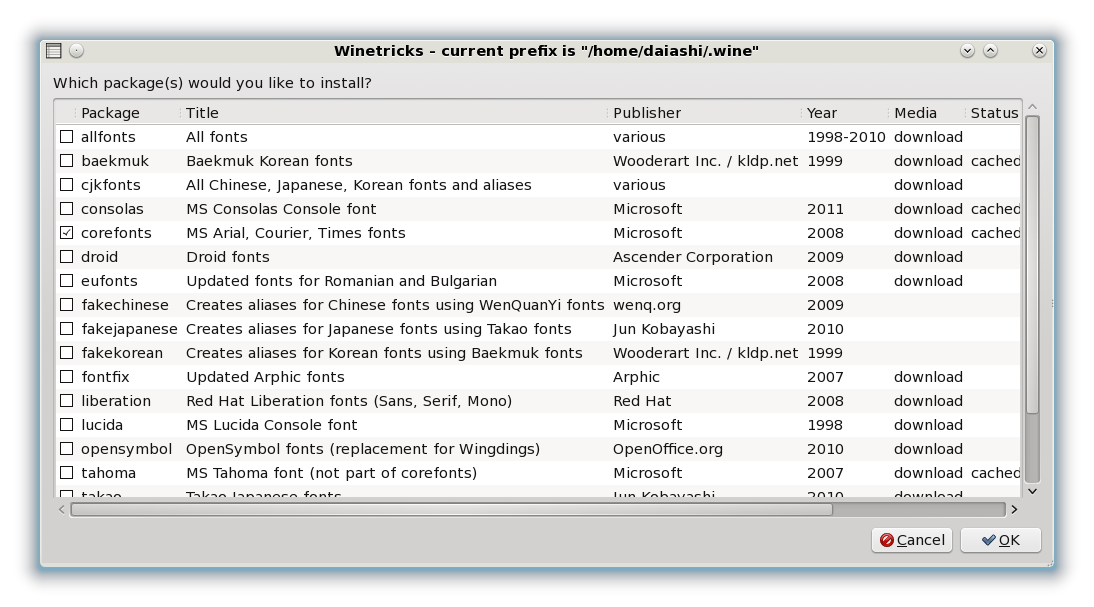 After steam is installed search for iBomber Attack from the steam store front.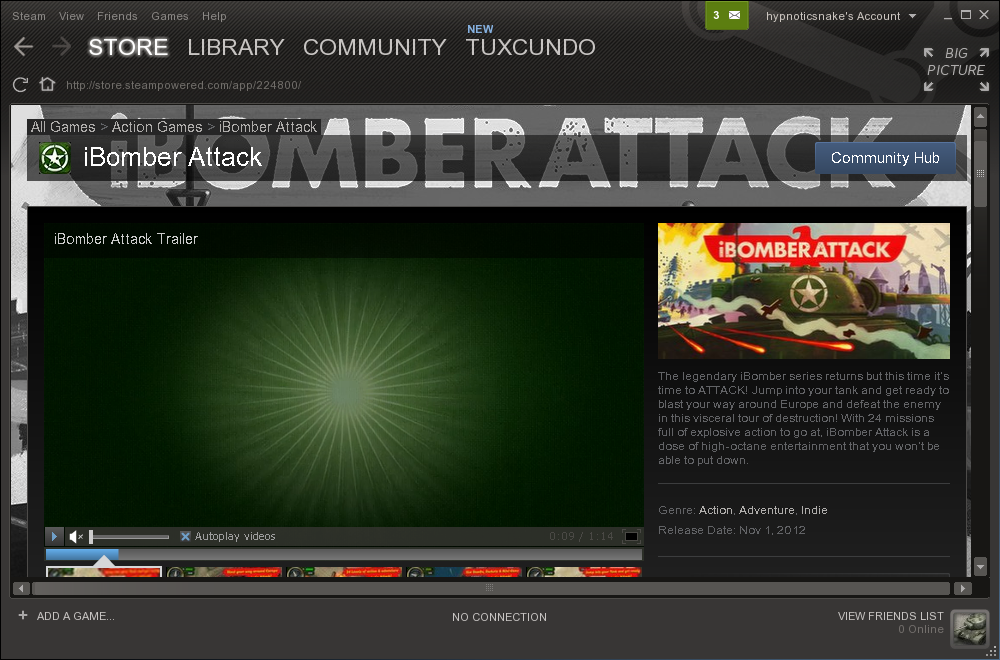 After downloading IBomber Attack, I had to make no other changes to get this game running.