by Paul Arnote (parnote)
It's that time of year again. It's time for our annual holiday gift buying guide. If you're strapped for ideas of what holiday gifts to buy those on your holiday gift list, maybe we can help. Between myself, Meemaw and YouCanToo, we'll present you with a total of 30 gift ideas ... 10 each ... for your gift buying needs. All prices are given in U.S. dollars.
AGPtek® 2.4GHz Hi-Fi Wireless Stereo Bluetooth V2.1 Headset ... Newegg.com, $37.99
Cut the cord! Well, at least to your stereo headphones. These wireless headphones use Bluetooth technology to send the audio from your Bluetooth-enabled device (PC, tablet, smartphone, BluRay player, etc.) directly to your ears ... privately. These wireless headphones employ a rechargeable lithium ion battery to provide up to 54 hours of cordless use, up to 1200 hours of standby time, and recharge in as little as three hours. Like most Bluetooth devices, these high fidelity stereo headphones have a range of 10 meters (or about 33 feet). Of course, the stated range is without obstructions (like walls) between the headphones and the Bluetooth transceiver. The package includes an AC charger and USB cord.
Link Depot USB 2.0 Flash Memory Card Reader (MicroSD/Secure Digital SD) ... Walmart.com, $5.03
If you have a tablet or smartphone, chances are high that it has or uses a MicroSD card. It can sometimes be a real pain to connect and read or transfer files from these devices. But what if you could transfer your files to the MicroSD card, then read those files on your computer? It sure would make things much easier!
This adapter does exactly that. The MicroSD card inserts into the USB plug. Yes, you read that correctly. A blue LED lights up to indicate that the reader is plugged in. To extract your MicroSD card, press the yellow button and your card slides out to where you can grab it. Works with MicroSD and MicroSDHC cards.
Bright 10 LED Flexible USB Light Desk Lamp for Laptop or Desktop ... Newegg.com, $9.40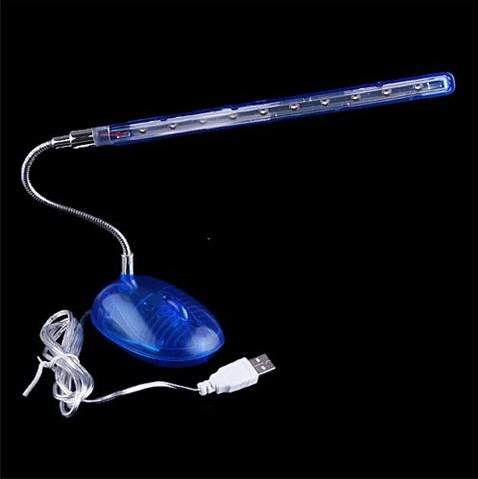 Never work on your computer in the dark again. This handy handy lamp plugs into an open USB port (or USB hub) and lights your computer and desk with 10 bright LEDs. Useful for either a laptop or desktop computer. The lamp has extremely long service life (up to 20x longer than normal lamps) and bathes the area with a soft and warm white light. It features an on/off switch and consumes low power. The USB cable is over one meter in length, allowing you to place the lamp in a convenient location.
5m USB Waterproof Endoscope Borescope Inspection Camera ... Amazon.com, $19.99
Here's a USB camera with a purpose. Waterproof, you can send this down a drain to help find a clog, or a missing piece of jewelry. Send this into a small hole in the wall to help locate studs and wiring. If you're working on the family vehicle, this can provide views in the tightest locations that you normally wouldn't be able to see.
Although the specifications call for Windows, this endoscopic USB camera is reported to be working flawlessly with Linux, via VLC. Simply plug in the camera and launch VLC to view the images. This camera also includes 4 LED lights to provide illumination in dark quarters.
Native Union Retro POP Phone ... Amazon.com, $19.99
Do you remember the old style bakelite telephone handsets? Are you annoyed by trying to cradle your cell phone on your shoulder while you write down a phone number or address? With the Native Union Retro POP Phone, you can use an old style telephone handset with your 21st century smartphone. Featuring a 3.5 mm plug (standard on many cell phones), it simply plugs into your cell phone. Then, you can put your cell phone safely into a shirt pocket, backpack, or purse, and use the two foot coiled cord (that stretches out to approximately six feet) to talk on your cell phone, with this handset comfortably cradled on your shoulder.
While you may get some strange stares as you walk down the street talking on your cell phone, via this handset, it does eliminate 99% of the cell phone radiation. This is a good thing, since it seems as many studies say it's dangerous as those that say it's of no consequence. With this handset, all doubts are erased. Just don't set your smartphone down on a stationary object and walk away with the handset, or you may send your smartphone crashing to the floor.
Rosewill RTK-045 45 Piece Premium Computer Tool Kit ... Newegg.com, $19.99
If you do any of your own work on your computers and the computers of friends and family (and what Linux user doesn't?), it pays to have a dedicated toolkit to use. This toolkit features not only an antistatic wrist strap, but a ratcheting multi-tip screwdriver, a collection of hex key wrenches, needle nose pliers, wire strippers, tweezers, sockets, and even a collection of common spare parts. They are all fit into a zippered black case for easy transportation. All tools are fully demagnetized to prevent damage to your system, peripherals and magnetic media.
I Love Bacon Calendar ... ThinkGeek.com, $9.99
I've never seen such a large collection of bacon lovers in one place as I've seen in the PCLinuxOS forum. If PCLinuxOS has an "official food," it would have to be bacon. The only gift better for the bacon lover on your list than bacon would be this 12 month 2014 calendar that allows them to celebrate bacon every day of the upcoming new year. Each page of this calendar contains fun trivia facts about bacon, along with bacon recipes.
Sizzling Bacon Candy ... ThinkGeek.com, $4.99 to $9.99
While we're on the subject of bacon, here's another idea for the bacon lover on your holiday gift list. Sizzling Bacon Candy are little rocks of candy that pop and sizzle when placed in your mouth. Carbonated candy chunks, to be a little more accurate. They jump and sputter and taste like smoky bacon - only they "sizzle" right in your mouth. Each Sizzling Bacon Candy single box comes with 2 packets of bacon (therefore the 3 pack comes with 6), so you'll never be without the sizzling joy of bacon.
Linus Libertine ... Linus Bikes, $939 (no direct link yet)
OK ... this is the most expensive item I've ever featured in the magazine's annual holiday gift guide. If you're in the market for a new bike, why not ride a bike that shares the namesake of the father of Linux? In a nostalgic, days-gone-by style, but with the comforts and reliability of modern bicycle technology, the upcoming 2014 Linus Libertine bicycle may be the one for you. This new road bike features a 16-speed drivetrain with an 8-speed rear derailleur and a front double chainring that's fitted to the crank. It also features "old-school" downtube shifters, fenders, and two accessory attachment lugs (one on the downtube and the other on the seatpost).
If you're thinking that this bike looks like a throwback to the road bikes of the 60s and 70s, then you're getting the right impression. In fact, the targeted audience for this new bicycle is someone who might be prone to look for a classic, vintage bicycle to rebuild. Here's the company's story, from the Linus Bikes website:
Inspired by French bicycle design of the 50s and 60s we have created a bicycle that preserves the simple elegance and pure form of that golden era, but has all the benefits of modern comfort and reliability. LINUS is the utilitarian city bike... simple and reliable, but with a personality and style that makes you feel like you're in an old French movie... you're floating a little from the wine you drank at lunch... maybe instead of going back to the office you'll take a nap under a tree, go for a swim in the sea or drop by your lover's house...
In most urban cultures bicycles are viewed as legitimate transportation and not merely recreation, but sadly this idea never really caught on in the US. We take numerous little journeys, under 5 miles, as part of our everyday lives.... to the store, the pub, to work, etc. Besides the obvious joy of riding a bicycle, these small bicycle trips reduce carbon emissions, congestion, noise pollution, and make for a happier, city experience.
That's LINUS... a simple, affordable, elegant bike for riding around and doing stuff.
All of the bikes from Linus Bikes can be viewed on their website. You can also search for a dealer (U.S. and Canada only, at this time).
PCLinuxOS Color T-Shirt ... PCLinuxOS CafePress Store, $24.99
What better gift for those on your holiday gift list than a genuine PCLinuxOS colored t-shirt. These t-shirts are available in 11 different colors (shirt above shown in royal blue), and in sizes from small to 3X (add $3 for sizes XL Tall, 2XL, 2XL Tall, 3X and 3X Tall), so all are guaranteed to find a size that fits. All shirts are made with ultra-soft 100% pre-shrunk cotton (except the charcoal color, which is made from a 50-50 cotton/polyester blend). Now you and those on your holiday gift list (who receive this shirt) can help spread the word about PCLinuxOS!