by Meemaw
Wow! Shopping time again! This year has really gone fast, and we are once again faced with picking out the perfect gifts for friends and loved ones.
I've been browsing for the past few days, and have found a few gifts. Some are a little different, but at least a different gift probably won't duplicate anyone else's. I tried to find things that any of us could use or enjoy, and most at a price we can handle.
Many of us already have tablets, so a Tablet Stand with Keyboard and Carrying Case will complete the set. Amazon has several models in various colors. Most of the ones I've seen are for 7-inch tablets. The list price there is $32.25 but they are on sale as low as $7.88.
I spend most of my computer time in my easy chair with my laptop in my lap. A lap desk would make things more comfortable. Bits and Pieces has this one for $29.99, which includes an LED light and a cup holder. At 14" x 18", most laptops will fit on it. If you want to read a book instead, you should have everything you need!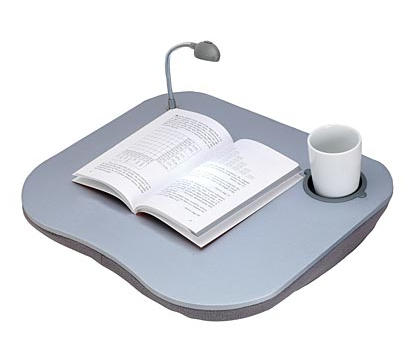 Some of these user manuals are written in really small print, as are some books and newspapers. If your eyesight isn't what it once was, maybe this Page Magnifier Light will help. Also at Bits and Pieces, it is $12.99. It looks like it would help with reading or just viewing small items, and the light is an added bonus.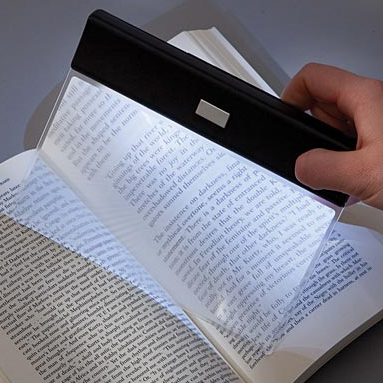 If you like grilled food, you probably like smoked food as well. My husband has smoked just about every kind of meat. This 2.5 cubic foot electric smoker will do the job for you. Amazon has several models that range in price from $80 clear up into the thousands. This particular one costs $165. It is the size of a small refrigerator and is very easy to use.
While we are thinking about food, I found a popcorn popper! While that's not unusual, this is a small, counter-top version of the big popper we've seen at carnivals and such. J C Penney's has this model for only $79.99.
We need something else... How about an apple? Do you eat the peel, or throw it away? It really is the part with the most nutrients. Just in case you throw it away, here is a novel idea for getting the peel off: an apple peeler. This gizmo, from L L Bean, is only $29.95, and not only peels an apple, but spiral slices it as well.
Oh, my gosh! It's amazing how much dust can accumulate around my desktop computer! I need something that can get in all the small areas between my keyboard, monitor and tower as well as around the printer and scanner (and all the other junk that seems to have appeared on that desk!) How about a mini vacuum cleaner?
Depending on your preference, you can choose from one of these. At $20 each, either of these could help tame the dust-bunnies!
ZOpid Desktop Vacuum from Amazon
The Henry Desktop Vac from Bits and Pieces
I've been looking at the photos of Parnote's new son, and he's adorable. One gift idea, if you know a new parent or new parent-to-be, is a layette set including socks, caps, 'onesies', t-shirts, a towel, washrags, and several other items. Also from J C Penney's, the set is $50.99, and also comes in pink and yellow.
This Aquarium Lamp looks fun! I don't have fish myself, but I never pass up a chance to stand in front of an aquarium and look at the fish. This would be a good idea for people like me who love to look at them, but don't want live ones of their own. This one simulates an ocean reef. It is 7.5" x 12.25" so it won't take up much space, and is only $29.99 at Bits and Pieces.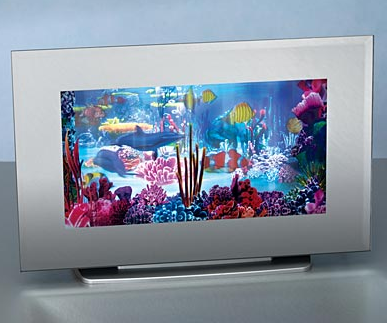 I have always liked jigsaw puzzles, and this one is unique. It is a Hometown Map Puzzle from L L Bean. When you order it, you give your US street address and they make the jigsaw puzzle out of the map of your area. Your address is at the center, and it covers six miles east and west and four miles north and south. It is $39.95 and measures 12" x 18". They also have an aerial view puzzle, but it's $10.00 more.
Speaking of puzzles, Bits and Pieces seems to be the place for Brain Teaser Puzzles. Many of them are the frustrating wooden or metal objects that come apart in many pieces, and the object is to take them apart, often retrieving something from the inside, and put them back together. I have several of these puzzles and while they are often very frustrating, they are also very fun. They range in price from $5.99 up to $49.99 (at least on this page!) The site says there are 74 different puzzles.
We're such a time-oriented world! It is nice to have a clock that advertises and helps support our favorite distro! This PCLinuxOS Wall Clock is very nice. It's one of the many gifts you can find at the Cafe Press gift site and is just $13.99.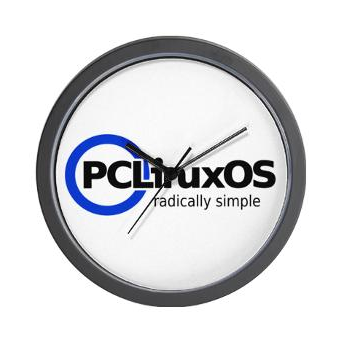 I hope your holidays are wonderful, and that you find the perfect gift for everyone on your list!