As told to smileeb

May I introduce you to Agust.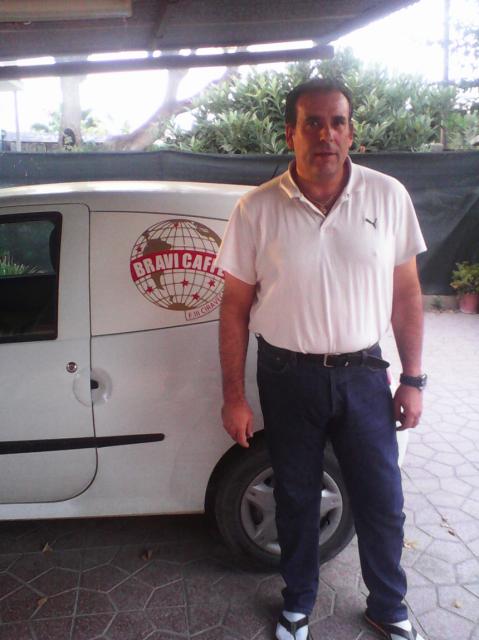 How old are you?
I am 47 years old.
Are you married, single or what?
I am married. Next year, in August, we will be celebrating our silver anniversary - 25 years married.
Do you have children or grandchildren?
I have two children, the oldest (Agustin) is 22 years old and the youngest (Miguel) is 13 years old.
Are you retired or working and for how long and at what.
I have worked in the same job since I was 12 years old selling Italian coffee, and for 22 years I have had my own company (Bravi Caffe Spain).
What is the area you live in like. (Weather, Quietness, Scenery?)
Live in Burriana, which is a very quiet area of the region of Valencia. It is an area almost entirely devoted to the cultivation of oranges and the manufacture of tiles. My house is just about 50 meters from the sea, and it is fantastic.
Are you handy with your hands and have any hobbies.
Linux with e17 and fishing.
What is your education level?
Well, the truth is that work and study are bad companions. Plus, my studies are very basic, but I do have a graduation diploma.
Do you like to travel, go camping?
Traveling logically, if it is my job. Do I like camping? No!
What caused you to try Linux and join this forum?
Well in 2005, I was fed up with Windows, and I saw some pictures of Linux and wondered what is that? I tried it and I liked it, and the only distro that worked well on my computer was PCLinuxOS, so between the forum (Old) in mid-2006, what made ​​me stay was an e17 testing repo. The first user who helped me in Linux was "KDulcimer", and since then I have considered myself a "PCLinuxOS-User."
PCLinuxOS Family Member Spotlight is an exclusive, monthly column by smileeb, featuring PCLinuxOS forum members. This column will allow "the rest of us" to get to know our forum family members better, and will give those featured an opportunity to share their PCLinuxOS story with the rest of the world.
If you would like to be featured in PCLinuxOS Family Member Spotlight, please send a private message to smileeb in the PCLinuxOS forum expressing your interest.